LEICESTER (3) 28
Tries: Allen, penalty, Agulla
Cons: Twelvetrees 2
Pens: Flood, Twelvetrees 2
BATH RUGBY(0) 3
Pens: Barkley
Attendance 24,000
Leicester finished second in the pile in the regular season and claimed a workmanlike 28-3 victory league also-rans Bath to claim their eighth successive play-off semi-final appearance.

Run-up to the Game
Leicester had recorded a record six successive bonus-point victories prior to this game needing only a win to edge Saracens for a home semi-final. A home defeat would probably mean that this game would be the last Welford Road appearance for departing wingers Alesana Tuilagi and Horacio Agulla assuming a Saracens home victory – which of course came to pass.
A bonus point win coupled with a Harlequins defeat at Sale would leave Tigers top although this became much less likely when Sale named a weakened team and, indeed, they got quite a pasting in the end!
Bath needed a heavy Sale defeat (which they got) and a bonus-point win (which frankly never looked remotely possible let alone likely!) to claim a Heineken cup place for next season ahead of the Sharks.
They had lost four of their last five games beating only lowly Wasps.
Leading Lights
Ben Youngs pulled out of the game before kick-off with a tightened hamstring and was replaced by Sam Harrison. A total half-back changeover was completed when Toby Flood went off late in the first half having missed one penalty, scored another and taken an immense, high hit when pressing for the try-line. To be fair, it wasn't his best game although he got a less reliable service from Harrison than he may have done from Youngs. Calum Green also came in late for George Skivington.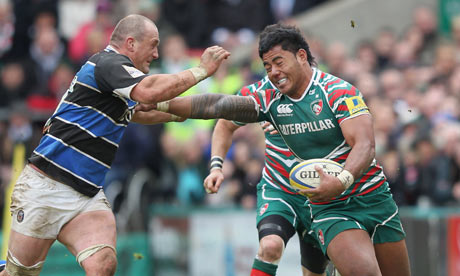 Bath elected to leave ex-Tigers Sam Vesty and Dan Hipkiss on the bench, maybe hoping that raw power in the shape of Abendanon and Banahan would get them across the Tigers try-line which was not to be. Donald looked safe at fly-half and Fearns tackled everything at open-side but showed precious little ambition otherwise.
The Game in 100 Words...
Leicester looked disjointed in the first half when half-back passing was not up to its usual standard. Nothing would go to hand and the best chance came when Murphy created an overlap coming into the line with Alesana T outside him. The pass was too high for the former and would have been too low for the latter had Smurph not knocked on with finger tips.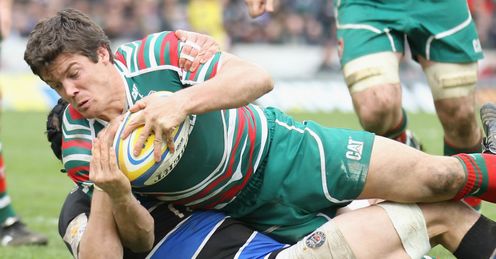 The second half showed a Tigers improvement with Twelvetrees running the show making a swerving break to set up an attack for the first try. It was finished close to the line by "first-try-of-the-season Allen. A very similar score for Agulla, following a bullocking break from replacement hooker Tom Youngsfinished the afternoon's scoring with a penalty try in between as Bath had no answer to Leicester's scrummaging power once the front rows had done all their replacing. (About 140 words actually, sorry!)
Key Moment
Bath's best chance came after an inexplicably reckless quick line out by Alex T aimed at his younger brother in the Tigers' 22 was fumbled. Bath got possession but failure to score there meant that they never looked like coming close to a result.
Tigers' scrum gained a massive ascendancy with the introduction of Cole and Mulipola whilst the Bath first and second choice front rows just couldn't cope, especially after the appearance of Duncan Bell.
As with so many Tigers games this season, the difference is the bench and when you have a couple of All Blacks and an England international coming on, not to mention Mulipola, Twelvetrees and a cameo from great club servant Grindal, things are going to look sticky for the oppo.
Man of the Match
The scoreline actually flattered Bath as they were outmuscled in the pack and outrun in the backs with the Tuilagis blasting holes as usual and the As doing the finishing in the shape of Agulla and Allen
The physicality of my MOM Billy Twelvetrees looked much more likely today to breach the Bath defensive line than the artistry of Toby Flood and it shows great credit to the man that his effort and professionalism levels have not dropped one iota since the announcement of this departure. Kicking was OK too. He must be wondering if he's done the right thing in electing to move to the shambles Gloucester have become.
The Winners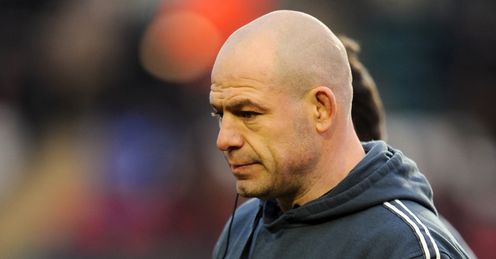 Richard Cockerill:
"[On facing Saracens in the semi-final] Every time we've played them here they've done pretty well it's been a tough game.
"They're a good side, they're very physical and they've always played well against us.
"Today was job done, it was not a great spectacle, it was all about winning.
"Floody got a bang on his leg, and Salvi got a bang on his knee so we were just taking precautions.
"Skivington had a stiff back, Ben Youngs had a tight hamstring and could have played. If we were playing Saracens today all of those guys would have been playing. " (BBC)
The Losers
"Despite being on the back foot, Bath were still working hard, both at keeping the Tigers at bay, and at trying to build some momentum to take them forward. The Tigers took every sliver of an opportunity presented to them" (www.bathrugby.com)
The Teams and Scorers
Match details (Telegraph):
Scores: 3-0 Flood pen, 6; 6-0 Twelvetrees pen, 49; 6-3 Barkley pen, 51; 11-3 Allen try, 54; 13-3 Twelvetrees con, 54; 16-3 Twelvetrees pen, 63; 21-3 pen try, 70; 23-3 Twelvetrees con, 70; 28-3 Agulla try, 78.
Leicester: G Murphy (capt, S Hamilton 72); H Agulla, M Tuilagi, A Allen, A Tuilagi; T Flood (B Twelvetrees 37), S Harrison (J Grindal 75); M Ayerza (L Muilipola 65), G Chuter (T Youngs 65), M Castrogiovanni (D Cole 54), C Green, G Parling (B Pienaar 72), S Mafi, J Salvi (C Newby 14), T Waldrom.
Bath: N Abendanon; O Woodburn (K Eastmond 66), M Banahan, O Barkley, T Biggs; S Donald, M Claassens (M McMillan 76); N Catt (C Beech 63), L Mears (capt, R Batty 72 ), D Wilson (D Bell 63), D Attwood, B Skirving, J Ovens (W Spencer 76), C Fearns, S Taylor (G Mercer 76).
Referee: D Richards (Berkshire).
Going onto Greater Things
Leicester now have a home semi against Saracens on Saturday and it looks like most of the team will be available including the late non-starters Youngs and Skivington plus early finishers Salvi and Flood – "just" Croft and Crane missing.
Whilst not at their best against limited opposition, this game may prove ideal preparation as the team know they will have to step up for next week.
Disappearing from View
Bath's season has ended with an Amlin Cup spot next year providing scant reward for the investment of Bruce Craig. Sir Ian McGeechan departs while a high-profile coaching team arrives including Gary Gold from Falcons and Toby Booth from London Irish. The match marked Duncan Bell's last game with Andy Beattie and Lewis Moody (looking very handsome in his light grey suit in front of the CAT stand at kick-off!) also retiring.
The Ref
Took an awfully long time to set scrums and some questionable decisions here and there but not such a tricky game to ref really and didn't do so much wrong. Made no odds to the result.
The New Kit
Doesn't improve with the matchday experience. Surprised (or not so really!) to see very few wearing it off the field. Notice they were giving some away at half-time to "zorbers." Surely a bit early for that kind of discount!
Highlights
Telegraph
Guardian
Tigers Website
Bath Official Website
BBC
Edited 4 time(s). Last edit at 14/05/2012 18:22 by Tiggs.