Match Preview - Keep The Faith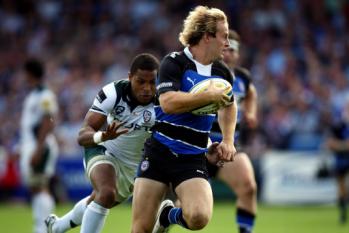 By Ed Scott
March 22 2012
A clash with the league front runners beckons as we return to the Premiership this week, a key game if we are to salvage Heineken Cup qualification from what has been a disappointing season to date. I genuinely believe that we can still take sixth spot in the league, however, it will need to start in what will be a huge challenge at The Stoop.
As the LV Cup semi-final was a couple of weeks away, I can now almost begin to talk about it. Simply put, the scrum fell apart, Leicester were far more streetwise than us (i.e. very effective at slowing the game down) and we failed to take the chances when we created them. I was more gutted about the result than the way we played, but it's frustrating to know that we could have easily won the game with a few tweaks here and there. I also think that had the game been on a Saturday afternoon, we would have won. The point is however that we need to be able play in all conditions.
I do have confidence moving forward because I don't think we're a million miles away from where we need to be, however, that last 5% can often take a while to develop. I, like many others, don't feel that the coaching of Bath has been up to scratch this season, but the one thing that I do agree with Geech on is that we need to give this group of players a chance. As such, I genuinely believe that a win this weekend is more than possible because when we do click, we're hard to live with.
The corresponding fixture last season was a 6 all draw when even the purist would have struggled to get enjoyment out of the game! I wholeheartedly hope that this is not the case this weekend because on paper these are two teams that could really produce a great spectacle.
Quins are one of those teams who are consistent across the board, but ironically, I think that it's the scrum and the breakdown where we could actually make some headway. Their props, Johnston and Marler, are good around the park but are not known as scrummagers and with George Robson potentially missing, Bath could make definitely headway up front. I would expect us to start with Catt and Perenise, who are also not known for their scrummaging, but one would hope have been working hard in training over the last couple of weeks off the back of the Tigers defeat.
The backrow battle is another interesting area. I must confess to being rather glad not to see Chris Robshaw lining up against us on Saturday. He is highly destructive at the breakdown, and although Wallace (his likely replacement) is more of a traditional openside (and definitely one to watch for the future), he does not quite have the ability to slow ball down like the England captain does. Robshaw is also a very good communicator with the referee. I felt that he heavily influenced the home fixture, constantly badgering the officials but in a subtle and intelligent way. François Louw has proved himself to be one of the best flankers in the Premiership and could well provide a free lesson in turnover ball if given the opportunity.
At eight, Nick Easter is a class operator. He I think is likely to be joined by either Guest or Fa'asalavu, who both bring very different physical attributes to the team. Personally I would pick the Samoan wrecking ball, but Guest provides a good lineout option. I do wonder whether Bath will choose to play Carl Fearns over Ben Skirving for this game. Skirving has played a lot of rugby this year and Fearns' physicality was impressive against Leicester. He will have two more weeks of fitness under his belt and would be a good foil to the attack of Easter and Fa'asalavu, as well as having the ability to break the gainline ball in hand.
No preview linked to Harlequins could possibly be written without mentioning Nick Evans, in my opinion, one of the best fly-halves in Europe. Evans is great with the ball in hand as well as highly consistent when kicking for position or from the tee. The only real option we have is to run down his channel or pressurise him into mistakes. This does lead me to be slightly surprised at the exclusion this weekend of Matt Banahan, but Ollie Woodburn has earned his place. I don't agree with the thuggery adopted by Newcastle, but it was clear to see that even the best tens find it difficult to play if they're starved of time on the ball. In some ways it's a shame not to see Donald up against his fellow countryman, but at the same time, it's a great test for Tom Heathcote who has nothing to lose against such a player.
Although Williams and Hipkiss are now both fit, I don't expect either to start this weekend but would imagine that one of them will take a bench slot. Carraro is the centre on form and even though he is leaving, we have to pick our best players. Abendanon is back and I look forward to seeing his battle with Mike Brown. Key for me is that we don't aimlessly kick down his throat as not only is he excellent on the counter, he also has a huge left boot and will punish any space with a big touch-finder.
I find it hard not to get overexcited about this fixture, partly because the four mile round trip is slightly better than the usual 230 I normally travel to watch my beloved club. If nothing else, it means I can drown my sorrows or celebrate with a few beers rather than a coke and the monotony of seemingly endless (especially when we lose!) M4! The other part is that Quins have a support, stadium and playing style that are all fantastic to experience and there is always something special about supporting your team away from home.
I know that silverware has eluded us once more this year, but the game is by no means a dead rubber. A win could put us right in the mix for Europe and would really do a lot for the impetus needed to try and finish the season off in a bit of style. Harlequins have not had the best of it in the last month or so, so could be there for the taking. Let's enjoy the potential this team holds and back them for a result this weekend, because in this league, anything can happen.