Match Preview - Ignorance Is Bliss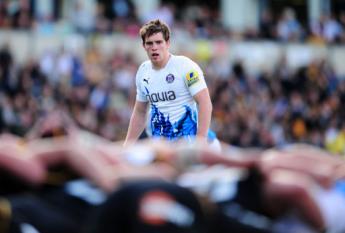 By Ed Scott
March 29 2012
This week Bath return to the Rec for their penultimate home game of the season against Premiership title contenders Northampton.
My first draft of this preview (started on Monday) read a little like this: "I don't know why we keep talking about Europe, after watching Bath's inept display against Harlequins, it has become clear to me that we are simply not a top six team at the moment! Let's just move on and hope for changes next year."
With some perspective, I have now calmed and will endeavour to produce a positive piece this week, although I must confess that it has been hard to find the motivation to be optimistic.
The most frustrating part was that we won more than enough ball to allow us to win the game, but our ability to create and finish chances was practically non-existent. The fact that does frustrate me is that our players looked 'coached'. For a change I sat at the end of the ground so was able to see angles, support lines and space available. Several times key decision makers (Olly and Class in particular) stuck with a predetermined move when in fact a far better decision would have been to look up and play what was in front of them. We also seemed to do a lot of running sideways rather than straight, a cardinal sin. No wonder our wings never get the ball in space!
Ironically, both Gloucester and Sale lost on the weekend, meaning that a Heineken Cup slot is still up for grabs. I'm not convinced we deserve it, but I'll take it if it comes our way. In order to achieve that however, we need to win the next three of the final four games (I cannot honestly see us getting anything out of Leicester at Welford Road). As such, both Bath and Northampton (chasing a top four spot) face a must win game this weekend.
On a positive note, Bath do still have quite a water-tight defence. Quins only scored on Saturday when we were down to 14 men and never looked like crossing the line apart from that. We are at home in front of a sell out crowd in a game where we are certainly not the favourites. With little left to play for, Bath should be able to relax and play what's in front of them. I feel that the reason why we perhaps played with more freedom in the LV Cup was because the pressure to do well in the competition (certainly at the start) was far less than that of a Premiership game. When it really mattered (semi-final v Leicester) we stiffened up, went within ourselves, and choked.
With a number of knocks and longer term injuries, the starting line up is dependant on who is fit just as much as who should be selected. Assuming that Lee Mears has run off his knock and that Heathcote and Abendanon have recovered, the possible changes to next week are limited. With Francois Louw out, I would think that Skirving will come into the back row with Fearns moving to openside. In the front row I would guess that Nathan Catt will start again (unjustly penalised twice by Wayne Barnes last week in my opinion!) and that Davey Wilson (who showed last week that he's not the only prop who can throw a pass out the back door) will start at tight head. We need a strong scrummaging performance against the power of the Saints front row so both are going to have to really step up this week.
As many of you know, I would make a big change in the backs and start Kyle Eastmond on the wing. Yes, he's highly inexperienced, but he needs to play and could be a real game breaker if we give him the chance. Woodburn didn't have a great game last weekend and I can't see how Banners can be brought back in after only one week. I would also start either Ben Williams or Dan Hipkiss at 13. Carraro is a great player, but simply isn't here next year. Both guys have great potential in a Bath shirt and need to play more before the end of the season.
I would risk a 4:3 split on the bench and have Josh Ovens instead of Guy Mercer. I just feel that Josh will have more of an impact when he comes on. If Perenise is fit I would select him on the bench to make a considerable impact when he comes on. For the backs I would choose Banahan, Mark McMillan and Sam Vesty. Banners to make an impact and Vesty to cover Tommy H just in case he is still a bit rocked from his knock last weekend.
This is a selection very much based on what I would do but is likely to resemble little of the actual team who play. I doubt Eastmond will even be on the bench and I would expect Carraro to start. I simply feel that the current line up is not working. The coaching isn't going to change overnight, so the only other option we have is to change the personnel.
It's a tough challenge this weekend. The Northampton team we play on Saturday will resemble little of the team that took the field against us in the LV Cup and will be a huge challenge. Hartley and Callum Clark will be missing, but they have huge depth and are highly dangerous. If Ryan Lamb plays we will need to pressurise him heavily to try and put him off his game and ensure that he is given very little space. He is the master of the little chips over the defence so Claassens and the backrow need to be sweeping behind the line.
Last week I asked you to keep the faith. This week I ask you to think about the future. We've got the potential, but it's not being drawn from the players right now. Personally I'd make some changes, but either way, I'll be cheering my heart out and believing that an upset could still be on the cards. Come join me, sometimes blind optimism is the only way to go!