Looking forward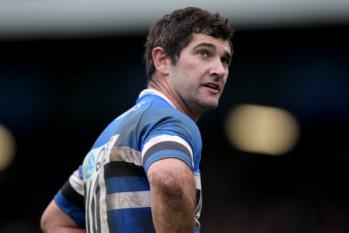 Can Donald come good?
By Malcolm Cupis
June 14 2012
Malco muses on the season to come and what we can expect from our new coaching team
Last season wasn't quite a disaster but it was certainly a great disappointment. It's history now. We've seen a fairly significant turnover of players and a brand new coaching team has been brought in, so what does the year ahead have in store? Should we be anticipating an immediate upswing in fortunes, more of the same or another interminable season of ever greater disappointment with a squad and coaching team in transition?
Let's start ourselves by refreshing our memories about the playing squad, the coaching team and the state of play with regard to the Rec and Farleigh House.
First of all the coaches. We've waved goodbye to Sir Ian McGeechan and Martin Haag, to several backroom staff and, although it hasn't been officially confirmed, to the long serving, highly successful and well regarded Academy team of Frank Butler and John Palmer. We have welcomed in Messrs Gold, Hatley, Booth and Ford and retained the services of Brad Davis. As things stand it has been suggested that there will be no Director of Rugby, Gold will be Head Coach and the specific duties will be split between the rest of the coaching team, although we don't yet know who will be doing what, or whether the coaches will take a more holistic approach and coach the whole squad as a team. On the face of it we seem to have three coaches who have very much specialised in forwards and two who have very much specialised in defence. Time will tell how successfully this pans out.
What we do know is that Gary Gold is regarded as a hard task master. There will be an uncompromising approach to fitness, conditioning and core skills. Reputations will count for nothing and there will be no room for sentiment. Based on what we have seen of teams he has coached before it is likely that we will be developing a more hard-nosed style of play and there will be an emphasis on rebuilding a physical pack of forwards who excel in the set pieces. Expect our pack to be more combative, more aggressive and more focused on their prime roles in the scrum, the lineout and at the breakdown.
Behind the scrum it's likely that we will see a more direct approach with an emphasis on playing the game in the right areas of the pitch, getting players over the gainline and creating space before moving the ball wide. I think we'll see less aimless kicking and more taking the ball into contact to be recycled through the phases. It will be more about maintaining possession and control than kicking the ball away and pressurising the opposition.
So, what of the playing staff. When you look down the squad it's easy to conclude that it still looks a bit thin in one or two key areas, and slightly heavy in one or two others. Loose head prop seems oversubscribed. Tight head prop arguably a player light, especially if David Wilson gets called back to international duty or if he or Anthony Perenise suffer injury. Second row has been bolstered by something of an unknown quantity with the acquisition of Dominic Day. Back row seems to be the area of the team with the most strength in depth, even following the loss of Lewis Moody and Andy Beattie.
It's behind the scrum where things start to really look a bit thin. Michael Claassens didn't have a great season by his standards last year and the speculation is that he was limited by the demands made by the coaching team. Under Gary Gold he will have something to prove and nobody can doubt that he has the skill and application to deliver.
Some people were somewhat surprised when Mark McMillan was offered a new contract at the end of last season. No argument he's a good player, but he isn't in the first flush of youth, he's unlikely ever to be a first choice starter and he has spent much of the last couple of years suffering from some unfortunate injuries.
Behind him we have Chris Cook, young, talented, clearly improving and the potential to be a great player in the future. However, if Michael Claassens found himself unable to rediscover his form and Mark McMillan continued to find himself on the wrong end of unfortunate injuries, this is a key position where we could be found wanting.
But perhaps not as much as at flyhalf. So much has been written about Stephen Donald, his fall from grace in New Zealand, his fairy tale appearance in the World Cup Final, his struggles with form and fitness, his mental state and his desire and ambitions. It is quite possible that much of this speculation is completely misplaced. However, the fact is that up until now, for whatever reason, he hasn't performed consistently well for Bath Rugby and, whilst we have seen glimpses of brilliant natural ability, they have generally been followed shortly thereafter with something altogether less memorable.
Can he come good? I'm not sure anybody can make a reasonable case one way or the other. It seems likely that he will always be one of those maddening enigmas who can veer between inspiration and frustration apparently completely randomly. Is this what our new coaching team will want from the most highly paid player in the squad in the most pivotal position on the field? Behind him we have Tom Heathcote. The polar opposite. Steady, reliable, dependable, consistent, but still learning the game, albeit learning fast. It doesn't take much imagination to see that a new coaching team might feel that these qualities make him a better option to start games, regardless of the level of experience.
The backs seem even more at sea. Our most consistent performer has left for pastures new and, at the time of writing this, hasn't been replaced. Barkley and Banahan looked like round pegs in square holes for significant parts of last season, as if they were unsure of what was demanded of them. Banahan in particular seemed to spend more time seeking advice from Brad Davis on the touchline than he did setting off on his trademark barnstorming runs. Barkley, the best passer and tactical kicker in the team with that glorious outside break, seemed to have been instructed to run into contact, where he generally found himself stripped of possession, and ineffective in defence, perhaps due to not having regained full fitness following his horrendous injury.
Williams, Hipkiss and Eastmond showed great ability but spent too much time injured. Vesty and Cuthbert both seemed to suffer from insufficient game time and looked uncertain and rusty when given chances. Woodburn showed huge potential and seized his opportunities well, but perhaps has more to learn and needs to find extra physicality before being ready to really make his mark. The only real stand-out players in the backs were Biggs and Abendanon.
The bottom line is that, at the time of writing this, there have been no further acquisitions in the backs and it is here that the squad appears to most need an injection of new blood. No doubt the new coaches will inject extra momentum and the players should be more battle hardened and ready for action, but it's hard to imagine that the existing group of backs have what it takes to terrorise and dominate opposing teams during the course of a season.
Rumours are that the new coaching team have spotted this and are looking to find ways of offloading some players to clear the decks for an influx of new talent. However, time is running out. We can't afford to cancel contracts because these come out of the salary cap. Players will only leave if they retire or if they find new clubs and, in the meantime, potential targets are signing for other clubs.
The success or failure of this apparent horse trading could determine whether we have a successful season, another season of transition or another year of underperformance and disappointment. Even at this late stage in proceedings it's too early to say.