Match Preview: Testing Times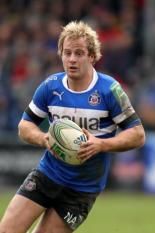 By Ed Scott
September 13 2012
The first evening kick off of the season is upon us this Friday as we face Northampton at The Rec. The perennial Premiership bridesmaids, Saints pose the greatest threat to Bath so far this campaign as they aim for their fourth successive top four league finish.
Last weekend the Bath faithful were treated to some fine weather, an improved performance, three tries, a moment of magic, and (most importantly) a second victory, in their game against Wasps. They were also witness to a couple of softly conceded scores, as well as a concerning knock to the quickly improving Matt Banahan. Some of the mistakes and poor decision making from the Worcester game were eradicated, and although of course not perfect, hopefully shows that the team are going in the right direction.
Northampton are a side, like all good teams, who build a foundation from their formidable pack. They have one of the top front rows in the Premiership, both at scrum time and in the loose, so the first job is to contain their considerable threat. The key to this game is to try and match this power and cut them off at the source. It's rare that a side like Northampton will ever be dominated up front, but Bath need to gain parity and ensure that the glut of scrum time penalties from last season is a thing of the past.
I always have an extra sense of anxiety for evening games, perhaps it's because our style under Smee didn't suit the extra moisture and softer ground, I don't know, but I hope that Gary Gold will equip the team to play more effectively in such conditions. Looking at the stats, we were about 50:50 last season in the evening games we played, but for some reason they make me feel uneasy! I do feel that we have a bit more firepower up front to deal with the challenge, but the accuracy of our kicking game is going to have to be spot on. We simply can't kick and chase badly to one of the best counter attacking full backs in the Premiership. Chris Ashton may have moved on, but the Pisi brothers are fantastic broken field runners, as is the Russian, Artemyev.
Saints are also in possession of a highly effective line out. They have five effective jumpers and the throwing of Hartley has really improved over the last couple of seasons. This means that Mears and Hooper will have to be on song with their accuracy and decision making when it comes to our own ball. We also need to be careful about kicking possession away too much as we are unlikely to turn over a huge amount of ball in this area so could just end up putting ourselves under unnecessary pressure and conceding field position too easily.
Fly-half selection for Northampton will be an interesting one. I am tempted to say that Myler will be picked as his slightly more conservative kicking style will probably suit evening conditions. However, Ryan Lamb really does not like Bath (being a Gloucester boy at heart) and always seems to raise his game against us. We will have to pressurise both, but have to be far more wary and savvy when it comes to Lamb. He loves a chip though or over the top and we must be more adept at covering the space behind the back line than we were last season.
With the challenge up front I expect Paul James to get the nod over Nathan Catt at Loosehead this week, but actually believe that this will be the only change in the forwards. A few have tipped Attwood to return to the team, but Dominic Day is playing well in an area where we are probably blessed with some of the best strength in depth in the squad. He deserves his place and surely it's too early to start rotating players to give them a rest?
In the backs it looks as though Matt Banahan will be out for a few weeks with his knee injury, so either Ben Williams or Sam Vesty is likely to take his place. Williams seems like the natural replacement for the direct running of Banahan, but the benefit of having a second (right footed to compliment Olly's left) kicking option, as well a someone who can slip in as first receiver, could be a tempting one for Gold to consider. There is an outside chance that Devoto could be given his first Premiership start, but with little experience to date, I fear that would be a risk that is unnecessary to take at this stage.
My Team:
1. James. 2. Mears. 3. Wilson. 4. Hooper. 5. Day. 6. Taylor. 7. Fearns. 8. Skirving. 9. Claassens. 10. Barkley. 11. Eastmond. 12. Williams. 13. Hipkiss. 14. Biggs. 15. Abendanon. Replacements: 16. Batty. 17. Catt. 18. Palma-Newport. 19. Attwood. 20. Ovens. 21. McMillan. 22. Vesty. 23. Cuthbert
With key battles all over the park, it is hard to see where Bath might have an edge over Northampton. This isn't to say that I don't think we can match them, but more that they have few chinks in their armour. It is probably on the wings where we could consider ourselves in the ascendancy and although I agree we will need to play a sensible game under the lights, we must make the effort to get ball into the hands of Biggs and Eastmond in the right parts of the field.
This week is likely to be the best barometer of where the potential this Bath side currently lies. Northampton have class and experience all over the park and handed Bath two league defeats last season, with the home defeat (which included conceding a penalty try for collapsed scrummages) a particular lesson in how to play Premiership rugby. We will need to take another considerable step up from the Wasps game, but I believe that a collective performance could bring a victory the bookmakers may not be predicting.