Match Preview: Shark Attack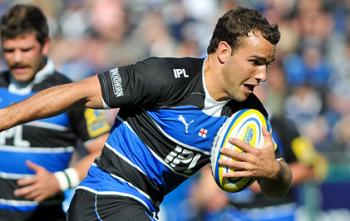 By Ed Scott
September 27 2012
It is a welcome return to The Rec this Saturday afternoon as Bath take on Sale in the third home game of the season. As with London Irish last week, Sale are a team struggling for form, with a solitary losing bonus point all they have to show from the previous four rounds of the Aviva Premiership.
Last week many predicted us 'smashing' Irish with a try bonus point victory, but this competition simply isn't like that. They put in a passionate performance with their backs to the wall, and Bath failed to apply the pressure and go for the jugular. We are getting ahead in games, but then failing to take the advantage.
Sale are not necessarily relegation contenders quite yet, but they must be only a couple of defeats away from panic spreading within the ranks. A loss to us on Saturday would need them getting a victory against Leicester next week if they are to register a win before the first 'break' in Premiership games. Bath are also in a somewhat precarious position as their positive start to the season begins to slide. A third defeat on the bounce as well as a second home loss is not going to do wonders for confidence within the squad, or with the new coaching set up.
The Sharks have already reacted this week by sacking their forwards coach, many of course believing that the true root of the problem is perhaps higher up the chain of command. Often a coach leaving has a very galvanising effect on a squad, as players will always feel an element of personal guilt that someone has lost their job based on their performances. Without a doubt, the men from Salford are going to bring some true desire to this game.
It's also worthwhile having a look at the Sale team sheet before chalking up a win this weekend: Cipriani, Cueto, Tuitupou, Peel, Powell, Seymour and Gray are all class players with experience and pedigree, who simply haven't yet collectively fired. If Bath fail to control the game and allow Powell to punch holes, Peel to snipe, and give Cipriani time on the ball, then we genuinely could be in trouble.
Key for me this week must be our discipline. We are conceding far too many needless or naive penalties in kickable positions. It is a problem carried over from the old regime and must be addressed. I also hate to sound like a broken record, but we absolutely must keep hold of the ball and try to build more phases of play. We have to frustrate Sale by not allowing them possession. Gaps will then naturally open, or the penalties will go in our favour, allowing us to either kick for goal or position. If we can quickly build a lead then we force Sale to chase the game rather than the other way around.
With the citings of Michael Claassens and Dan Hipkiss thrown out, Bath have a little more choice when it comes to selection in the backs than first feared this week, but still not the selection headaches that we would have had if presented with a fully fit squad. Stephen Donald is back, but some would suggest that he's not quite yet match fit. He will start however, with the lack of options in the centre not allowing him to be eased back in as I think was initially hoped.
Matt Banahan tweeted a couple of times this week that he had just come back from training, but I doubt he'll be ready for this game, whilst the injury prone Ben Williams is looking 50:50 after tweaking a groin last Friday. As such I think we are looking at a Barkley & Hipkiss combination in the midfield. They will have to be at their defensive best as Sale are bound to throw their big ball carriers down that channel to try and exploit any frailties.
Some corners are calling for Kyle Eastmond to play at 13, the position that many feel he may end up in, but my guess is that it's just a bit too early for him there. It could however be an experiment we see in the LV or the European Challenge Cup games. If we can get the ball to them, we possess one of the fastest and elusive back threes in the competition, with Nick Abendanon's sparking form surely staking a claim for him to be included in the full England squad for the Autumn Internationals.
We can't throw the baby out with the bath water this week, and in a knee jerk reaction make huge changes in the line up. We are still only four games in and have 10 points to show for it. Lack of availability of players will dictate the team sheet to a degree anyway. Up front I wonder whether it's time to give starts to Attwood and Ovens, but I would sacrifice Day and Skirving rather than Hooper and Taylor who collectively do so much unseen graft. Both will have a huge desire to impress having only played cameos so far and could give the pack just a little bit of extra bite.
In a slight departure from a preview, I feel compelled to say a few words about Olly Barkley who leaves us this week for Racing Metro and the bright lights of Paris. A great servant to the club, and a true Bath man, I wish him all the best in his move to France. Although I would question the decision of the club to allow a player who still has much to offer to leave, I understand his personal motivations and hope it works out for him. Alongside Butch, Olly was by far the best 12 in the country and I feel deserved more international recognition at the time. Watching the two of them tear up Wasps in the sun at Twickenham was one of my personal highlights of the last few years.
After joining as a teenager, Barkley has amassed over 200 appearances for Bath Rugby and more than 1,500 Premiership points. Part time DJ, highly popular in the squad, and a passionate supporter of the charity NACOA, he has contributed a huge amount to the team and the community. I look forward to getting to see his last outing in the colours that he will always belong in. I just hope that the team give Olly the send off he deserves; a final win in his pocket, and a smile on his face. The force is with you OB1, as are we.