Comedy, Tragedy or Farce?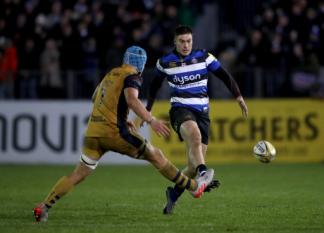 Banahan: leader
By P G Tips
November 21 2016
Bath's visit to Harlequins next Saturday could explore a range of dramatic emotions. The home club's name and costume are drawn from the Commedia dell'Arte, but for Bath the current selection challenge borders on the farcical. Last Friday's attritional derby against Bristol threaten further injury losses to key players. Any further injuries would be tragic for Bath and pessimists will be concerned that the match outcome will be a tragedy too. With Bath's strength in depth an international weekend should be a bright time to visit the Stoop, Harlequins standing to lose Marler, Sinckler, Robshaw, Care, Roberts, Visser, Brown and possibly Yarde. However, international calls of their own and a cruelly growing injury list leave Bath depleted and vulnerable at lock and half back. Despite their own losses, Quins have plenty of Premiership and even international experience to call on. The Harlequin character is light hearted, nimble, astute and mischievous – the team will be planning to force a Comedy of Errors on Bath. So – can Blackadder and Co come up with a "cunning plan" to make the Harlequins dance with frustration rather than delight?
Recent Quins: Bath encounters have certainly been open and sprightly. High scoring has usually been the tone, with last minute high drama in the Stoop fixtures of 2014 and 2015- 19-16 and 26-27 respectively. Last season, with direction uncertain and the Rec squad fluffing their lines, Quins enjoyed two clear wins, so the Blue, Black and White will be seeking revenge, albeit with a team containing many new to the big stage.
Harlequins combine front five heft and experience with a lively back row in which Dave Ward has become a useful poacher and Luke Wallace will be pressing to promote his case for England's problem openside position. Behind the scrum there is the steady influence of Karl Dickson and the game management of former All Black Nick Evans. They will aim to bring the best out of rising star Joe Marchant at outside centre and there is a possibility, given Twickenham performances last Saturday, that Marland Yarde may be available on the wing. Against this mix of gnarled old troupers and bright young hopefuls Bath must add Priestland and very possibly Garvey to their injury list and suffer the loss of Talupe Faletau to Wales (who will be as desperate for his services as his club). With two Bath locks among five in the England squad, there will be hope that Eddie Jones will release one of Attwood or Ewels from understudy duties to help out if needed.
Whatever difficulties the visitors face, the show must go on. The coaches will have noticed that, while Quins have a secure home Premiership record so far, they are the only club to have gained fewer bonus points than Bath, suggesting that their form has been as patchy as their shirts. Patchwork will be the selection Bath can muster, so a fallback on basics is likely. The excellent defence of the Bristol match will be needed, as will an aggressive kick-chase game, which must improve a few notches against Evans. A big improvement at the lineout (only 70% against Bristol) will be needed as will iron discipline. There is hope for Bath in the form of Banahan (taking on the mantle of elder statesman among the backs and in leadership) and the steadiness and kicking accuracy of Tom Homer. Up front Catt, Batty, Ellis and Zach Mercer have plenty of fight in them and Grant is settling into the squad. With pantomime season only just starting it may be too early for Quins to claim they will have the edge as this Bath quintet will insist "Oh, no you haven't!" In the close result against Bristol Bath enjoyed several
" nearly moments" for additional tries – especially from young tyros Clark and Z Mercer. Only a little more precision in passing and execution is needed for players of this promise to spring a surprise.
Surprise and mischief are the Harlequin hallmark but Bath will be planning a few tricks of their own. Saturday's weather is due to be overcast- not ideal for either club, so a single slip or sleight of hand may be enough to determine the result. Quins, should be settled enough to take centre stage, but Bath have sprung away surprises on higher placed clubs this season and will aim to do so again. We wait to see whose supporters will be calling "bravo" at curtain call.
Possible Teams:
Bath:, Catt, Batty, Palma-Newport, Stooke, Garvey or Attwood, Ellis, G Mercer, Grant. Allinson, Hastings. Wilson, Tapuai, Clark, Banahan. Homer.
Replacements: Auterac, Dun, Lahiff, Humfrey, Z Mercer. W Homer, Bowden, Atkins,
Harlequins: Murphy, Buchanan, Collier, Matthews, Horwill (capt), Wallace, Ward, Chisholm. Dickson, Evans. Alofa, Stanley, Marchant, Yarde. Morris.
Replacements: Shields, Evans, Jones, South, Naoupu, Mulchrone, Swiel, Walker.