True Blue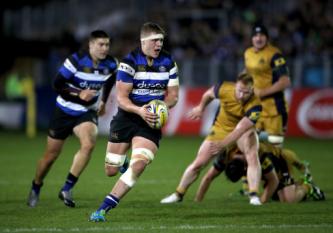 Ellis: revelation
By P G Tips
December 6 2016
Having seen off the challenge of red and black at the weekend, Bath next have two shots to pot the blue. Home and away encounters against Cardiff Blues in the space of six days should be the pivotal point of Bath's European Challenge Cup campaign. Cardiff top Pool 4 thanks to a bonus point edge over Bath. To progress Bath must win at least one of these two matches and to be sure of a favourable knockout draw, victory in both will be needed. Currently Bath stand in seventh position of potential qualifiers, behind Gloucester among the second placed teams, so qualification is in the balance despite a full win record to date. Cardiff coach Danny Wilson has pledged a robust welcome for the visitors from across the Severn Bridge: "We won both games earlier in the season and we're top of that pool. We certainly want to go in and fight to stay top of that pool." The ECC represents Blues best chance of silverware this season. They sit 7th in the Pro 12 (their average position for the last six years) so motivation will be high for a competition where they believe they stand a good chance.
Traditionally, Cardiff were the premier club of Wales, if not Britain or even Europe. When the young Gareth Edwards was looking for a club his teacher and mentor told him "there is only ONE club- Cardiff!" There, along with Barry John and Gerald Davies he was a leading light in one of many golden generations of "Blue and Blacks" as they were known. The professional era has been less kind to Cardiff. Since making the final of the first ever Heineken Cup (the only Welsh club to do so in it's twenty year history), they have had to play domestic second fiddle to Ospreys and Scarlets for many years, habitually inhabiting mid table in the Pro 12 as the third ranked Welsh side. The club which beat The All Blacks and Springboks and had a perfect record against the Wallabies has had to settle for a lone ECC success –in 2009. The second European tier is another tournament in which Welsh fortunes have been disappointing: only Pontypridd joining Cardiff as finalists in two decades.
Blues can of course call on some formidable players: Lions Jenkins, Rees and Warburton up front and Wales backs Lloyd Williams, Anscombe, James, Cuthbert and Matthew Morgan behind the scrum, as well as All Black Blaine Scully. Warburton's fitness has to be confirmed first, as he missed some of the Autumn international series, but if he plays he will be keen to impress having lost ground (at least in the eyes of the pundits) to others in the hunt for the Lions number 7 jersey and captaincy. The whole squad will want to up their game having suffered an embarrassing 22-35 home defeat at the hands of Ulster last Saturday."There's one place where we can put that right, the lack of accuracy against Ulster, and that's the training ground going into Bath." said Wilson. The gauntlet has been laid down, the challenge is clear – Blue and Black and backbone will be the order of the day.
Bath will need to be true blue to stand a chance. In his classic sporting book, "True Blue" Dan Topolski tells the story of the 1987 University Boat Race. Four members of the Oxford crew-all internationals – mutinied, refusing to row for the President. Topolski sacked them all, formed a new crew in 6 weeks and won a massive victory over favourites Cambridge. Mutiny is not one of Blackadder's problems, but he has had to forge victories with reserve selections. Most recently the win over Saracens was achieved with nine internationals missing, plus a further five with junior representative experience. Despite Wilson's fighting talk the Blue, Blackadder and White will give nothing away cheaply. The return of internationals, battle hardened against Australia will help, as will a fit Faletau –if indeed he is. Better news on the injury front seems to be on the way, to complicate selection, although Blackadder may not wish to experiment in a close away fixture. Alongside the stars, some younger squad members have shown they have the steel for the toughest of tests: Dunn, Palma-Newport, Ellis, Mercer and Clark have been a revelation. Ben Tapuai has injected power and wit into midfield too. Whether in last –ditch defence, or attacking verve, the Blue, Black and White are a force to be reckoned with again. Expect the "true blue" to emerge on Saturday, in another hard –fought contest. Who will be "black and blue" at the end – and who "in the pink"? It's anybody's guess – but expect another performance of character and steel from an increasingly impressive Bath.
Possible lineups:
Bath:
Catt, Dunn, Palma-Newport, Charteris, Ewels, Garvey (Capt.), Ellis, Faletau. Fotuali'I, Ford. Rokoduguni, Tapuai, Joseph, Brew; Homer.
Replacements: Batty, Auterac, Lahiff , Attwood, Mercer, Allinson, Bowden, Clark.
Cardiff Blues:
Jenkins (Capt.), Dacey, Filise, Earle, Down, Turnbull, Warburton, Navidi. Williams, Anscombe, James, Halaholo, Lee-lo, Cuthbert. Scully.
Replacements: Rees, Gill, Andrews, Lewis-Hughes, Jenkins. Williams, Robinson, Morgan