I知 dreaming of a ? Christmas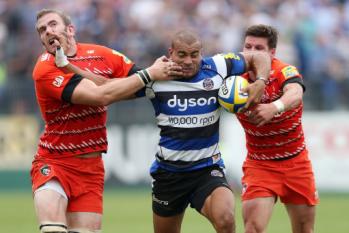 Leicester: tangoed!
By P G Tips
December 21 2016
Watching Cardiff Blues play last week in two thirds pink and white while their fans persisted in a brave but pointless chant of "come on you Blues!" got me thinking. Musing on how they swapped their traditional shirts (a home win 28-3) for 38-3 defeat done up like a bunch of liquorice allsorts. This led to further daydream on the modern fashion for outlandish away strips, most seemingly on a confectionary or fizzy drink theme - and their psychological influence on results. So – for some festive foolery - here are my light- hearted Christmas thoughts on Premiership away colours and performances.
1 and 2: Saracens & Wasps. Not much wrong here in Red & White respectively. Results seem to bear that out. Well done.

3. Bath. Grey. Several recent away performances have been as grey as the kit – especially at Welford Road and in Wales. I much prefer the white with double blue "swoosh" of a season or so past. That said, Saints & Chiefs have been caught out at home by Bath this season. There is a hint of "Battleship Grey" in the strip: let's hope it brings some Dreadnought steel and firepower – starting on Christmas Eve!


4. Leicester. Lemon. Bath fans have been longing for a chance to brand Leicester "a lemon" for years, but, Munster apart, the tinge has not been too embarrassing for results. It seems to be an improvement on the orange of the recent past. Perhaps Tigers' toothless tendency in Bath the past few years can be explained by the tangerine tint of their togs? They were certainly "tangoed" twice at the Rec in 2014-15!
5. Exeter. White with hints of blue. Not much wrong here and they have done well enough away in the tournaments that matter to them. Watch out on New Year's Eve if it snows. What are the rules on teams using camouflage?

6. Harlequins. Frost Blue, Red & Grey with waves effect. South West London attempt at "Surfer dude chic". Who are they kidding? Premiership away form nothing to shout about.

7. Newcastle. Orange. Similar to Tigers last year. Crying out to be squeezed until the pips squeak and turned into squash. Pulped at the Rec in September.

8. Gloucester Cherry & White. No change. As in so much Gloucester have stuck with tradition. Away results include a win at Sale, draw with Chiefs and pushing Saracens – well done.



9. Northampton Saints White, Black, Green & Gold – close to true colours and Premiership away form is 50:50 but a shellacking in Dublin suggests the white has not delivered Saintly results. Like neighbours Leicester, better than recent years - peppermint and chocolate suggesting an insubstantial after-dinner mint.
10. Sale Sharks. Yellow Remember the childhood joke: Q- what's yellow and dangerous? A: Shark infested custard! Oh, come on! One away win – one draw, against the bottom two teams. Need some bolder colour in the palette.
11. Worcester. Yellow with fishnet pattern. Looks like a jaundiced leg being flaunted under dim street lighting in a dockyard area.Seems about as alluring.Not a single first team away win in any competition.
12. Bristol. Gold. Aspirational perhaps, but really looks more of a muddy yellow. Suits a club seemingly floundering in quicksand and struggling to keep from going under. Yet to win away in the Premiership, but snatched one in Pau last week – can a revival bring some brighter colour to their lives?
May your Christmas be colourful and your New Year bright!
View a Printer Friendly version of this Story.
Comeonmylovers.co.uk (IP Logged)
I知 dreaming of a ? Christmas
21/12/2016 08:29
What do you think? You can have your say by posting below.
If you do not already have an account
Click here to Register
.
Edited 1 time(s). Last edit at 2016:12:29:17:27:23 by Stuart Anderton.
Sorry, only registered users may post in this forum.