Charge of the Chiefs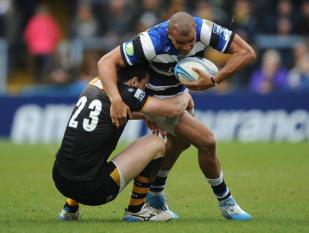 Joseph: shine?
By P G Tips
December 27 2016
Bath look set to face a savage challenge when they host Exeter Chiefs on New Year's Eve. Only a week after their new attack –minded game plan was torn apart by Wasps opportunism, counter attack and pace, they meet another team for whom speed is a watchword. This time it is speed of thought and execution as much of fleetness of foot, the Chiefs employing a playing style and tactics which marauding Sioux or Comanche war bands might be proud of. The mounted warriors of the plains tribes were a fearsome form of irregular light cavalry. They used speed, surprise, ruthless execution and the psychological weapon of blood curdling war cries. This combination not only won many skirmishes and small battles, but also terrified the American pioneers who roamed west to settle in their territory. Current rugby Chiefs from the west emulate these braves with the intensity and tempo of their attack, the ruthlessness of their driving maul and the persistent chant of their supporters "tomahawk chop". Another similarity is their ability to produce a deadly strike when seemingly defeated: sweeping counter-attack is another of their fortes. Saturday's tie sees 3rd play 4th, with only a single league point between them: Chiefs on a high from a bonus point thrashing of Leicester, Bath deflated by the carelessness with which they conceded defeat to Wasps. The stage is set therefore for a classic western clash. Will Bath have the firepower to resist the savage onslaught?
By last year's standards, Exeter made a slow start to their season. Their first six fixtures yielded three defeats and a draw, leading some pundits to write off their chances of a successful season. Such gloomy predictions now seem premature as Chiefs appear to be timing their charge for the top for the season's second half. Their 9 bonus points against Bath's meagre 4 suggest the momentum lies with the visitors. Their first 40 against Tigers last week saw them go down the tunnel at half-time 21 points to nil up: a closer second half could not mask the fact that the job was well and truly done by that point.
Exeter bring threats in all quarters. Their forwards are secure at the set piece and dynamic both at breakdown and in open play. Their multi-layered midfield attack with screens of dummy runners is so well executed that those runners are seldom found guilty of obstruction. Crisp passing, direct running and cleverly timed offload usually mean their ball –in –hand attacks make at least 30 metres. In Slade, Devoto and Nowell they possess three of the most exciting backs in England all three capable of opening a defence, bringing other runners onto a move at pace and clinical finishing. In front of them the whole Chiefs pack can carry with venom but three in particular stand out Thomas (the Tank Engine) Waldrom, AP top try scorer for the past two seasons, hooker Cowan-Dickie and recently returned flanker Ewers.
Against them, Bath are getting closer to having a full squad fit for selection. Watson and Cook are in the mix for the match, while Sisi and Fruean both got game time for United in the week before Christmas. The return of individuals may be a boost- both for team strength and morale, but equally important is individual discipline and concentration. It is vital that the errors of the Wasps match are reduced – handling especially and for fewer penalties to be given away to disrupt momentum. Having spent much of last week's first half on all out attack which Wasps exploited when it broke down, coaches and captains may well want more pragmatism this Saturday, playing the territory and patient percentages until clear-cut attack chances appear.
Bath have powerful combinations of their own throughout the side. An all international lock pairing, two world class loose forwards, a pair of scheming tactical generals with flair at half back, supported by some devastating strike runners. Control from Fotual'I and Ford will be crucial and Jonathan Joseph, who had a quiet game in Coventry will want to shine to remind Eddie Jones that Daly has no monopoly on the headlines.
The next skirmish for supremacy of the west looms. The previous clash was decided at the last with Hollywood drama. In many classic westerns the hard pressed homesteaders, seemingly outnumbered, and low on ammunition are saved in the final moments by the arrival of the cavalry. It could be so on Saturday, but who will ride to the rescue? Will it be Watson, Fruean, Louw from the returnees, or has the hero of the hour been in Bath's midst throughout the story? We should know by 5 o'clock that afternoon.
Possible Teams:

Bath:
Auterac, Batty, Palma –Newport, Attwood, Charteris, Garvey,Louw, Faletau. Fotuali'i, Ford. Rokodoguni, Tapuai, Joseph, Brew. Homer
Replacements: Catt, Dunn, Knight, Ewels, Ellis. Cook, Fruean, Watson.
Exeter:
Moon, Cowan-Dickie, Francis, Lees, Parling, Ewers, Armand, Waldrom. Chudley, Steenson. Nowell, Devoto, Slade, Woodburn. Dollman.
Replacements: Hepburn, Yeandle , Low , Dennis, Horstmann, Maunder, Hill, Short