Friday the Thirteenth, Bristol v Bath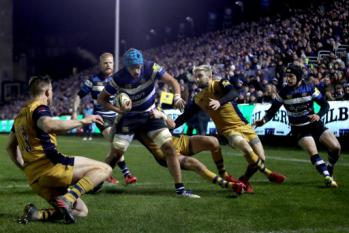 Mercer: eager
By P G Tips
January 10 2017
Bath have an ominous date with destiny when they visit Ashton gate on Friday. So too do Bristol – for different reasons. If Bath were to lose, it would be their fourth defeat in a row in all competitions. For Bristol there is optimism to continue their recent upturn in form – two European and two AP victories being followed by a fighting bonus point reverse at Northampton. Friday is traditionally believed to be unlucky in seafaring communities. Will this Friday be the day that Bristol, a city built on maritime trade, find their luck comes to an end? Or will the first Friday the thirteenth of the year prove to be a horror show for a Bath side struggling all season with injuries and seemingly, recently with form as well? Since parting company with Andy Robinson, Bristol have built momentum and found improved form in all tournaments. Of the 9 fixtures in that time, 4 have been won, with 3 yielding losing bonus points. One of the secrets of that success is Mark Tainton putting some fun back into their training. The improvement in morale means a slump into despondency or superstition is unlikely. Todd Blackadder will know that his battered squad, deflated by close, last minute defeats in the last two outings, will be up against it in the third of this season's four Avon derbies.
Bristol have one of the largest Premiership squads, but fans bemoan a lack of quality in depth. Their first choice squad have shown themselves capable of winning rugby, even if that is against Premiership strugglers or a Pau squad who lost interest in Europe faster than you could say "Brexit". Tainton's first challenge therefore is to decide whether to require more heroics from his top 23 or rest them for the sake of Premiership survival. A glance at the Challenge Cup pool table may help him- Bristol lie 3rd: 3 points behind both Bath and Cardiff, with a difficult trip to the Welsh capital next weekend. Sacrificing the Cup for the Premiership would seem the pragmatic option, but winning is a habit and momentum a precious commodity in a fight for survival – as Bath have found in previous years. A compromise selection could be a real possibility, a leaven of the best players to provide backbone, while resting others. Todd Blackadder's challenge is clearly the opposite. He was as annoyed as he was disappointed in Bath's failure to close out the win at Kingston Park and the Challenge Cup probably represents the best chance of silverware in his first season in charge. Bath must also rediscover how to win. I expect that he will field a strong selection within the limits of injuries and squad registration.
That means another reshaped back five in the pack, as Garvey, Ellis and Attwood all join Faletau on the unavailable list. Thankfully front row news is better with Auterac and Batty fit and Jack Walker having made his bow last Friday. Both defence and breakdown work need to step up a gear so a fit Francois Louw should be a key player and it is a shame that Sisi, now fit but not European registered, cannot be considered. Grant and the two Mercers will be eager to show their mettle- particularly club Captain Guy, who has had to wait for his chances this season, despite his role. Some backs may be rested – to be kept fit for a potential qualification decider against Pau in a week's time and to give match time for others who have to step up in the 6 Nations.
A tough forward battle is in prospect, but Bath possess the backline class to triumph. To be sure of doing so they must deal with their own nerves, possible complacency and a tendency to lose concentration in the final stages. They must also thwart Bristol's hunt for a morale- boosting derby victory. Will Bristol's hopes be sunk on Friday? Or will it be the horror show "Friday the Thirteenth" or "Nightmare on Ashton Gate Street" for Bath?
Possible Teams:

Bath:
Catt, Batty, Dunn, Palma-Newport, Charteris, Stooke, Z Mercer, Louw, Grant. Fotuali'i, Priestland. Watson, Tapuai, Fruean, Rokodoguni, Homer.
Replacements:, Auterac, Walker, Lahiff, Ewels, G Mercer. Cook, Hastings, Brew.
Bristol: Tonga'uiha, Jones, Perenise, Evans, Nemzadse, Lam, Robinson, Phillips. Williams, Searle. Arscott, Tovey, Geraghty, Lemi, Wallace.
Replacements: Hawkins, Cortes, Ford-Robinson, Koster, Eadie. Cliff, Jarvis, Uren,