On The Toon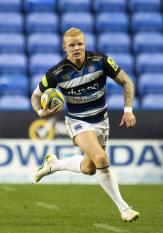 Homer: reinforcement
By P G Tips
January 31 2017
While most eyes will be on Murrayfield and Twickenham this Saturday, Bath will be "on the toon" on the Tyne. The combined pool points of Bath and Falcons would not be enough to challenge any pool leaders, so the tie has no significance for the competition. For the protagonists, there are likely to be different aims and priorities. Flacons, comfortably above the danger zone and only a game's league points outside the top six, may wish to hold some of their key men back for Premiership action the following week. Bath, by contrast, have already announced theirs will be strong selection – to gel combinations ahead of the Premiership ties with Saints and Harlequins. Both sides will be hoping to avoid injury while honing playing style and hopefully, seeking to entertain.
The "toon" of Newcastle has gained a reputation among Tynesiders and visitors alike (students especilayy) as "party central" in recent years: a great place to find entertainment , especially in the Bigg Market on a Saturday night. This season the Falcons have begun to emulate the nightlife of their city by offering a free running and enterprising approach to the game which has surprised Dean Richards watchers and delighted the Kingston Park faithful. With little to play for but pride and building a fan base, perhaps we can look forward to a similar ethos at Kingston Park on Saturday? That is not to expect Geordie hospitality to be a soft touch all of a sudden- they are building a fortress in Northumbria and know how to defend it with resolve, but there is a definite spring in the step when Falcons move the ball wide. Bath may take comfort from the likely absence of Latu, Sinoti and Marcus Watson, but could encounter some familiar faces in D Wilson and Young.
While Newcastle were grabbing a win at Newport last weekend, Bath had to settle for a draw with Gloucester, after ruling most of the match. They will have taken more from the derby psychologically though and have been very pleased with the showing of a largely reserve selection –particularly Obano, Walker, Stooke and Tapuai. This week expect reinforcements in the form of Dunn, Denton, Louw, Fruean and Homer to bring a spine of experience to build a competitive side around.
The Newcastle selection is likely to be unpredictable, as could be their tactics. The weather is expected to be fair, but it will certainly be cold and there is an artificial pitch to adjust to. There is also the little matter of a highly disappointing recent defeat on the Tyne and Bath will want to put the record straight. Whatever the result, I hope there is no repeat of the booing and barracking of the visiting goalkicker that met George Ford a month ago. That is something I do not recall in three seasons playing rugby in the north east and hope was just an aberration of that night.I know it embarrassed many home fans, so assume it is not typical of the current breed of Falcons supporters.
Falcons have found a style and the self belief to be a dangerous force at home. Bath will be rehearsing for forthcoming Premiership tests, but will want to do so convincingly in a testing environment. Sideshow to the internationals this may be, but for those who are there it could be a very lively match. Who will be celebrating "on the Toon" on Saturday night?
Possible Teams:
Bath: Obano, Dunn, Lahiff, Stooke, Ellis, Z Mercer, Louw, Grant. Fotuali'I, Priestland. Wilson, Tapuai, Fruean, Williams. Homer.
Replacements: Marfo, Walker, Palma-Newport, Denton, Sisi. Cook, Hastings. Clark.
Newcastle Falcons:
Brocklebank, Lawson, Foster, Olmstead, Botha, Robinson, Welsh, Wilson. Takulua, Hodgson. Goneva, Socino, Waldouck, Agulla. Tait.
Replacements: Vickers, Cooper, Welsh, Green, Chick. Young, Willis, Harris.