On The Prowl: Leicester v Bath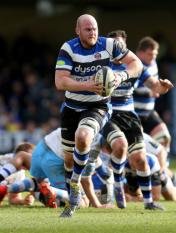 Garvey: key leader
By P G Tips
August 30 2017
Both teams will be on the prowl when Bath's season opens against old rivals Leicester Tigers at Welford Road on Sunday. Tigers having enjoyed three Pre Season victories, including a home and away double over Ospreys, are in roaring form. They are ready to pounce on any beast brave or foolhardy enough to visit their lair. Bath meanwhile are stalking an elusive win at Welford Road and early proof of predatory prowess. The off-season has been kinder to the hosts than the visitors: they have recruited both international backs and dependable forward workhorses and have suffered little disruption from injury and summer tours. Bath by contrast have been thwarted in some of their signing ambitions, are still to reintegrate many of their internationals and will be missing a number of first choices to injury. The portents therefore suggest a bloody fate for the Blue Black and White at the hands (or teeth) of rampant Tigers. Is that what we should expect?
These Tigers sport unfamiliar stripes. Where traditionally the roar has come from a fearsome pack whose snarl was enough to intimidate most opponents, this year's vintage has its stellar names among the backs. The trading of Ed Slater, a Leicester lock of the old school for Johnny May is symbolic of a power shift within the beast. A backline boasting Youngs, Ford, May, Toomua, Tuilagi, Tait and Veianu offers pace, power, experience and guile in a frightening balance. If all can be kept fit rivals will be both envious and apprehensive. Backing these up are the likes of bustling Centre Matt Smith and Australian sevens star Nick Malouf. Behind a Leicester pack of the early noughties these players would have torn defences apart. The question now is: can they still count on that brutal dominance upfront?

The forward Tigers of today may not be the household names of yore, but write them off as pussycats at your peril. Old Dan Cole may be a fading old soul, but he is not ready to call for his pipe and slippers yet. If still not ready to start, he would simply be leaving a place for the block- like Mulipola. On the other side of the scrum will be Ellis "Genghis" Genge ready to do his impression of a one-man Tartar horde. That his "cheap shots" have drawn comment from his own supporters says much about the growing reputation he is forging as an enforcer. He and either Cole or Mulipola holding up Tom Youngs is a strong foundation for any pack. Behind them hard-nosed grafters Kitchener and Barrow, supported by abrasive backrowers Williams, Kalamafoni and O'Connor complete a gnarled eight who will give no quarter at home. Even the loss of Slater can be seen as "business as usual" – Leicester have a habit of jettisoning veteran forwards just before their sell by date. New DOR Matt O'Connor has vowed a return to traditional Leicester values" and sharpened their strike capability. The bookies favour a home win in a short odds game. It is hard to argue: this could be a match up of a ravenous man-eater against a hunter short of ammunition.
Bath's forwards will want to have their say about that. Short of several first choices in the front row, they can still claim steely warriors of their own. Key man is likely to be Garvey, in his first competitive test as new season Captain. He can definitely be relied upon to lead from the front. Charteris with his lineout presence and long arms to disrupt the maul, Faletau on the carry and in tidying the back of the scrum should be able lieutenants. They can expect rugged support from Auterac and Stooke. For the wider channels it is to be hoped that Francois Louw is fit to join the back row and Jack Walker's pre season form has been most impressive. From the bench Obano and Perenise can bring both pace and strong scrummaging. This is the sort of fixture that may demand the experience of Grant is preferred to the promise of Underhill or Z Mercer.
Most pundit interest though will focus on the backs. Much will be made of the showdown of the exchanged tens. One, in Bath eyes at least, has gone from silken distributor to sulky deserter. Hopefully his replacement will morph from pawn for peddling to playmaking prodigal. Even without their Lions backs, which seems likely, Bath pose attacking threat all across the backline, but can their defence shackle the titans and speedsters opposite? If they can, Banahan, Rokodoguni and Tapuai are quite capable of landing some blows of their own. Todd Blackadder has promised a more coordinated counter attack strategy from the back three so the "Wild Dogs" may have some surprises in store. In a goal kicking shootout Bath will fancy their chances with a possible three deadeye dicks in the squad.
Whatever the result, Bath need to take something from this game. Faced with their most taxing opening fixtures for some years, the coaches will be looking for both resistance and resilience. They would do well to copy their west country rivals. Exeter, who suffered early losses last year, showed the virtue of patience and a steadfast culture to make the top four and, eventually, triumph. This time last year Bath sprang a surprise by conquering Fortress Franklins for the first time in sixteen years. Can they repeat the feat after a fourteen year gap by wreaking wreckage at Welford Road? That will be tough, but not impossible. Such early season surprises are one of the joys of Premiership rugby. Bath must travel in hope.
Possible Teams:

Bath:
Auterac, Walker, Palma –Newport, Stooke, Charteris, Garvey (Capt.), Louw, Faletau. Fotuali'i, Burns. Banahan, Tapuai, Clark, Rokodoguni. Homer.
Replacements: Obano, Dunn, Perenise, Phillips, Grant. Cook, Priestland, Watson
Leicester:
Genge, Youngs, Cole, Kitchener, Barrow, Williams, O'Connor, Kalamafoni. Youngs, Ford. May, Toomua, Tuilagi, Smith. Veianu.
Replacements:
Bateman, McGuigan, Mulipola, Fitzgerald, Hamilton. Harrison, Ford, Tait.