A Question of Faith: Bath v Saracens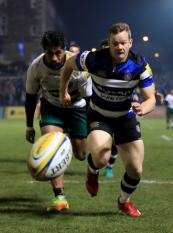 Cook: revelation
By P G Tips
September 6 2017
Bath face a question of faith when they host Saracens on Saturday. The first home game of the season pairs two clubs whose playing style has for the past few seasons represented a clash of faiths. Bath, traditionally fond of a ball in hand style and flowing attack, have often delighted the eye, but for 2 decades been frustrated in the hunt for trophies.
Saracens by contrast began their rise based on a defensive game that stifled the ambition of opponents. Content to be patient and force mistakes off which to counter attack, they have forged an impressive winning culture, bringing them eight final appearances in as many years. These have yielded 3 Aviva Premiership trophies, plus 2 successive European Champions Cup titles. The original Saracens of the twelfth century were the shock troops of what was thought an upstart and alien religion. Today's rugby Saracens have also been (unwisely) dismissed as upstarts by some clubs resentful of their success. Their methods, both on and off the field are often derided as alien to the spirit of the game. These accusations can be dismissed as sour grapes in light of their triumphs. In this season's first round, Sarries sliced through Saints like a scimitar, scoring seven sensational tries. In all they racked up 55 points. Bath had success of their own, less spectacular, but arguably more welcome: a first Welford Road win in 14 years. That though was a flawed win. Having torn strips off Tigers in an eight-minute, three try burst, late indiscipline allowed their hosts to claw their way back. Bath were holding on at the end, but snaffled the final lineout to snatch the win. Are these different fortunes to be taken as portents of Saturday's match?
Saracens style and success is built on simple foundations: fearsome forward power and the "Wolf Pack" defence. Up front they will not be at full strength. They will be missing at least two Lions, maybe more. George Kruis has an ankle injury and is joined on the treatment table by Billy Vunipola, whose shoulder injury has kept him out since last season's end. Maro Itoje may need a rest after last weekend and there is no news yet of when Jamie George and Mako Vunipola are due back. For other clubs these would be damaging losses. For Saracens, armed with a strong club culture, and trusting in their systems, it is simply a chance for others to show their mettle. Barrington, Brits, Isiekwe, Rhodes and Wray can step in, determined to make the shirts theirs. Brits in particular, is a centre in disguise and was destroyer-in-chief against Northampton. Behind the scrum Lozowski will want a further chance to impress Eddie Jones with his game management, and will be hoping for better goal kicking return. Leading the defence and the midfield will be Brad Barritt, ably supported by Taylor. The back three boast speed and strength in Maitland and Earle, plus the trickery of Goode. They are a terrifying prospect, with few apparent weak links in their armour.
Bath must keep the faith. The self-belief taken from last weekend's win is like a precious liquid, a magic elixir that can inspire another brave performance. It could just as easily slip through the fingers and dribble away if carelessly handled. For that reason, if in Todd's shoes (which obviously I am not), I would stick with last weekend's squad, injury allowing. Continuity and confidence could prove as vital as systems and training ground moves. In that respect, KPN's achilles injury is worrying news and there will be concern too over Max Clark, who hobbled off at Welford Road. A comparatively green front row held their own last week and even gained an edge in the scrum at times. Bath's back row were immense in defence, carry and turnovers– on Saturday all three will be demanded again. Luke Charteris seems to have refound his international form and Elliott Stooke is in bruising rude health: a sterling shift will be required from both. The win at Welford Road was seized with few chances for the back three to show their paces. When they did, they were lethal and Bath will want to get the ball to Banahan, Rokodoguni and Watson often and in space. These three will be invaluable on the kick chase too: often the best way to beat Saracens is to match them at their own game, as Bath did in October 2014 and December last year. Accurate tactical kicking from Cook (a revelation last Sunday) and Priestland could be the foundation for a repeat performance.
Bath have several reasons for hope to support their faith. If they can blunt Saracens' initial thrusts, the visitors may miss the experienced heads of their absent Lions. Having won easily last weekend, Saracens now meet a foe whose victory was built on graft, grit and guts. Blue, Black and White should be a sterner test than faded Green, Black and Gold. The Wolf Pack defence too may prove a double-edged sword. Aggressive line speed, as Bath discovered on Sunday, can generate a rash of high tackles and the home side often gets the better of fifty-fifty decisions from officials. Saracens will need to take care, as Wayne Barnes is to referee. Bath fans will hope that he brings his "letter of the law" approach, rather than the laissez faire attitude to headhunting he showed in the 2015 Final. Bath carry threats of their own – a predatory back row, impressive strike capability out wide and a united, steely squad mentality. While it would be as foolish to write off these Saracens as it was for Richard the Lionheart to underestimate Sala-ud-Din, they are not immortal. Bath will need the heart of a lion to win: they found that last weekend. Will they have the execution, accuracy and staying power to back that up?
Possible Teams:
Bath:
Obano, Dunn Perenise, Stooke, Charteris, Garvey (Capt.), Louw, Faletau. Cook, Priestland. Banahan, Clark, Joseph, Rokodoguni. Watson
Replacements: Auterac, Walker, Nixon,Phillips, Grant. Fotuali'i Burns Tapuai,
Saracens:
Barrington, Brits, Koch, Day, Isiekwe, Rhodes, Burger, Wray. Wigglesworth, Lozowski. Earle, Barritt, Taylor, Maitland. Goode
Replacements: Tolofua, Thompson-Stringer, Figallo, Skelton, Conlon, Spencer, Bosch, Wyles