Siege Mentality: Toulon v Bath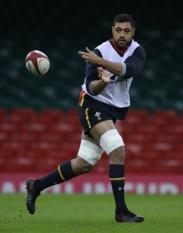 Faletau: change of role?
By P G Tips
December 6 2017
Having delivered too little, too late at Exeter, Bath must now avoid playing too loose against Toulon. With enviable quality strength in depth and a refined counter attack game, Fabien Galthie's side seem likely to punish any sloppiness as sternly as Chiefs did. Toulon lie a modest 7th in the Top 14, but it would be foolish to write off their cup pedigree. They will expect to snatch the leadership of Pool 5 from Bath and drive for the knockout stage in the New Year rounds
The club that Mourad Boudjellal built dominated European Rugby with 3 cup wins from 2013 to 2015. The dedication and discipline of Wilkinson, Giteau and Hayman forged a real team ethos from an expensive collection of galacticos who just refused to lose in finals against rising rivals Clermont (twice) and Saracens. Since then they have faded somewhat, losing out at the Quarter Final stage in 2016 and 17, both times to French opposition who in turn reached the final to fail against Saracens. The men from Barnet threaten their record: they will fight to keep it.
Their latest win, a comfortable 39-11, five try victory over 4th placed Lyon, shows that Toulon are back in the form and mood to protect their hard won reputation. Up front they boast ball winners and carriers in titans like Guirado, Gorgodze, J Fenades-Lobbe, Kruger, Manoa and Vermeulen. Behind them they have a choice of Alby Mathewson or Sebastien Tillous-Borde to serve a French international flyhalf-whether that be Trinh-Duc, Carbonel or the new cap Belleau. No nonsense centres McAllister, Fekitoa or Bastareaud can be relied on to drive across the gainline while they are positively oozing finishing class in the back three with Clerc, Habana, J P Pieterson , Ashton and Bonneval to chose from.
Bath themselves have a record to be proud of against French clubs- including in the last three seasons. The best of those came in 2015, with bonus point wins over Toulouse and Montpellier. Even in the muddled 2016 season Bath held hitherto rampant Toulon to 3 and 5 point margins while contesting the "group of death". Those results though were based on a more aggressive attacking game plan, ideal to unsettle a French side. It is doubtful if the more passive, defensively based plan of the current coaching team will have the same effect – especially at the Stade Mayol. As Matt Garvey has observed, if they have kept half an eye on matters north of the channel Toulon's brains trust of Galthie, Dal Maso and Manny Edmonds are probably licking their lips at facing a disjointed, error –strewn opposition.
The coaching regime cannot be blamed of course for the injuries that have deprived them of key ball carriers Atwood, Ellis and Batty for the season so far and also kept first choice props Catt and Thomas largely out of action. Or for the unexpected loss of their attack coach for compassionate reasons. Where they should, in my view, examine their performance is in sticking to the same game irrespective of opposition or recent results. Contrast this approach with that of Baxter & co in Devon. They borrowed Saracens tactics to effect two weeks ago, absorbing pressure and biding their time until their intensity and fitness told with two late strikes. This they followed with a blitzkrieg against Bath, stifling their visitor's attempts to replicate the sprint start they enjoyed against Quins. Garvey and Blackadder have spoken of improving "consistency" and "basics". They might also add "predictability" especially in the kicking game - which cries out to be pressured into error and in the defensive approach to the breakdown.
At least the return of Faletau should address some of the carrying and breakdown issues. Unfortunately neither Louw nor Underhill will be fit so back row balance is the key selection headache. Perhaps the solution is to pack the starting unit with experience as Grant was the standout forward against the Chiefs. That would certainly be my answer- with Faletau on the open side and Mercer held back to bring his dynamism into play from the bench. Some rotation and refresh of the squad may be needed to get some "devil" into the starting lineup- I would certainly consider rewarding Lahiff, Stooke, Cook, Priestland and Banahan for their second half contributions at Sandy Park.
Whatever selection takes the field, Bath must dig deep inside themselves for the right mindset. This is a winnable pool. The key this weekend will be to take the game to the hosts and rattle them. Toulon has a place in history as the site of the first triumph by Napoleon Buonaparte. His part in the siege of Toulon launched his career, with dramatic promotion from Captain to Brigadier and inflicted a rare and unexpected defeat on the Royal Navy. Bath need their own siege mentality and moment of Napoleonic bravado and must chase an improbable victory.
Possible Bath Team:
Auterac, Dunn, Lahiff, Stooke, ,Charteris, Garvey (Capt.).Faletau , Grant.. Cook, Priestland. Banahan, Tapuai, Joseph, Rokodoguni. Watson.
Replacements: Obano, V Vuuren, Thomas, Ewels,, Mercer. Fotuali'I, Burns, Brew.