Everybody Has a Story: Summer Articles Required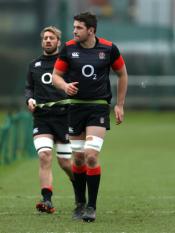 Ewels: FEC?
By P G Tips
June 12 2018
It will soon be time for P G Tips to take his annual break from writing COML articles. The site depends on articles to keep it open (note that Wasps were off air for a week), so we are looking for volunteers to deputise for PG during July and the first two weeks of August. Topics can be of the author's fancy – as long as they are rugby related. Serious or comic, fantastical or contentious (within rules and usual civility), long or short. So- who would like to have a go?
It is sometimes said that sport and writing do not mix well. Well – tell that to Camus, Hemingway, Mailer and a host of other award winning and acclaimed writers. Nobel Prize winner Camus was a semi pro goalkeeper in the Algerian League, Hemingway wrote with passion about bullfighting and boxing and still holds the record for the highest fee paid for a single magazine article on any sport. James Joyce was devoted to cricket, as was Conan Doyle, who chose the name Sherlock Holmes by combining the surnames of two cricketers feted in Wisden. One of his other heroes, Edward Malone in "The Lost World" "played centre three-quarter for the London Irish every Saturday."
It is also said that " everybody has a book in them" – we do not need a book, just between 200 and 700 words. You don't have to match the talent above- just be happy to give it a try, but who knows? We may unearth another Neville Cardus, Frank Keating or even Brian Moore.
Some ideas for articles to help the creative process:

1. Memory Lane – best or favoured memories of Bath Rugby (collective or personal), perhaps:

* Best match
* Most hilarious moment
* Best ever team (by year)
* Player of the Century
2. Big Beef – what drives you nuts about Bath/England/the game? Get it off your chest:

* Most annoying tactic
* Most irritating opponents/ supporters
* Laws in need of change
* Least productive refereeing protocol
3. Look Ahead – prediction, hopes, pressing needs – for next season. Maybe:

* Tactics
* Coaching change
* Emerging star
* Rec development
4. Flights of Fancy – anything imagined, fantastical, whimsy or wish list, e.g.:

* Dream Team
* Bath's best ever import
* Fantasy marquee player
* FEC –no not Mrs Brown on a bad day, but Future England Captain. Widely held to be Itoje, but is he the man? Could he come from our ranks (what about Ewels or Mercer one day)?
Of course, the above are only ideas. Volunteers may well have your own ideas – indulge your creativity, idiosyncrasy, cynicism or or irritability!
How to Do It
Simply write an article – I suggest 200 words or more- on your chosen topic and PM all of the moderators- Coochie Coo, hasta and P G Tips one of whom can upload it for you. If you want to write regular articles for that period we can explain how to upload for yourselves. The first paragraph – basically the "taster" to get the reader interested- should not exceed 400 characters and please suggest a photo to accompany the article.
First "volunteer" article will be needed in the first week of July. Come on guys & gals – get the creative juices going and happy writing!

COYB!



View a Printer Friendly version of this Story.
Comeonmylovers.co.uk (IP Logged)
Everybody Has a Story: Summer Articles Required
12/06/2018 08:17
What do you think? You can have your say by posting below.
If you do not already have an account
Click here to Register
.
Edited 1 time(s). Last edit at 2018:07:08:12:36:43 by CoochieCoo.
Sorry, only registered users may post in this forum.