Elf & Safety in Rugby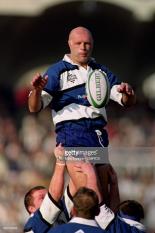 Olly Redmond
By pie-half
July 21 2018
The game, we are told, is constantly looking for ways to improve player safety. No rucking of players on the floor; no contact to the head; constant tinkering with the scrum laws.
One of the relatively recent introduction was the idea of contact and collision in the air, which now regardless of intent or recklessness is dealt on an outcome basis. That is a rant for another day. This not only happens in open play with high flying wings and fullbacks leaving the ground and hoping they will come back to earth safely but also at the lineout. The jumper at full stretch is fighting off the arms of a rival jumper trying to stay vertical as well as catch the ball, hoping he too will come to ground on both feet. But he can have arms, shorts, boots tugged. Rival jumpers thrown into or across them, braindead opposition players tackling them while at the top of their leap. Now granted the jumper has the benefit of at least one lifter giving them a firm footing, but even he is barged, tickled and grabbed plus he may just lose his grip. The forward now 5' / 6' in the air is left to come crashing down to earth after having had the rug pulled out from under him. This is generally dealt with just a warning and a penalty, as many of the players land on other piano-shifters who break their fall. But the slightest contact and the AR steps in to get involved… I mean help the referee and award the penalty. Ultimately this is a player safety issue. So why not change the law? Why not take away all the leg strapping used to push the jumper even higher, and allow lifters only to be able to aid the jump by holding the shorts? This would reduce the hight by a couple of feet. This doesn't take away the art and athleticism of lineout specialist, but doesn't address the idea of player saftey. This is something that can be a problem at more grass roots level where the players lifting may no have the strength and skill required to lift safely. So what can be done to change it?
My memory was jogged by watching old 5N footage, not only was the scrum set and completed in no time at all, but the lineout despite being pretty much a free for all, there were no lifters just tree-like second rows reaching up and batting the ball back to scrum-halfs. But again the hooker got the ball, threw it in and play continued. There was no holding back and walking to the line, secret call, unfathomable numbers, just 2 straight(-ish) lines. But apart from the odd stray fist, there was no player safety issue. No concept of sacking the jumper, was the jumper back to ground before being tackled, was it collapsing a maul. The idea of kicking to the corner to stop an almost unstoppable rolling maul never crossed their minds either. It was from a refereeing point of view a much simpler set piece to manage and ultimately restart play. Less situations that could be interpreted a dozen ways which could have profound implications on the match result. Nor a ref getting a 'picture' in his head that one side is constantly at fault because of a different interpretation. An added bonus was none of this caleigh dancing before the ball comes in. Now I see there may be unforeseen consequences to this law change. The rolling maul could still be used but would take far more skill to create and one side would not be able to go to a hockey-like penalty corner routing and win a game based on a rolling maul. Once is fine but more than that just gets a bit silly. Instead there would be ornate penalty set plays like back in yester year. More tap and goes. A game with a much quicker tempo. Kicking to touch granted may possibly increase as players may see a kick to the corner as a 50/50 chance of winning the ball back, but the ball is kicked a fair amount in the winter months and most modern lineouts are 70-90% anyway, so it is not a major change. You may even see a side which is outgunned at lineout try to keep the ball in play more. You may see even more athleticism from lineouts as players work on their standing jump, reducing their bulk, reducing some of the collisions round the pitch again improving player safety.
In short, we all agree we want to see the best players playing more games and the ball in play for a longer percentage of the game. This is by no means the finished article on an aspect of player safety and open to discussion, because how far is too far? Where do you draw the line? But this is something that can affect players from grassroots 18+, to women's to international. And with so much being done to promote player welfare, this is an easy tweak that can be done, which can be easily policed with little to no grey area interpretation. Will it make the game better? Who knows. Without extensive trials you wont see what affect the law change will have on the game, but hopefully it will cut out the breaks in play, meaning the ball is in play more, so more of an aerobic contest leading to more gaps, more breaks, more running rugby, more tries and safer spectacle.
View a Printer Friendly version of this Story.
Comeonmylovers.co.uk (IP Logged)
Elf & Safety in Rugby
21/07/2018 15:32
What do you think? You can have your say by posting below.
If you do not already have an account
Click here to Register
.
Edited 1 time(s). Last edit at 2018:08:02:13:22:43 by P G Tips.
Re: Elf & Safety in Rugby
25/07/2018 10:47
A positive suggestion but donít see this as a broad enough solution to player safety.
For once (in my opinion) there was a very good article in the ST this week be Steven Jones. He has aired the suggestion that the subs bench gets drastically reduced - to say 5 of which 3 have to be specialist front row.
There could be many many benefits.
Players would have to train to play 80 minutes. They would therefore have to get smaller to last.
It would remove the incoherence of the last quarter of so many games where the pitch is full of different players.
Behemoths could not be introduced at 60 minutes to come on and clatter the tired bodies around them.
With only 2 other subs (one back and one forward) players would need to be more skillfull to cover multiple positions (think Austin Healey).
But best of all the latter stages of matches would open up as tired players would start to leave space for attacking play.
VG I thought.

HOPHOPHOP
Sorry, only registered users may post in this forum.