A New Beginning? 2018- 19 Season Preview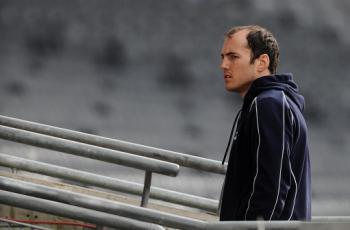 Dempsey: expectations
By P G Tips
August 23 2018
The new kit is out; the new season is about to begin. There are also new players, new coaching and support staff and a new experience for Todd Blackadder at Bath – a full pre season with most of the squad fit. There have been positive vibes coming from Farleigh House, so can we hope for new beginnings in 2019? Or will it be the "same old, same old", good at times but not good enough, dazzling occasionally but inconsistent and also - rans in the trophy hunts? Let's take a look at the drivers for success.
RECRUITMENT
Bath have been busy recruiting for next season. Seven players have joined the ranks, most of them backs. That won't please all supporters, many of whom want a tougher, more dominant pack, but the experience of Paz and Van Rooyen (in as injury cover for Obano) add considerably to the front row resources. The backs are a mix of experience (Chudley, Roberts, Willison) and promise (Cokanasiga, McConnochie). Better control from scrum half and go forward at centre were obvious gaps in the armoury last campaign, so I expect Chudley and Roberts to influence both style and performance, while finishing power and options are greatly enhanced, which should relieve the over reliance on the magic of Rokodoguni.
Several old favourites can also be considered "new men" as they return from injury, notably Dave Attwood, available to Bath for the first time in a season and a half and Rokodoguni who missed half of Bath's frustrating 2018 season.
It may be the new coaching and support staff however who prove Bath's most inspired signings. The prospect of Attack Coach Girvan Dempsey sparking Bath's attacking style as he did with Leinster is mouth watering, while Katie Warriner, the Sports Performance and Mental Skills coach, has an impeccable pedigree including Olympic Team GB (particularly Gold winning Ladies Hockey) and England Sevens. Both club and fans will have high expectations of both. If they can address the weaknesses of last season, Bath should win more of the tight games –especially at home. Finally, there is the new Head of Medical appointed (according to the Chronicle) and soon to be announced. He or she will also have their work cut out in this attritional era to reverse the worrying injury rate that blighted last term.
IMPROVEMENTS
Many of the new names mentioned above have clearly been brought in to tackle the areas in need of most improvement. These are:
Possession – 20% is not enough! Let's hope this was a priority in pre season!
Game Plan – attacking mind-set, choice of options, better control of territory.


Discipline – not only too many penalties, but the type of penalty and where they occur, both on the field and the timing in the match
Mentality – three home games, lost by a single score, consigned Bath to sixth in 2018. Avoidable errors were all too often the culprit. Victory in those three would have seen Bath in the playoffs. All staff and players, not Katie alone, should take responsibility for a marked improvement.
Luck – especially with injuries. Here, better conditioning and return to play management can influence the luck. Dominant game plans and ruthless attitudes shape a team's own luck.
THE COMPETITION
Of course none of the desired improvements happen in a vacuum, opposing teams will want to have their say. Exeter, Saracens and Wasps have led the way for three seasons, with the first pair clearly ahead of their Ricoh rivals last term. All three seem favoured candidates for the playoffs again. Newcastle Falcons may struggle to repeat their feats of last season, but Gloucester, Leicester, Northampton and Sale have all recruited big names, mainly from the southern hemisphere, and will be jostling with Bath for that fourth playoff place. Saints, with Franks, Barrow, Haskell, Biggar, Tuitavake and Naiyaraovo joining and coached by the highly rated Chris Boyd, should make big strides –if they can deal with the inconsistency that dogged them last year. Gloucester too have big name arrivals- Marais, Mostert, Grobler, Kriel in the forwards, but have also said farewell to tough grunt in Hibbard, Afoa and Moriarty. The rise of their star will depend on how well they can integrate Danny Cipriani and attune the squad to his mercurial talents.
Leicester have strengthened their front row resources in a search for the "old Tigers spirit" but appear still to be struggling with a debate over game plan and internal unrest. They should be a real threat as usual, but have slid down the Premiership table for the past five seasons. This could be a season of rebuilding for them. Sale, always a tough nut at home, can be relied on to upset a few aspirations but themselves seem to lack the class (wings apart) needed for a top for finish.
EXPECTATIONS
Bath fans will be more hopeful than expectant and can be forgiven for scepticism about new dawns and ambitious claims. Little should be expected from the Champions Cup "group of death' except some attractive venues and, hopefully, exciting play. However, the new arrivals have not come to make up the numbers but to make a difference. If they have the desired impact we should see marked improvement, more positive and attractive play and ability to challenge the best. A place in the Premiership playoffs should be the minimum aspiration. We will get a better idea of how achieveable that is after the friendly against Scarlets. I will stick my neck out and say Bath will grab fourth.
.