Pride and Prejudice: Bath v Gloucester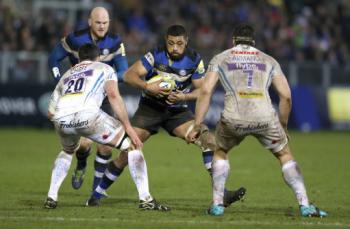 Faletau: Leadership
By P G Tips
September 4 2018
Gloucester Lions will approach Saturday's derby match with optimism and pride. This derby generates greater animosity between supporters than with closer rivals Bristol, founded less on the real differences between them than perception and long held prejudice. The newly rebranded Lions enjoyed an impressive opening win last weekend while error strewn Bath succumbed to a fired up Bristol in the other derby. So who will be roaring with pride at full time this weekend?
Traditionally the Gloucester club and supporters have lauded the virtues of a tough pack and kicking half backs. They didn't care when that type of rugby was criticised by some as "a ten man game" or limited and boring if it brought results. Theirs was the true game of hard men who gave no quarter and terrified opponents. Running and handling "fifteen man" rugby was a delusion favoured by sides with "soft" forwards and backs who were a bit above themselves. In Bath's golden era the Kingsholm faithful derided the Blue, Black and White supporters as lahdee dah upper middle class types –out of touch with reality. Bath fans in reply caricatured Gloucester supporters as troglodytes with the mental capacities of the donkeys whose braying calls they love to imitate.
Gloucester's faith in an attritional style served them well until the 1980s but since then their best performances have sprung from embracing a more rounded game, winning the RFU Knockout Cup in 2003 and the Anglo Welsh in 2011. Most recently their successes have been on the European stage with 3 successive Challenge Cup Finals, triumphing at the third attempt in 2011. Several years of inconsistency followed and Head Coach Laurie Fisher resigned in frustration in 2017, making way for Johan Ackermann, formerly coach of South African super side the (Transvaal) Lions. He has set out to complement the talents of a speedy and adventurous backline by building a tougher pack. The recruitment of Ed Slater from Leicester last season began the process and this year he is joined by 4 steely South Africans- Marais, Dreyer, Mostert and Kriel, three of them former Transvaalers who know Ackermann's game plan inside out.
If last Saturday is a guide, the master plan is coming together for the Cherry and Whites. Danny Cipriani enjoyed a dream debut, getting the team playing with the freedom that Ackermann seeks, his sublime miss pass putting Sharples in for one of the tries. With Matt Banahan hoping to make a giant impression on the club that disappointingly let him go last year and Twelvetrees in fine kicking form, Bath face the daunting prospect of a second successive derby defeat to start the campaign.
Defeat at Ashton Gate was all the more surprising and dispiriting as it followed such an encouraging victory over Scarlets at the Rec. The urgency and positivity of that 7 try victory gave way to errors of judgement and sloppy execution which cost the match. Whether this was due to rustiness or over confidence only the squad will know, but spurning kickable penalties is an indulgence against newly promoted opponents – especially in a tight derby. In failing to touch down an easy try and knocking on with a clear overlap outside, players were guilty of greater generosity to the opposition than England's cricketers in the third test. These aspects of play must be tightened up, but not at the expense of attacking ambition.
Tempting though it is to wallow in self- pity after last Friday, there is much for Bath's fans to be optimistic about. Girvan Dempsey's influence on attack was evident against Scarlets, new backs Roberts, Willison and Cokanasiga have settled quickly while the return of Dave Attwood has revitalised the pack. In Catt, Dunn, Thomas and Stooke there is plenty more front five steel and Bath have enviable resources in the back row. A lack of direction rather than absence of talent was the main lament in the last round. It is to be hoped that Will Chudley will be fit to start at scrum half and I would give Freddie Burns a start at ten to play a flatter game and test Gloucester's midfield defence.
Big games will be needed from the whole side but notably from the leaders – not just Garvey and the halfbacks but Dunn, Attwood, Faletau, Roberts. Cokanasiga and Willison have shown how dangerous they can be as did Rokodoguni last season. They must be brought into the game more often and in space. A home tie with Gloucester should need no extra motivation but league position and Bath's attacking aspirations demand this is a must win game. If both teams realise their potential this promises to be a red meat encounter with teeth bared and the crowd roaring. A Cup Final attitude from players and fans will be needed. Bath must bring their own pride to the match, without prejudice, to prove who is the king of West Country beasts
Possible Teams:
Bath:
Catt, Dunn, Thomas, Attwood, Garvey (Capt.), Mercer, Underhill, Faletau. Chudley, Burns. Cokanasiga, Roberts, Willison, Rokodoguni. Homer.
Replacements: Van Rooyen, Walker, Perenise, Stooke, Ellis. Cook, Priestland., Brew.
Gloucester:
Rapava Ruskin, Hanson, Balmain, Slater (Capt.), Galarza; Ackermann, Ludlow, Morgan. Braley, Cipriani. Banahan, Twelvetrees, Trinder, Sharples. Woodward.
Replacements: Marais, Hohneck, Dreyer, Mostert, Polledri, Vellacott, Hudson, Williams