Pursue the Positives: Exeter v Bath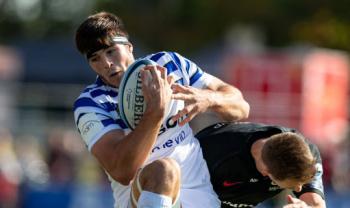 Bayliss: breakthrough
By P G Tips
November 1 2018
Bath will want to pursue the positives at Sandy Park in the Premiership Rugby Cup on Saturday. Last week's defeat to Harlequins brought a storm of criticism from fans on social media, provoking skipper Matt Garvey to respond in defence of his squad. "There was too much negativity" he said "and I just felt it crossed a bit of a line." After a loss, he went on "no one hurts more than us" (players). We can expect a player backlash on the field, but will Bath's cup be half empty or half full?
Garvey makes a good point. "It isn't acceptable when people accuse players of lack of care or lack of effort." There was plenty of evidence of effort and passion last Saturday: Bath dominated periods of the match, scored more tries than their visitors and, with the periods of pressure they enjoyed, should have won. The failings appeared to be more in tactics, decision- making, execution and discipline. The latter was particularly damaging, handing Quins 15 points from goals and a 12 point turnaround late in the first half; a Quins penalty in deep defence denying Bath the try that seemed inevitable, was the springboard for a try of their own at the other end of the pitch. So –"lack of effort" is an ill-informed criticism in that context and how can an onlooker actually claim to know?
None of that changes the facts. Bath have now gone 5 games without a win. 2 victories in 9 matches in total is a disappointing return for a squad with a revitalised attacking approach. If results are to be turned around, Bath will need to be more clinical in decision –making and execution. Three times against Quins, overlaps were ignored for pick and drives which came to nothing. Two late lineouts were lost on Quins 5M line. A 40% return from these incidents would have brought victory. Hopefully Girvan Dempsey and Katie Warriner will have been working on these issues as the squad prepare.
Exeter, usually highly committed to the cup competitions, need a turnaround of their own after drawing late on against Newcastle. Bath last beat Exeter in October 2016, last season losing to the Chiefs twice in the Premiership and in the Anglo Welsh Final. With home advantage, Exeter should be favourites, even though their strength in depth will be tested by front row call-ups for the Autumn Internationals.
Bath's injury list is mounting once again. Chudley, Grant, Reid and De Glanville are unavailable, but Khan Fotuali'I looks likely to feature. Positives for selection should be Josh Bayliss, shortlisted for the competition's Breakthrough Player Award after his performance last week, Jack Walker and the pair of Levi's.
Effort we will take as read, especially after last week's criticisms stung. To win Bath must develop the momentum that Hooper and Garvey spoke of in the week, show the ruthlessness they aspire to and, above all, take the right options. Players and fans alike want to see positives in play and performance, this weekend gives the squad a chance to respond to the negatives.
Possible Bath Team:
Noguera, Walker, Lahiff, Garvey (Capt.), Charteris, Douglas, Bayliss, Davies., Green. Davies. McConnochie, Clark, Wilson, Davis. Homer.
Replacements: Van Rooyen, Batty, Nixon, Britton, Ellis. Fotuali'I , Wright. Atkins.