Honours Even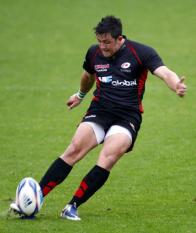 Sharp
By Blues Brother
December 12 2016
You have to admit that the B&I cup provides a welcome distraction from the rigours of league rugby with an entertaining and welll balanced contest against Trailfinders ending in an honourable 19-19 draw. Now we have to go to their place next week and win ...
We are in third place in the Pool but not too far behind Carnegie and Ealing at the half way stage.
We could have won won on Saturday but after trailing 14-0 in the first dozen minutes we did well to come back.
Jason Hill got our try, which was converted by Jake Sharp, and then it was down to pens with Sharp getting two and Myles Dorrian also getting a brace.
Ealing's tries all came from Alun Walker. When was the last time was not only his side's only try scorer but also a hat-trick hero? Bet he doesn't do it again this week.
More Bedford Blues headlines