Time To Experiment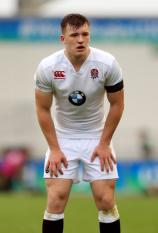 Gallagher
By Blues Brother
October 13 2017
The B&I cup may not be top priority but it does provide the opportunity to try some new combinations and give up and coming players a chance to shine.
That's the route being taken by the Blues in the trip to Nottingham on Sunday.
Matt Gallagher is the most notable name on the teamsheet after his dual-registration from Sarries and he celebrates his return by being presented with the No. 15 shirt.
On the left wing Ryan Hutler makes his first competitive start Up front Camilo Parilli-Ocampo, Ed Taylor and Jack Nay all start.

Blues: 15. Matt Gallagher 14. Elliot Clements-Hill 13. Rich Lane 12. Ollie Dodge 11. Ryan Hutler 10. Harry Sheppard 9. Lee Dickson (capt) 1. Camilo Parilli-Ocampo 2. George Edgson 3. Ben Cooper 4. Ed Taylor 5. Jordan Onojaife 6. Alex Rae 7. Jack Nay 8. Jarad Williams
Reps: Jacob Fields, Sean McCarthy, Alex Penny, Will Carrick-Smith, Ben Adams, Jordan Burns, Michael LeBourgeois
More Bedford Blues headlines