Festive Fun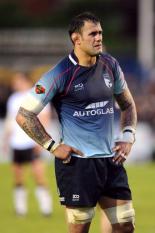 Paul Tupai
By Blues Brother
December 15 2017
It's not that often you can say you are really looking forward to a B&I cup game but that's not the case this week!
The Blues are worth watching in every game this season and certainly earned their 25-14 win in Cork last weekend.
Munster 'A' will be smarting from that one and will be looking to put things right at a chilly Goldington Road on Saturday.
We make a handful of chganges from last week's side with Paul Tupai coming in to make his 250th appearance for the Blues - what an early Christmas present for him. It is, of course, his testimonial year.
Dave Spelman, Will Carrick-Smith and Huw Worthington all start in the pack for Alex Penny, Ed Taylor and Jarad Williams. In the backs Ryan Hutler replaces Elliot Clements-Hill.
Blues: 15. Rich Lane 14. Ryan Hutler 13. Ollie Dodge 12. Michael Le Bourgeois (capt) 11. Dean Adamson 10. Will Hooley 9. Jordan Burns 1. Sean McCarthy 2. Tom Lindsay 3. Dave Spelman 4. Jordan Onojaife 5. Will Carrick-Smith 6. Paul Tupai 7. Josh Buggea 8. Huw Worthington
Reps: Jacob Fields, Camilo Parilli-Ocampo, Ben Cooper, Alex Rae, Jarad Williams, Lee Dickson, Harry Sheppard
More Bedford Blues headlines