Big Test at Irish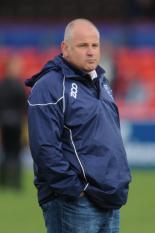 By Blues Ed
September 21 2018
Mouthwatering prospect this week with a trip to the Madjeski on Sunday to take on the side most fancied to return to the Premiership .
Despite losing at Coventry last week the Blues still travel in second place, while our hosts are in fourth. However, they have only played two games to our three.
The Cov game took its toll with Mike Rayer and Co. making a number of changes this week - Dean Armstrong has an eye in jury so Harry Davies comes in with Josh Buggea in the back row.
The front row is "rotated" with Camilo Parilli-Ocampo, Jacob Fields and Ben Cooper starting - Ed Taylor is skipper.
Blues: 15. Rich Lane 14. Harry Davies 13. Jamie Elliott 12. Lewis Robling 11. Ryan Hutler 10. Ed Coulson 9. James Lennon 1. Camilo Parilli-Ocampo 2. Jacob Fields 3. Ben Cooper 4. Ed Taylor (captain) 5. Oli Curry 6. Alex Rae 7. Josh Buggea 8. Jarad Williams

Reps: Charlie Clare, Sean McCarthy, Alex Penny, Will Carrick-Smith, Jack Nay, Lee Dickson,. Joe Green
More Bedford Blues headlines