Cornish Thriller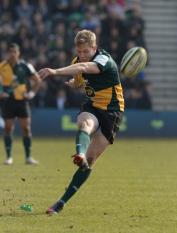 Hooley
By Blues Ed
October 22 2018
It couldn't have been closer but victory was ours. Not many teams will win at the Mennaye Fields this season and very few games in the Championship will be as hard fought as our 30-29 win .
It could prove a vital one. Pirates are in third place, still, with 29 points while we are still in contention in fifth place and on 25 points.
Defeat would have made things look a lot different. We were only behind once in the game at 7-6 and were leading 22-23 going into the final quarter thanks to tries from Rich Lane and Ryan Hutler plus the boot of Will Hooley.
The Ref missed a Pirates forward pass, which didn't go down well, however justice was done when Dean Adamson intercepted and raced in under the posts.
The Pirates response was for replacement scrum half Schwartz to go over with Skinner converting to make it 29-30.
Cue a frantic last five minutes. The kitchen sink was deployed came out but heroic defence kept them out.
Gloucester IIs are up next at Goldington Road,
More Bedford Blues headlines