Revenge of the Pirates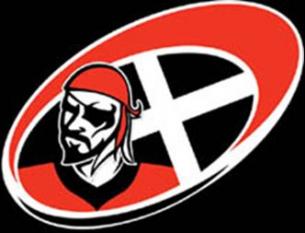 Pirates badge
By Mark Sansom
February 20 2012
A thoroughly entertaining game, deservedly, if narrowly, won by the hosts. Bristol showed glimpses of their counter-attacking prowess, but some poor decisions meant they were unable to finish off some promising moves. On the other hand a supposedly powerful pack appeared to struggle, for whatever reason, against determined opposition. Not a disaster by any means, but still plenty to work on.
A cracking start to the game in balmy sub-tropical conditions. The early action was all Pirates, with some aggressive exchanges in the forwards (I'm told that Mariano Sambucetti had had words with a Pirate before the start of the game. That might account for his fairly uncompromising approach early on and his subsequent yellow card The Bristol scrum appeared to be having some difficulty with the referee, who rejected Jason Hobson's well-meant advice out of hand. The hosts received rather scant reward for their enterprise with a rather speculative penalty kick from Pointer that sailed over with yards to spare.
Bristol were having trouble containing a rampant Pirates' side and it was no surprise to action man Ward claim the honours with a well-worked but unconverted try. Sadly an injury to Short intervened and Pirates lost some of their urgency and Bristol were able to regroup. Good work from the pack set up Will Helu for a nice break. He popped out a neat pass to the speedy Marco Mama who looked set to score, only for the referee to signal a forward pass. It wasn't. Even the home crowd didn't cry "Forward!", as all home crowds do with even the slightest hint of a forward pass.
If the first quarter had been all Pirates, the second favoured Bristol and Luke Eves scored his first try since returning to the club, rounding off some excellent play from the team. Bristol maintained the pressure, new signing Henry Vanderglas to the fore, and unlucky not to make it on to the scoresheet. Pirates infringed and Tristan Roberts equalised the score at eight-all. Another penalty followed and Bristol led 8 – 11 at the break.
Bristol started the second half in similar vein to how they ended the first: attacking the Pirates line. Helu darted dangerously but poor decision making prevented any points being scored. Vanderglas put in a storming run that looked absolutely certain to culminate in a try before he was smashed with a challenge that might best be described as 'clumsy'. So clumsy that the referee felt it warranted a yellow card. Roberts rubbed salt into the wound with another penalty kick that took Bristol to 8 -14. Typically one penalty was promptly cancelled out by one for the hosts.
Then the game shifted decisively the way of Pirates. Sambucetti, still wound up by something, foolishly struck out right in front of the officials and was, inevitably, yellow-carded. Pirated scented blood and proceeded to pin the visitors back. Bristol just could not cope with the sustained pressure just a few yards out and Nimmo took full advantage of the space caused by Sambucetti's absence to score a converted try that took Pirates into an 18 – 14 lead.
Still plenty of time for Bristol to recover the situation, and try they did. A combination of spirited defence, poor handling and, again, decision-making put paid to the hopes of a critical breakthrough for Bristol. A well struck penalty narrowed the gap to a nail-biting single point. Now the hosts rallied and tried to move further in front and Bristol's turn to defend manfully. Replacement Darren Crompton came on at this juncture, and then promptly left, apparently having left a pasty on the bench. Or perhaps yellow carded?
The game became a right old tussle with both teams going for the win, but Bristol's depleted ranks unable to seize the advantage. Surprisingly there was still time for Crompton to return, brushing crumbs from his shirt but time ran out and the day went to the Pirates.
View a Printer Friendly version of this Story.
Revenge of the Pirates
Posted by: bristolrugby.net (IP Logged)
Date: 20/02/2012 12:00
What do you think? You can have your say by posting below.
If you do not already have an account
Click here to Register
.
Edited 1 time(s). Last edit at 2012:02:25:09:30:08 by SenorJuan.
Re: Revenge of the Pirates
Posted by:
Pathfinder
(IP Logged)
Date: 20/02/2012 16:23
Excellent report, Mark. Your explanation for DC's instantaneous return to the bench made me laugh out loud!
Re: Revenge of the Pirates
Posted by:
POSTS
(IP Logged)
Date: 20/02/2012 18:52
Good report what on earth was your 2nd row trying to do to Paver.Never seen a big guy like that made to sit down so quickly.