DONNY DEMOLISHED BY BRISTOL BLAST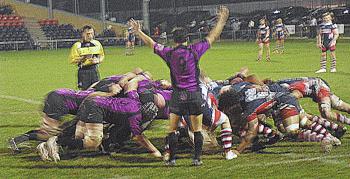 Feeding, sir!
By Ian Todd
March 10 2012
Bristol thrashed Doncaster 3 – 65 in a match in which the hosts scarcely threatened. Bristol cut the defence to shreds almost at will, but the foundation of victory was an aggressive defence that forced Doncaster back virtually every time they had the ball. What little they had was kicked away and then run straight back at them. Bristol have now beaten Doncaster 155 – 41 on aggregate, but let's not get carried away. This was first against eighth, look how 'well' we did in the play-offs last season when scraping into the last promotion spot. I feel sorry for Doncaster, a fine ground, excellent staff, cow pie and £5 to stand on the terrace. And a crowd of just over a thousand. Credit to them for trying to get the numbers in, but it didn't work. Perhaps for the best, as casual visitors might not come back after that sort of scoreline. Now if we can overcome every other team in the play-offs by that sort of margin, it would be something to get excited about!
Sorry about the quality of the report, I forgot my notepad and had to jot down some thoughts on my phone after the game and on the coach back. Fortunately I had plenty of time for this as the driver managed to miss the turn and we ended up in Leicestershire! Back home at half past three. Anyway...
The hosts took an early lead when Flockhart sent over a fine penalty effort when Bristol were penalised, possibly for going off their feet, but the referee's hand signals were virtually invisible throughout. Bristol then laid down a marker for the rest of the game when Tristan Roberts, targeted for some off-the-ball roughing-up, got the ball out wide to jack Tovey who scooted in for an unconverted try. We were treated to a Bristol restart as Doncaster were penalised for questioning the referee's decision to award the try. It was costly indiscipline as Roberts continued to torment his former team; setting up Ross Johnston for the first of his hat-trick of tries, then converting for 3 – 12.
Flockhart saw a yellow for a clumsy challenge and Bristol hammered home the advantage with excellent work from the pack and Johnston touching down. Sensibly, when points were on offer Iain Grieve elected to kick for the posts and Roberts obliged for 3 – 22. Bristol sliced the defence apart again, but Jon Goodridge's final pass was correctly judged marginally forward (despite what Chilly Mick claimed at the time). Another penalty by Roberts was swiftly followed by a visit from Exeter's top try scorer, Mr Penalty, after sustained pressure from the forwards. Roberts converted for a 3 – 32 half time lead, and everyone's score prediction on the coach way off the mark.
Doncaster were rocked by another try early in the second half with Johnston eventually announced as completing his hat trick. Superstitiously I hadn't moved from my location on the terrace so had a far from good view of much of the second half action!
Luke Eves flew over unchallenged with an hour gone after lovely handling and a nice break from Ruki Tipuna, with Roberts adding the conversion. The hosts struggled all evening to make a dent in the superb defence and only now managed a few minutes of pressure. Their only real sniff of a chance came when Parsons (?) found some space, but no support, and was forced to kick ahead, but was never going to get anywhere near the ball. Indeed it almost allowed Tovey to hare away down the right wing.
Perhaps the best move of the game came when Tovey swept in from his wing onto a terrific inside ball and then neatly passed to the dangerous Fautua Otto who crossed beneath the posts to give replacement Matt Jones an easy conversion.
Doncaster went down to 14 men with a player forced off with a bad looking injury and all the replacements utilised. Uncontested scrums ensued, but in any event the numbers were soon evened up when Marco Mama was yellow carded for what I now know to be a tip-tackle. A bout of fisticuffs resulted and so we had the rather odd sight of the team that was yellow carded being awarded the penalty for the retaliatory punch. It caused some debate at the time as it initially appeared that Mama was doing the retaliation, as we had missed his initial offence. Bristol were unfazed and ruthlessly exploited a tired looking defence with two simple tries in the dying minutes, Jones converting both. Ben Glynn claimed the first and Tovey then out-flanked the Doncaster defence with a burst of speed. The final score stood at 3 – 65.