ANOTHER HOME DRAW FOR BRISTOL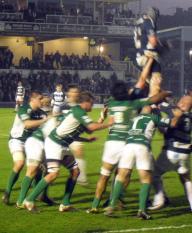 Leaping Lineout Batman
By Sian Davies Todd
March 31 2012
A draw with Nottingham at least maintained Bristol's undefeated home record, but was an unsatisfactory performance all round. Some individuals continue to underperform and tactically the balance of the side looks wrong. Some of the selections baffle many supporters as the team appears to move away from the style of play to them into the play-offs top of the league. It is still likely Bristol will qualify for the semis, but they're going to have to see a real improvement in order to progress.
Bristol kick-off. Ruck, and in possession. Matt Jones takes the kick. Attacked near the 22 and then back and forth. Ruck etc. Bristol kick and not knock-on. Scrum collapse times two and a penalty to Bristol. Slight fight. Jones kicked the penalty for a three-nil lead. Knock-on by Bristol and the scrum to Nottingham. Penalty to Nottingham and three-all just a few minutes later.
Forward pass by Bristol, scrum penalty to Bristol for Nottingham offside. Even I noticed. Notts number five was bad and a penalty to Bristol near the Notts 22. Jones kicked the points. Notts players in front of the kick at the restart of the scrum to Bristol on the centre spot. Brizzly did the worm. Another penalty to Bristol when Nottingham went in at the side, this one kick to touch about 10 m out. Bristol drive but lose the ball and Nottingham kick out for another Bristol lineout.
Nottingham nearly scored in the corner, but Bristol managed to defend, just. Nottingham move downfield and won a penalty in front of the posts to tie the scores again. Nottingham give away another penalty almost straightaway and James scored for 9-6. From the Notts lineout and come close to scoring out right again. Good work from will Helu gave Bristol lineout just outside the Notts 22. Nottingham win possession but kick back to Bristol. Jon Goodridge made a nice break in midfield, setting up Iain Grieve for a storming run down into Idiots Corner. The ball went loose and Will Helu pounced in the corner. Great conversion from Jones for a 16-6 lead. Another scrum penalty to Bristol, this one on halfway. Jones' long kick was just short of the half came to a conclusion .
The kick-off from Nottingham is immediately knocked on in the scrum and leads to kicking back and forth, finally ending up with Notts in possession. Bristol gave away a penalty and Notts kicked to touch. They attack up to the Bristol line and Kalamafoni was shoved over for a converted try and 16-13. A panicky kicking led to a Nottingham lineout and then a scrum is not knock-on. Another penalty to Bristol and once again James failed to make it count (it looked like it went over). Jack Tovey made a good run but then knocked on halfway. Bristol were awarded a penalty with the Notts player going well off his feet at the ruck, surely a yellow card, and Jones made no mistake from 19-13.
Notts attack down to the Bristol 22 and Bristol knock-on Jason Hobson went off and as predicted by Ian, Bristol give away a penalty straightaway. Arlidge made it 19-16. Bristol had to defend against strong Nottingham attacks, Tovey in particular working well. Bristol were penalised and Arlidge's long-range effort tied of the score at 19-all.
And lineout Bristol, given is not straight. The feeding at the scrum was so obvious I am amazed they don't work with sea lions. Bristol turned over Nottingham following good tackling by Fautua Otto. Bristol struggled to clear their lines and the horrible skanky kick meant Nottingham could keep attacking. James Merriman, just back into the side, was knocked out cold and the delay play really deflated the tension. Nottingham continued to go for the win and it was clear that they were working their way to drop goal territory. But when it came the effort was well short. Notts continued to attack and Bristol continued to defend. Grieve's brave performance was exemplified as he stopped one player and then immediately tackled the next, even though he was obviously knackered. Just like last Sunday it never really looked like Nottingham would manage a try in the last seconds and it was Bristol tried to break away only for the referee to signal the end of the game, a bit early maybe.