BRISTOL BONUS TOPS THE POOL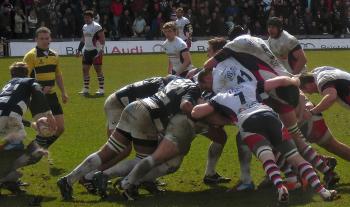 Good Body Positions
By Sian Davies Todd et al
April 21 2012
Bristol claimed top spot in Pool A of the Championship play-offs. With a semi-final place already confirmed, the significance of the win was reduced, but if (fingers crossed, touch wood etc) we should make it to the final it gives us the home and away pick. The game itself was entertaining enough but the lack of composure on the ball led to numerous handling errors and, combined with some perplexing decisions from the officials, meant that the score failed to reflect Bristol's dominance.
Bristol's start was followed by an immediate penalty against them, after which Doncaster made good progress toward the Bristol line, until the ball was kicked back by Bristol. Some short exchanges of possession culminated in a try scored by Luke Eves at 2 minutes into the game, taking a good pass from George Watkins to fly through the Doncaster defence and touch down at the clubhouse end. The try was expertly converted by Matthew Jones, despite the strong gusts, and resulted in an opening score of 7 – 0.
After the restart, with Bristol's Watkins looking good again, possession was evenly distributed between the sides with the referee penalising, as he did throughout the game, for not releasing, although he seemed unaware of the offside, high tackling or less-than-straight put-ins. Doncaster managed to gain a lot of ground mauling right on the Bristol line, looking like they might score. However Bristol gained turnover ball, produced a long kick and excellent chase downfield to about 20 metres from the opposition line where Doncaster were penalised for holding on.
Matt Jones kicked three points in the difficult wind. The score at 18 minutes was 10-nil. Restart play quickly ended in a scrum against Bristol for knocking on, delayed a little by the need for Bristol's number 1 to have special help to redo his bootlaces.
Doncaster possession again ended in a penalty against them for holding on. Bristol won the lineout and drove rather well to halfway. Fautua Otto knocked on after some good passing play from Bristol. The subsequent scrum produced a penalty to Bristol for something or other, which they kicked to about 10 m of the Doncaster try line. Bristol then drove strongly but crabwise. Slater broke away but failed to score and Bristol knocked on. The Doncaster scrum ended in no gain as they tried to make ground. The Bristol lineout, penalised for not straight, produced a poorly refereed scrum. A penalty was given to Bristol, Doncaster offending in the scrum yet again. Making superb use of the wind, Matt Jones kicked in a sideways twisty way to put three more points on the board at 30 minutes. Score now 13-0.
After the restart, Doncaster attacked to win a penalty as Bristol failed to roll away, thereby giving away three points kicks by the Doncaster number 14. Score now 13-3.
After the restart Bristol lost and gained possession until fine attacking play from the 10 m line put Helu over under the posts, the try converted for another seven points at 36 min. Score now 20-3.
Doncaster attacked with renewed effort and scored a try despite, as far as the crowd were concerned, a very obvious knock on unseen by the referee. The try was converted to give a score of 20-10 at 38 minutes.
Subsequent play was all Bristol's way ending for some reason in a penalty try for Bristol. Perhaps the referee had been watching the rugby on the television. The try was easily converted to give 27-10 at 42 min, with the referee blowing up for half-time at 43 minutes.
Doncaster kicked off the second half into the gusty wind and Bristol promptly gave away a penalty at the breakdown, learning nothing from the first half. Doncaster's kick barely made it into touch and their attack from the back of the lineout was brought to a shuddering halt by a great tackle from captain Iain Grieve. The referee then, inevitably, gave a penalty as the tackler, back on his feet, attempted to claim the ball.
Bristol struggled manfully to make ground and a penalty kick saw Jones take his side down to the visitors' 22. The lineout was a total mess, with no one going for the ball. Bristol kept up some pressure on the defence and Eves almost broke clear, only for the support to knock-on. Donny attacked off the loose ball, but were turned over in turn as Bristol swept back at them. Another knock-on from Bristol, a move from Doncaster, followed by a turnover, Bristol back on the attack. Frantic stuff, with a certain entertainment value, but frightful ball skills and control.
Finally, a couple of penalties saw Bristol to within 10 metres of the Doncaster line, only for the visitors to claim the ball. Boldly they swept the ball along the line, making no ground whatsoever, until forced into a clearance kick. The Bristol defence had had plenty of time to get in position, and Flockhart's poor effort was charged down by Otto, bounced off a Doncaster player and back into the grateful centre's grasp. Over he went for an unconverted bonus point try.
Bristol struggled to convert possession into points, but came close when replacement Henry Vanderglas went on a jinking, dangerous, run. As he was grasped by a weak tackle he unselfishly passed out to his left where the two supporting players slightly over ran him and contrived to both give a forward pass and knock on. Frankly he should have kept running, he might have broken the 'tackle' (which was only a grab at his shirt), or at least gone to ground just short with no real defence nearby. Oh well.
The play continued in similar loose vein, but we had time for a yellow card against Bristol, despite innumerable warnings issued to Doncaster earlier in the game, another nice break from Vanderglas and a shockingly overlooked shoulder charge from a Doncaster player (mentioning no names, XII). The game closed on a try from replacement Matty James who seized onto what looked a forward pass from Otto, and dashed through a huge gap to arc round behind the posts and then convert his try for a final score of 39 – 10.
View a Printer Friendly version of this Story.
BRISTOL BONUS TOPS THE POOL
Posted by: bristolrugby.net (IP Logged)
Date: 21/04/2012 19:02
What do you think? You can have your say by posting below.
If you do not already have an account
Click here to Register
.
Edited 1 time(s). Last edit at 2012:05:07:18:17:00 by SenorJuan.
Re: BRISTOL BONUS TOPS THE POOL
Posted by:
WilliamBlessing
(IP Logged)
Date: 21/04/2012 21:58
Brilliant report Sian. Especially useful to me as I always spend 99% of any game chatting rather than watching.

Just one typographical error this week...

"The game closed on a try from replacement Matty James who seized onto what looked like a forward pass from Otto, and dashed through a huge gap to arc round behind the posts and then convert his try for a final score of 39 – 10.

View a Printer Friendly version of this Story.