THIRD DEFEAT IN A ROW FOR BRIS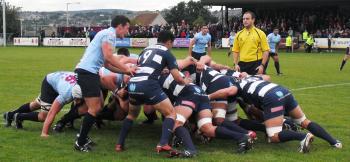 An unpenalised scrum
By Ian Todd
October 7 2012
A better collective performance than last week's, but still another defeat. Bristol showed glimpses of better organisation but too many errors and poor discipline let them down. The lineout functioned rather better, but the scrum seemed to struggle at times, although the weak refereeing didn't help. Overall then it was a slightly encouraging performance but not enough to suggest that Bristol have really turned the corner.
Bristol kicked off in slightly overcast conditions and after a brief kicking duel a knock-on gave them the first scrum of the game and then the first of many free kick (and penalties). The refereeing of the scrum throughout was terrible with poor control of the engagement; resets, free kicks and penalties; first one way, then the next. However, the next scrum from Bristol was a shocker with the visiting pack shoved off their own ball. Oddly, at the next one Rotherham were nearly as bad. Rotherham finally made some headway, but the Bristol defence looked solid before a harsh penalty gave Rotherham a shot at the posts, but the kick was well off-target
Bristol were playing with positive intent and a good move ended up close to the line in the right hand corner. Rotherham were penalised and Bristol went for the lineout. Sadly Rotherham then had a free kick. Bristol counter-attacked well off the Rotherham kick, putting the hosts back under pressure and Rotherham were penalised again. This time Matt Jones went for the posts and it was a deserved 0 – 3 lead to Bristol. Jones had another chance soon after but his effort drifted wide. Rotherham tried to hit back but were repelled by fierce tackling and eventually knocked the ball on. Rotherham appeared to be coming back into the game after the early Bristol pressure but lack of discipline allowed Bristol to keep them well away from the danger zone. A penalty to touch permitted Bristol to launch an attack that culminated in a clumsy knock-on, but yet another free kick at the scrum saw them drive close to the line and another penalty allowed Jones to extend the lead.
Typically Bristol gave away a kickable penalty almost immediately after scoring when poor individual play following a long kick ahead from Rotherham left a player isolated and inevitably penalised for holding on with absolutely no one in position to provide support. Laws tucked the kick over and it was 3 – 6. Rotherham sought to exploit the long kicking game and again put Bristol under pressure. Wave after wave of the ridiculously large Rotherham players hammered in and took play right up to the Bristol line. The ball was held up twice by staunch defence at least twice but eventually Rieder just managed to touch the ball down on the line right in the corner. The conversion was very well taken and Rotherham were 10 – 6 up at half time.
Rotherham started the second period well but were able to make little headway against determined defence. Instead it was Bristol, following a relieving penalty kick, who strung together some dangerous attacks. First Mike Tagicakibau made good ground before being forced into touch by three tacklers and then Bristol launched a sudden attack from deep. Good quick passing fashioned a three to two overlap and, ignoring both the man outside and 'advice' from the Bristol Chief Executive, David McIlwaine cut an excellent line to wrong foot the defenders and cross by the posts. Jones converted for a 10 -13 lead.
Rotherham were unfazed by the setback and a well struck penalty settled whatever nerves they may have had to tie the score. Poor tackling from Bristol, in contrast to earlier efforts, allowed the hosts to power their way up to the Bristol line. Kyle Traynor was shown a yellow card (which seems inconsistent after Rotherham were penalised three or four times in succession with Bristol attacking close to the Rotherham line in the first half). With the pack a man down (Mitch Eadie going off to keep the front row fully manned) a couple of penalties swiftly followed and it was no surprise when the referee trotted beneath the posts to award the penalty try and take Rotherham into a 20 – 13 lead. A lead they extended when another scrum penalty was kicked between the uprights.
Bristol continued to compete and frankly were the only team trying to play any constructive rugby as the match drew to conclusion and an excellent long range penalty from inside his own half allowed replacement Tristan Roberts to silence some of his critics and secure the slight consolation of a losing bonus point, leaving the score at 23 – 16.
View a Printer Friendly version of this Story.
THIRD DEFEAT IN A ROW FOR BRIS
Posted by: bristolrugby.net (IP Logged)
Date: 07/10/2012 07:29
What do you think? You can have your say by posting below.
If you do not already have an account
Click here to Register
.
Edited 1 time(s). Last edit at 2012:10:14:05:37:35 by SenorJuan.
Re: THIRD DEFEAT IN A ROW FOR BRIS
Posted by:
Hoopsy
(IP Logged)
Date: 07/10/2012 09:14
Sad isnt it ! All that pre season excitement and expectation blown away by October !! I cant see us getting anywhere near the top 2, no matter how many players we have to come in to the side ! Time for a clearout (to many players who arent good enough) and maybe LM needs some proper help from an experienced coach (get rid of the part time Sky pundit we have at present please). Maybe we are guilty of believing our own hype in the close season.... Everyone else (except the Pirates) have improved... we ve gone backwards ! It really isnt good enough for the BEST supported side in this league !! (Lets hope those supporters dont decide to spend their hard earned money elsewhere on a Sunday afternoon _ look at Cov) !!
Re: THIRD DEFEAT IN A ROW FOR BRIS
Posted by:
Hoopsy
(IP Logged)
Date: 07/10/2012 09:16
Bristol Fashion (whatever that meant) is DEAD ! Lets start playing some hard nosed winning rugby now please .... no matter how ugly it is !!
Re: THIRD DEFEAT IN A ROW FOR BRIS
Posted by: Honest (IP Logged)
Date: 07/10/2012 10:38
Don't think we have the forwards to play a hard nosed game. Whilst there has been a lot of talk has been about the backs failings (and there are some) not much until recently has been mentioned about the forwards.

Over the past 2/3 seasons we struggle with attacking line outs to win our own ball, whether it is the hookers or the organisation I don't know but I don't have any confidence when we have a 5m line out now which can't be right? Our scrum has got weaker and weaker and we don't seem to have the dynamic ball carriers other sides have. Until we get these aspects right we can't play Bristol Fashion, Hard Nosed winning rugby or any sort of winning rugby
Re: THIRD DEFEAT IN A ROW FOR BRIS
Posted by: Prodigalson (IP Logged)
Date: 07/10/2012 12:55
Our pack has gone backwards, figuratively and literally. Partly from injury, partly from encouraging some of our most consistent performers from the last 2 years to leave, and partly because some of our recruits don't look to be up to the job of performing in this league. Hard to avoid the conclusion that much of this is self inflicted - our coaching staff appear to have backed the wrong horses.
Might be time to pull our horns in and start to win a few ugly games now to get some sort of momentum for the season going. As it stands, we are more likely to be looking at the sort of result we had the season before last, rather than last years.
A little honest appraisal on the part of the coaching staff might go down well too. "We are 5% off clicking" doesn't fool me, or anyone else who pays good money to watch this team - there is an impending crisis, and papering over the cracks won't do it.
Re: THIRD DEFEAT IN A ROW FOR BRIS
Posted by: LEONARD STEHEN DAVEY EXETER (IP Logged)
Date: 20/10/2012 09:20
We need some younger players
Re: THIRD DEFEAT IN A ROW FOR BRIS
Posted by:
Furriner
(IP Logged)
Date: 20/10/2012 11:53
Not convinced that age is the problem. From memory the average age of the starting team at Rotherham was a couple of weeks over 24.And that was with Roy starting at blind side, instead of the younger Redford.