B & I VICTORY PAPERS OVER THE CRACKS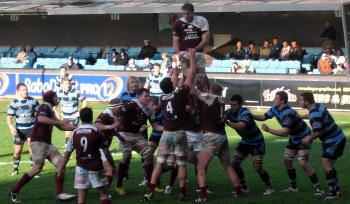 Winters claims the ball
By Sian Davies Todd
October 14 2012
The large travelling support witnessed a victory for Bristol that will, nevertheless, have failed to silence the criticism the side has received in recent weeks. The familiar lack of precision and direction were plain for all to see and, though the pack was clearly dominant, so they should have been against opponents of this calibre. A first half in which Bristol spent most of their time in the hosts' half of the pitch ended with them three points behind having been a man up for 10 minutes. Eventually superior fitness prevailed against a side that had a man sent off but the win was far from convincing.
Cardiff kicked off just as rain, and later hail, started to fall. This might account for some of the error strewn rugby we were to see, but then again, perhaps not. Bristol took the ball back well, looking, even early on, much the stronger in the forwards. This was emphasised in the first few minutes when a penalty was sent to touch and the catch and drive almost made it over the line with, I am told, Gaston Cortes close to scoring on his debut. In any event Cardiff were penalised, but Matt Jones' effort rebounded from the post. Cardiff contrived to knock-on the ball as it bounced away and so they stayed under pressure.
Gaston Cortes
However, the game broke up into some scrappy play with little pattern before Bristol finally got some points on the board with a penalty from Jones. You might know what comes next. Bristol had huffed and puffed away to claim three points and then promptly give away a cheap three-pointer of their own? Very nearly, with one penalty taking Cardiff well into the Bristol half for very nearly the first time in the game, and then another that Griffin sent towards the posts, in fact too close to the post as his effort too rebounded into play. Fortunately Bristol coped rather better than Cardiff and were able to exert some control and force the hosts back. Cardiff had been flirting with offside for most of the game (by which I mean were offside.) without being penalised, but they gave away a few penalties for coming in at the side, offside and the like as Bristol advanced downfield and eventually the referee brandished a yellow card towards a Cardiff prop.
If Bristol had been noticeably stronger up front before, now was the time to really cut loose. In fact you could hardly tell that Cardiff were a man down so toothless was the Bristol attack, so lacking in precision or direction was the play. Perhaps it was the slippery ball, but handling was very poor and no shape was imposed on the game. Mercifully Bristol managed to get another penalty for Jones to take the visitors into a 0 – 6 lead.
Now it was time for Bristol to give away easy points after working hard for points of their own. First one halved the gap and then Bristol were penalised, seemingly for offside, and suddenly it was 6-all. It was soon followed by a sudden break from Cardiff as a looping pass was read well and the Cardiff player (their hooker?) raced towards the Bristol line. Matt Williams turned and sprinted off his wing towards the opposite corner and, once again, showed his tremendous pace to skim over the ground, making everyone else look to be struggling in the mire and touched the kick ahead down. Sadly we rarely saw him in a position to make any positive contribution to the match. His next involvement was to be very harshly yellow carded for not rolling away (which is hard to do with two players lounging around on top of you). And, astonishingly, Cardiff went in at half time 9 – 6 in front.
The second half commenced with Bristol falling even further behind with the defence still back in the changing room (and Bristol did take a long time to return to the field in truth). Allen went in without anyone getting close to tackling him and an unconverted try made it 14 – 6. This score really perked the hosts up for a while and they strung together the first real attacking play of the entire game. By and large though most of what went on continued in the same messy way as before. Even the try that took Bristol back to within a single point came from a clumsy error from Cardiff the Ryan Edwards seized upon.
With both sides frustrated by their own inability to play any rugby it was no surprise when the referee resorted to showing some more cards when play broke apart in some scuffling. A yellow to Mariano Sambucetti and a red to Cardiff's Jenkins. What act of 'serious foul play' justified sending off I have no idea. Bristol were unable to take immediate advantage with the penalty struck well wide of the posts. More ineffectual play from Bristol followed as they struggled to impose themselves and a woeful drop-goal effort from replacement Tristan Roberts showed the level of ambition to which Bristol had sunk.
Finally Bristol developed a cutting edge as fresh legs came on to take on a flagging defence. First George Watkins made a lovely run that deserved a better conclusion than a knock on. He then set up good field position and a kick down into the right hand corner trickled tantalisingly towards the goal line, Edwards was in there and appeared to keep his hands off the ball before at last grasping it and touching down. Not according to the officials who ruled it was a knock-on. Not from my angle. I think the fact that Edwards had his hands around the ball, without touching it, as it rolled forward may have fooled them. But my position wasn't ideal so I may be wrong.
Edwards wasn't to be denied for long though when he went over in the same spot (after what was, it must be said, a totally unnecessary final pass). But no! The official once more ruled the try out, this time, ludicrously, for what was either a forward pass or maybe a knock-on. It was neither. I think it may have been the touch-judge's decision. Frankly he got involved far too much all afternoon, except when spotting offside which he inexplicably failed to pick up. Despite these setbacks Bristol at long last managed to claw their way in front with a well taken penalty from Roberts. Bristol continued to press but made heavy going of things before good pressure from the forwards from a lineout saw Mitch Eadie force his way over for a converted try to terminate the match at 14 – 23.