DONNY WINNING STREAK AT ASHTON GATE CONTINUES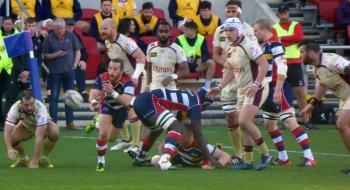 By Ian Todd
November 6 2017
An unfamiliar Bristol side slumped to a disappointing defeat to Doncaster. The visitors leading for much of the game and Bristol vulnerable in defence and disjointed in attack.

The game stared in beautiful sunny conditions but there was little beauty on the pitch and a very inexperienced Bristol United side were soon under pressure. However it was one of the older heads who was to fall foul of the referee and Jack Wallace was shown yellow with just minutes played. The referee seemed to indicate for not rolling away and it seems harsh to sin-bin for that at the very first penalty offence (unless he was counting previous games). In any event the consequent penalty kick sailed over to give Doncaster the early lead.

The Bristol defence was looking very shaky, allowing Doncaster to make easy metres with missed or ineffective tackle and failing to deal with driving mauls. It was from one of these that Doncaster went over for the first try of the game. However a scintillating break from Aaron Chapman saw the young winger pull back five points soon after.

The referee showed he wasn't afraid to use the cards in his pocket when Civetta was shown yellow for a very clumsy challenge on Callum Sheedy who also added the penalty points to equalise the scores. Bristol were then sliced apart by the electric Bulumakau who must have thought he was in for a stunning try only to be hauled down just short by Wallace who had tracked back in determined fashion and brought his unsuspecting target to ground. The offload was surprisingly good but the supporting James knocked it on with the line at his mercy.

It brought a roar from the crowd but it was telling that it came from thwarting a Doncaster attack and not from Bristol's. Even when Bristol had possession the plan seemed to be to pass the ball along the line while standing still or to get it to the Bristol 4 who would quickly pass the ball on to someone who was supposed to be moving quickly but invariably wasn't. It all meant Bristol ended up going backwards even when they had the ball and then were turned over and struggled to contain the resulting counter-attack. It was no surprise to see Bristol give away a penalty and then a try whilst under self-inflicted pressure.

Doncaster edged further ahead with an early penalty in the second half. Lewis was over in the corner for a slightly dubious try under severe pressure from Wallace as Bristol threatened to disintegrate.

However the hosts pulled themselves together and managed to gain some ground before Ryan Glynn sent a grubber kick into the corner for James Newey to pounce. Sheedy converted well only for Doncaster to hit back almost immediately to restore their advantage.

Bristol did start at this point to gain territory when in possession, perhaps sparked into life by some replacements and tiring opponents. Doncaster received a yellow card as Bristol pressed home an attack close to the visitors' line and, just as that player retuned, another in similar circumstances. It was far too late for Bristol to recover but to their credit they continued to push for a consolation try and went close on a couple of occasions before James Dun went in at the right-hand corner. Newey managed the tricky conversion right at the death but Bristol had been outclassed 22 – 33.