BEARS Q&A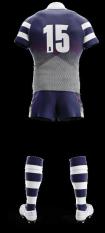 By Ian Todd
July 5 2018
Club officials faced up to supporters who were like bears with a sore head when a previously arranged Q&A session was overshadowed by the controversial decision to call our club Bristol Bears
Unsurprisingly the Q&A concentrated very heavily on the recent rebrand. We started with an unusually clear presentation from the Chairman, Chris Booy. He took us from a background of bankruptcy and near disappearance to a new state of the art training ground that should be finished by Christmas 2019. He referred to a difficult planning process in greenbelt land, but my understanding was that we are actually taking on a site that already had planning permission for sporting use and that the planning officers' report said that our use would actually be less intrusive than the original. He, and later Pat Lam, stated that the aim for next season will be to be competitive not mere survival. In terms of the Bristol Bears he reiterated the material you can see on the website and may well have received by now in the brochure. He pointed out that we are still losing money. In a nod to our heritage, club historian Mark Hoskin's new book on the club will be published soon.
As you may well have seen, Mark Tainton's presentation was not as impressive although I will say when he spoke off the cuff about actually playing for the club he was enthusiastic and passionate. Words which are easily applied to Pat Lam. His vision and clarity, I think, swayed everyone in the room. Even the majority who seemed very much against our re-brand. The central thrust of his message was about community, with clear aims and consistency. The work isn't about making better players but making better people. It was really good stuff. When looking at rugby matters his main point was that it will be a long season played in different conditions, locations, weather, climate, times of day and pitches and we have to have a team that can adapt to that. He did emphasise that we will have a relentless packed, feared by the opposition. He made it clear that what we have seen this season is not the finished product and we have five months still to go. What we see then will be different from what we have seen so far.
I can see that Pat Lam is an inspirational figure. The trouble I have with that is that I have worked in companies that are headed by inspirational, even charismatic, figures. They are absolutely brilliant in getting people to buy in to a vision or dream. And that is clearly what Pat is being used for here and he did it very well. The problem lies in being clear about what the vision actually is. In terms of driving on-field rugby success I think this may be spot on. However, I struggle with the underlying idea that rebranding as the Bristol Bears will actually help with that. Chris Booy and, to a lesser extent Mark Tainton, attempted to link the rebrand with our failures over the years as if somehow the fact we were stodgy old Bristol Rugby was the major factor in that failure. And that changing our name will somehow drive success in the future. I feel that the evidence for this is very lacking. We all know that Premiership clubs lose money. It is easy to think of clubs who have rebranded with similar style names to the one proposed for us who have struggled both on and off the field, attracting lower crowds than we have in the Championship and still losing money. The sole exception appears to be Exeter Chiefs. Their name has an historic connection with Devon rugby and I seriously doubt that their on-field success has anything at all to do with how they are branded. The obvious conclusion is that it is on-field success that drives supporter numbers and the associated commercial revenues. Even Bristol's explanation of the reason for the change to the Bears implicitly acknowledges that it was our failure to cope with the demands of professional rugby that lead to supporters departing to B**h but it was clearly the difference in relative sporting success that was the background for that.
In the Q&A session I asked, not entirely seriously, if supporters could see the research that showed how these sorts of rebrands had succeeded in the past. I wasn't surprised that I was told that there was no way they could reveal commercially sensitive information to supporters. I have carried out change management projects many times and the ones that work are the ones where all stakeholders are involved in the process. The ones that fail are where the change is imposed. Even when it sticks there is always lingering resentment. Chris Booy said they had expected resistance but not this much. Frankly I'm surprised that there so little resistance! If the club had involved supporters and, yes, shown them the research, shown the constraints they operate under and involved them in the decision making process all of this fuss would have been, if not avoided, then minimised. As it is many people are left concluding that talk about 'community' is very hollow when the things that have symbolised and been emblematic of Bristol Rugby Club are taken away or minimised in one fell swoop. And when any request to reconsider (even to the very minor extent of asking, as someone did, for the word 'Bristol' to be similar in size to the word 'Bears') is dismissed out of hand it leaves a very sour taste in the mouth.
| | |
| --- | --- |
| Apparently this move has been 18 months in the planning. Sadly when those 18 months haven't managed to spot that there is already an organisation called Bristol Bears with an interesting web presence or that coming up with two dark kits contravenes the Premiership guidelines on kit design and will necessitate yet a third primarily white one, I do start to doubt whether all the ramifications have been thought through. Perhaps these types of brands attract 'kids', I don't know, but plenty of football clubs managed to limp along bringing in vast revenues under their traditional names and selling their merchandise. Just go and look around Broadmead and see all the replica shirts for Premier League sides being worn and on sale. I may well be closer to the grave then the cradle but all being well they've got at least another quarter of a century of me as a supporter and 'customer'. But if I and thousands like me haven't been involved in how the club changes and 'progresses' then perhaps the club is missing out on something. If the on-field success doesn't come then I doubt we'll be attracting legions of new fans no matter how we brand ourselves but the traditionalists who have stuck with the club before and, yes, will do so even now, will have seen how lightly that loyalty is regarded by the club. And their trust and enthusiasm will have been eroded just a bit. | |
I'm unhappy to see a main kit that is half red. I'm unhappy to see a kit that lacks the city's crest. I'm unhappy to see us called the Bristol Bears. You combine all of those things imposed unilaterally and with no consultation and at the same time and it is almost calculated to arouse resistance and resentment. Consultation would have helped get buy-in. A little compromise on the design now would appease some of the anger. I urge the club to think again and consider some of the suggestions supporters have devised and show that 'community' is more than an empty slogan. It's Together We Rise.