Daiís Departure; Whatís the Damage?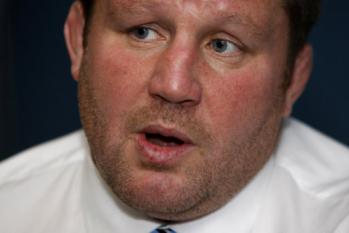 Departure: Dai Young
By
June 24 2011
With the imminent news that Dai Young is to join London Wasps, opinion has been divided over whether this is good or bad news for the Blues who are left behind…
In his 9 year tenure as coach of the Capital club/region, Young has overseen a massive transformation, dragging a barely professional club side which trained on university fields, to being one of Europe's top teams with some of the most advanced facilities in Britain.
The early years were certainly bleak, but he slowly developed a side and style good enough to compete with the big boys. In perhaps his finest season, Young took the Blues to EDF Cup glory culminating in a stunning performance at Twickenham, running out 50-12 victors. Just a week later, they were cruelly knocked out of the Heineken Cup Semi-Finals in a penalty shoot out with Leicester, having been unbeaten in the 6 pool games and knocking out Toulouse in the quarters.
So impressive were the Blues that season, 6 of 'the class of 08/09' were then selected for the British Lions in the summer.
A year later, and despite a horrific stat to the season, Young guided his team to seven consecutive victories including beating Newcastle, Wasps and Toulon as they became the first Welsh side to lift European silverware. In front of 50,000 fans (just 500 or so of whom were in Blue), they beat French super-club Toulon in a fast and dramatic game, to lift the Amlin Challenge Cup.
But off the back of such staggering and dramatic improvements, this season proved to be a year to far for Young and his aging squad. Dai himself admitted 10/11 was the first year under his charge in which they had gone backwards.
Yet despite what many consider to be a hugely successful era, critics suggest that the Blues should have had more silverware for their endeavours under the former Welsh prop.
He has undoubtedly picked up many admirers during his time at Cardiff, with both Saracens and Leicester attempting to lure him over the past 2 years, but there are others who feel that, given the squad he's developed, he has underachieved.
One thing that seems obvious however, is that Young must move out of Wales if he is to gain enough experience to one day lead a successful Welsh side. Most would agree that should Warren Gatland depart the International post following this year's world cup, it would be too soon for Young, who has spent his entire coaching career with Cardiff.
But what about the Blues. Is the time right for Cardiff to shake things up and introduce some new ideas to the players.
Young has proved hugely popular with players and staff, but perhaps 9 years is too long for one man to guide a side.
But whoever does replace Young, must be the right appointment, or the Blues could find themselves spiralling back down the European rankings very quickly.
While the same old names have come cropping up – Phil Davies, Kingsley Jones, Paul Turner, Mike Ruddock etc. – I believe Thomas will look to another young coach, as he did with Young nearly a decade ago.
That leaves two prime candidates. Young's assistant, Justin Burnell, who had a successful period in charge of Wales U19's taking them to a 6 Nations championship before taking up a Director of Rugby role with Cardiff RFC. He seems the natural successor to Young, but there are doubts over whether he has the respect of the players.
The other leading man would be Pontypridd boss Paul John. John has overseen a very good season with the Sardis Road club, in which his semi-professional side topped the table by several points, but missed out in the end of season play-off. They also got to the British and Irish Cup semi-finals, before being knocked out by English yo-yo club Bristol.
But his finest achievement came in 2009, when he led the Wales 7's to become the Severns World Champions in an incredible tournament. He is the only Welsh coach to ever achieve such an accolade at any level. He is also a full time coach at the Welsh National Academy setup.
But no matter who does replace Young, and whether you were a fan or a critic, there can be absolutely no argument that he leaves the club in a far healthier playing condition than the one he inherited.
View a Printer Friendly version of this Story.
Daiís Departure; Whatís the Damage?
theArmsPark.co.uk (IP Logged)
24/06/2011 12:53
What do you think? You can have your say by posting below.
If you do not already have an account
Click here to Register
.
Re: Daiís Departure; Whatís the Damage?
24/06/2011 18:12
Depends on who replaces him
Re: Daiís Departure; Whatís the Damage?
24/06/2011 21:02
got any suggestions?
Admin of theArmsPark.co.uk,
Make Noise and You Will Be Heard!
Re: Daiís Departure; Whatís the Damage?
24/06/2011 21:11
As long as its not Howlers.
Re: Daiís Departure; Whatís the Damage?
24/06/2011 21:44
I agree with Amstel....not howley. Mallett / Rudduck even kingsley Jones but stay away from howley. He's done enoug damage to the welsh team, don't let him loose on us!
Re: Daiís Departure; Whatís the Damage?
24/06/2011 21:53
Depends on who he takes with him as well if he does decide to, because according to this article, one reason he turned down the Leicester opportunity was that he wouldn't be able to pick his own backroom staff;
"Personal and professional considerations put him off taking that monumental job, among them the refusal of Leicester to allow him to appoint his own backroom staff at the English club."
Also, whoever takes over will have to try and sort this out asap;
"The squad budget has been reduced, meaning there is no money for significant signings this summer and the atmosphere of austerity has affected morale in the dressing room."
If there is any truth to this then it wouldn't surprise me if some players decided to leave as well.
Good luck to the new guy whoever it is.
[
www.walesonline.co.uk
]
Re: Daiís Departure; Whatís the Damage?
Bluesmonkey (IP Logged)
25/06/2011 13:52
Now this made me laugh out loud. Taken from the wasps rugby forum. Could have come straight from this one though. Dai should fit in lovely at Wasps as he has all the experience needed for these fans.


All pretty irrelevant until we get a new owner, board, and independance from WW. We need to get away from Hayes and Adams Park - forge our own identity. No DOR can make any difference to our guaranteed slide towards Division 1 without an owner who loves rugby, invests in the club, and has no conflict of interest in primarily being there for his football chums. Hayes is a disaster - look at the stats since he took over. Wasps are at Adams Park to subsidise the costs, and we are going nowhere.

I know its a pipe dream, but surely Wasps need to break free and find a new owner. Who will develop us away from the obscene conjoined twin of WW and all that has been bad for us since Hayes took us over.



frying pan and fire I think but all the best to him.

BTW someone saw Mikey Rayer drinking with the Blues hierarchy and Dai Young last night in Llandaff. Money on then
Re: Daiís Departure; Whatís the Damage?
25/06/2011 16:14
Mike Rayer? Really? Only seen Bedford play a few times but style of play he puts in place would suit Cardiff's squad, with one exception.
Re: Daiís Departure; Whatís the Damage?
25/06/2011 16:55
Whatever we think of Dai's reign at cardiffbloos and i for 1 think it has been second to none ( after all we musnt forget that the bloos werew and are the only welsh region to ever lift a european trophy ), i read the present press reports r/e contract settlement as frustrating. it's obvious that Dai wants to move, and i don't see why "Business and Contract settlements" should become an obstacle. We do not want a D.O.R. who would be unhappy, so the "suits" should get the best deal possible but ensure that the ink is dry on any agreement with wasps by the middle of next week and then wish Dai good luck. After all The Suits should not be allowed to ruin rugby. Then the bloos can get on with the job of building for next season.
Appoint paul john and Xavier rush and build the squad with the promotion of gareth davies; macauley cook; owen williams; luke hamilton and alex cuthbert. Seek an expansive game w.r.t breakdown etc.
Re: Daiís Departure; Whatís the Damage?
Bluesmonkey (IP Logged)
25/06/2011 17:00
My guess is the stuff about contracts is for media and public consumption only. The deal is done and likely to be double announcements on Mon/Tues.
Dai unveiled as DOR for Wasps and most likely Mike Rayer as Dor at Blues
Very often these statements about contracts are holding positions because they are also negotiating with someone and their club. Just because the Western Mail don't print it doesn't mean its not happening behind the scenes.
Re: Daiís Departure; Whatís the Damage?
25/06/2011 17:53
Anyone know if there will be a replacement for Dan Baugh?
Re: Daiís Departure; Whatís the Damage?
28/06/2011 07:47
Not Howley. That man is simply terrible.

I posted Terry Holmes take on the situation in another thread. He seems to concur that that are a number of issues that must be considered.

As to the question: "What's the damage?" My answer is From Dai going- very little. his going is a symptom of the problem and not the cause. Do Cardiff RFC Ltd look at the root of the problem or window dress? We supporters may want to concentrate on the"on field" stuff,. However, someone (the Board) has to look at the critical stuff.It seems we are at a cross roads. What direction do we wish to take?
More Cardiff Blues headlines
Cardiff Blues Poll