Xavier Rush Retires and Takes Up New Coaching Role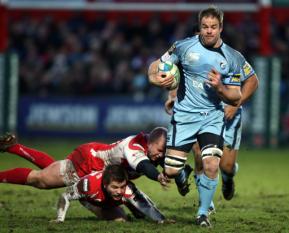 Xavier Rush: Hero
By Andrew Collins
July 11 2012
It's the day that no Cardiff Blues fan ever wanted to arrive, but the fan favourite, inspirational, heroic former captain has announced his retirement from rugby with immediate effect. There is good news however...
The talismanic number 8 arrived in Wales in 2005 having gained 8 New Zealand caps and a reputation as one of the most aggressive and athletic number 8's in club rugby.
He joined a Cardiff Blues side that had finished 9th in the Celtic League, enduring a 8-match losing streak and suffering an embarrassing 38-15 home loss to Stade Francais in the Heineken Cup. The region were in a dire position and only earned entry to the HEC through a Play-Off match with Italian side Viadana.
Results did not immediately improve, but Rushy's commitment was there for everybody to see, one of the reasons he quickly became a huge fan favourite as he showed no fear and total effort in every game.
That year, the Blues finished 4th in the league and were the highest placed Welsh side. Xav was awarded Supporters' Club Player of the Season, his attitude seemed to personify that of the team and he was given the captaincy after just one year at the region.
He was instrumental as the Cardiff steadily regained all the respect they lost after years of mediocrity. Rush was a leader on the field and, whether captaining the side or not, was integral to the success that followed firstly winning the Anglo-Welsh EDF Cup while also reaching the HEC Semi-Finals in the same year, but then again next season as he almost single handily dragged the team to Amlin Challenge Cup victory, becoming the first, and still only Welsh side to win a European trophy.
However, a neck injury sustained in this years HEC quarter final match against Leinster has signalled the end of his wonderful playing career with the club.
"I've got a problem with a disc in my neck which has caused me loss of power and strength in my right arm. I sustained the injury out in Dublin in the Heineken Cup quarter final match and the medical team advised me to retire. I'd like to thank all the medical and conditioning staff who have been superb with me not only with this injury but over the years as well."
"It's not really sunk in that I won't play again because it's the off season. When the boys kick off back down at the Arms Park then I think reality will hit and I'll miss being out there with them."
Talking of his own person highlights, he said,
"I joined in 2005 and I've absolutely loved my time at the Blues. From what I remember we struggled a bit for the first couple of years but whenever we played at the Arms Park we played a lot of passion and commitment. "The Welsh are great supporters and to play in front of them at a full Arms Park will be memories I'll always treasure. I think there were only about a thousand fans in Wasps and Toulon but they sang and it lifted you. From what I hear many will come to the Arms Park which is great."
Chairman Peter Thomas was full of praise for Rush, who will now take up a new role as Defence Coach as part of Phil Davies' new set up.
"The record will show he has undoubtedly been the most outstanding overseas recruit we have ever had. He brought a level of professionalism, both on and off the pitch, which was of the highest standard possible. He was captain of the side for three years and he is major figure for all the academy and development players. He has that Kiwi edge and that has rubbed off on all the players in the Blues. Nobody trains harder than him and nobody's standards are higher than his and he has just been amazing player. He has the will to win."
Reflecting on perhaps Rush's finest moments Thomas echoed the sentiments of most fans saying,
"If you remember when we won the Amlin Cup we had to play three of our last games away, Newcastle, Wasps and Toulon. The weather conditions at Wasps were horrendous but the high balls he took and the way he led from the front, he just stood head and shoulders above everybody on the field that day. It was his determination as a professional player to succeed that was so instrumental in not only us getting to the final but also winning it."
On his new role, Thomas said,
"The very fact that there is a role that secures his involvement with the Blues for the next two seasons I think is fantastic. He has that Kiwi edge and has level two coaching and is currently going for level three and four. His support to Phil Davies and the boys will be unquestionable. I know he will bring to the coaching role what he brought to his player role, he is there to win. He has that fighting edge which he will bring to all the youngsters like Andries Pretorius and Josh Navidi. All the back row forward players will have no finer teacher than Xavier Rush."
Indeed we can only echo those sentiments and offer the greatest of thanks to Xavier for his commitment, professionalism, attitude, effort and for joy and memories he has provided all Cardiff rugby fans with. He was a leader and a brute on the pitch, but a gentleman and friendly face off it. His status as a Cardiff rugby legend was cemented years ago, and it is with great sadness that we have seen the last of him in a Blues shirt. However the news that he will be assisting in coaching cushions the blow and ensures that all Blues youngsters will be instilled with his mentality and philosophy towards rugby, and that can only be excellent news.
Cheers Xav and all the best, from all at theArmsPark!
View a Printer Friendly version of this Story.
Xavier Rush Retires and Takes Up New Coaching Role
Posted by: theArmsPark.co.uk (IP Logged)
Date: 11/07/2012 12:25
What do you think? You can have your say by posting below.
If you do not already have an account
Click here to Register
.
Xav Rush To Be Our New Defence Coach
Posted by:
Londonwelsh
(IP Logged)
Date: 11/07/2012 06:36
XAVIER RUSH is set for a coaching job with Cardiff Blues

The long-serving Kiwi forward is being lined up for a role as defence coach by new director of rugby Phil Davies.

It's understood the 34-year-old back-rower is having to hang up his boots because of a neck injury he picked up towards the end of last season.

But he will be staying on with the Blues as he moves into the coaching set-up.

Former All Blacks No.8 Rush has been with the region since joining from Auckland Blues in 2005 and has proved a fantastic servant.

He's made 153 appearances, scoring 22 tries, and captained the side for two seasons from 2006-08.

His appointment to the coaching staff will be the latest development in an eventful few months for the Blues.

Davies was installed as director of rugby in early May and just days later it was announced the region would be returning to the Arms Park next season.

They have spent the last three years at the Cardiff City Stadium, but will now be playing their home games at their old city centre base once again.

There have also been several new arrivals on the playing front, with lock Lou Reed, outside-half Jason Tovey, scrum-half Rob Lewis, prop Benoit Bourrust, hooker Andy Kyriacou and flanker Robin Copeland all coming on board. Forwards coach Justin Burnell is expected to part company with the Blues, with backs coach Gareth Baber staying on.

Burnell and Baber were jointly at the helm last season following Dai Young's departure for Wasps.

Meanwhile, the Blues have confirmed their pre-season fixture schedule.

They take on the Toyota Free State Cheetahs in Bloemfontein on August 4, as part of a ground-breaking tour to South Africa. Then they return to host Davies' former team Worcester at the Arms Park on August 11, ahead of trips to Gloucester (18) and Bath (24).

Davies said: "We have some exciting pre-season fixtures coming up.

"We've restructured the rugby programme and have six conditioners working with the players, whereas previously there was only two. To have that manpower supporting the players is great."

Thoughts?