Back at CAP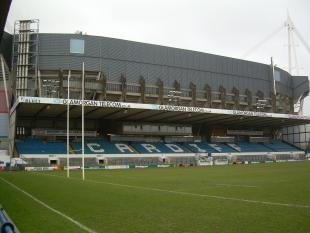 Back at CAP
By CardiffSteve
September 11 2012
Just over three years ago I went along to the oddest - and most depressing - rugby match I've ever attended. Odder even than a 0-0 draw I witnessed years ago...
It was Cardiff Blues versus Edinburgh in the last match of the 08-09 season. It had been pencilled in as the final match at the Arms Park. A crowd of 11,000 turned up, the team had just come off a successful season and half a dozen of the squad were about to head to South Africa with the Lions. It should have been a celebration – and they tried hard to make it one with an after match ceremony acknowledging the past.
But the game was played out in a gloomy, depressed atmosphere. It seemed unreal that this would be the last time top flight rugby would be played at the ground. The rumours of what was being planned for the Arms Park didn't help much. When the South Terrace began booing Gareth Edwards I knew it was time to head out for a stiff drink and a lie down. I walked back down Westgate Street thinking, "God, so that's it? It ends like that?"
When we went back – briefly – last season I had that day on my mind. The game against Connacht was pretty dire – and a smaller crowd of 8,000 or so packed into the Arms Park – but it was a mile away from the atmosphere at that Edinburgh game. We had 8,000 people pleased to be home, and a group of players clearly feeding off that energy: as the crowd picked up, the tackles started going in harder, opposition line out balls were stolen. No one could be any doubt of where the team's home really is.
When the whole Back to CAP thing built up a head of steam last season, some people – probably tired of misty eyed romanticism - pointed out that going back to the Arms Park wouldn't in itself be the answer to our problems. That's perfectly true. But for a hundred reasons, being back at the Arms Park is an essential step in starting again and rebuilding.
I'd like it if we were going back under slightly different circumstances, without the off field issues and cash flow problems. It'd be nice if there was money to spend on a couple of star players to go back to the Arms Park with. It'd be nice if Casey Laulala and Gethin Jenkins were still there.
But there again, maybe its better that a younger group of players will be running out this season, making the Arms Park their home.
(Now, for some misty eyed romanticism...)
We've all got stories about players and matches we've seen at the Arms Park over the years. And until recently when we talked fondly about the Arms Park – that's what we'd be talking about - the past.
The best thing about going back is that now we won't have to talk about what Mike, Terry, Gareth, Gerald, Barry, Bleddyn or Dr Jack did there. It's about what Harry Robinson, Cory Allen, Rhys Patchell and their own successors can do. It's not about 1953, 1984 or 1998. It's about this season and fifteen, twenty, thirty seasons down the line. It's not about going back to what was, it's about passing the torch on and seeing what the new generation can do on our turf.
You might have a cherished memory of going to the Arms Park for the first time and seeing some great players who caught your imagination. Friday night there'll be 8 and 10 year old kids in that position. They might not know it yet but they're about to get acquainted with heroes of their own. It's time for the old to move aside. I can't wait.
One other thing, wouldn't it be nice if Gareth Edwards makes a speech at half time? He might get a different response this time.