Noobry Pix 28-2-09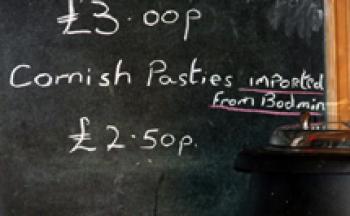 Sold Out within Minutes
By woll
March 1 2009
The long awaited re-match and the chance to put to bed all the keyboard skullduggery that had lead up to it! As if any self respecting Pirate fan would tag himself as 'Borneblue' ;o) Besides, the real questions of the day were: would Ecchinswell fit in his Pirates shirt? and would the stab wounds ruin the fabric?

With rumours that a certain Texan whose financial interests on Antigua have gone t*ts up could be holed up in the club house; it was no surprise to find Mexican drug cartel bosses descend on Rupertland....eager to discuss where their hard-earned greenbacks had gone.

Scouse scallies having dispensed with their replica Everton shirts tried unsuccessfully to mingle with Cornish support for a slice of the action.

The rumours though are misplaced as it turns out to be a bit of a publicity stunt to promote Crowlasboys new CD of singalong covers...the video of which is being filmed simaltaneously with today's Dreckly OB. Blazey makes his excuses as the wannabe crooner warms up with an interesting version of Trelawney.

The wailing fails to deter Yog who tucks into his paper plate with relish safe in the knowledge that report writing duties are not required this week.

Bystanders are keen to see if all the knives have been removed from the Newburys own Number One Pirates fan

Who then gives cause for great hilarity when he predicts Champions League footie for Crystal Palace within two seasons

In the press car park, the Drecklymobile dish has successfully found the south west on the compass and is poised to cause another satellite collision on the given command from Steve.

Chris's mum bides her time awaiting sufficient decoy opportunities before making her move for a free grandstand seat

Over in the dugout and something else amuses the chaps...

Cookie the Smug reckons he's the Dogs' with a Blue Bib as opposed to those soppy yellow uns those photographer types have been forced to wear. Blair's attention though is drawn over to the commentary team spot on the balcony..

..where Mr Straughan belts out the first bars of Why Why Delilah much to his neighbours chagrin

Which not unsurprisingly shocks huge Tom Jones fan and fellow Welshman, Steve Winn sufficiently to lose all hand eye co-ordination. Newbury skipper Bentall though can't help but do the Twist in time to the rendition.

Mr Tutty has little option but to intervene and threaten excessive use of his whistle in retaliation

The threat gets to Darren who forgets to throw in a ball much to everyones confusion

Even so. The beat is infectious which Paves finds irresistable as he joins on to the end of an impromptu Conga

Beckham fills in some time as he awaits news of his hoped for move to AC Milan

Lloyd has the crossfield kick from Jones covered if necessary. Can't blame the guy for his keen-ness to join in ;o)

Further up the touchline and Ed regrets that one more Labatts for the road the night before

James' recent confessed abstinence sees him fare little better.

Two interlopers warm up with Pirates replacements hoping for their big chance

The meat wagons begin to roll in to remove all casualties. La La La Marika puts on a brave front while Pop relays all the gory details to his little lad opposite the shed

Proceedings are brought to a close before no-one is left on the pitch

Much to Terences' relief as the paperwork is getting complicated and his pencil has broken

Brett looks understandably perturbed as Straughan insists on a Please Release Me duet

Mummy Morgs brings the youngsters up to speed on how big Jim Reeves actually was in his heyday, unlike this hacks' slaughtering of an otherwise classic tune.

Sealer addresses his adoring public as he launches into a two hour thank you speech along the lines of MLK's famous 'I Have a Dream' oration.

Which at least appeals to one awestruck fan who wants to become a tighthead when he grows up

Having been dragged from the showers James is not amused as DS cons the Pirate favourite into the old Sloop John B routine for The Cornishman

Two recycled supermarket trollies beckon

"Now if you'd care to take a seat Mr Tutty, perhaps we can discuss how and why this whistle ended up in my coffee"

"Now then Benjamin, have you advised that awfully nice photographer chappy that we are in fact your grandparents?"....."Doh!" thinks a goosed Gulliver as he realises the Doghouse beckons yet again!

Devs indulges in a little earwax mining which means...

Exit stage left for the Press Gang into the sunset Pale Rider fashion