Briss Pix 1-1-10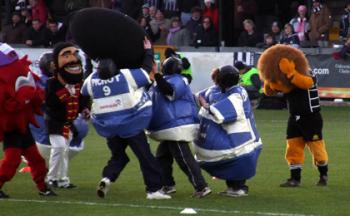 Heads will Roll
By woll
January 3 2010
On a crisp sunny winters afternoon at The Memorial Ground, Bristol; a bold new face for rugby is revealed at half-time. Designed as it was to appeal to the younger fan, things turned ugly with decapitation given the nod of approval from onlookers. Elsewhere, rumours and alleged sightings abound as news reaches the travelling faithful that the greatest comeback since Bobby in Dallas is imminent...

Having performed a text book 360 on the ice, Truronians very own Stogg pulls up at Chivvy X to pick up the last excited passengers bound for Bristol Zoo...or so they were told

Masters Cattle & Davies are clearly over-excited and start teasing Andrew mercilessly behind his back. Baby of the class, Paul, bravely stops the bottom lip from trembling by thinking nice thoughts such as lions and giraffes and..

With everyone now safely aboard, Stogg sets off at a cracking pace with tyres a screeching intent on being on the M5 before anyone bleats about potty stops or the like

Some say however that his greatest talent is in keeping secrets as the team will soon discover. As yet Stogg keeps the deception intact as he discreetly parks in a quiet corner of the car park. Well...as discreetly as you can with a handbrake turn

Dadadaaaa! Sorry Boys! Zoo's off!

Gavin consoles his upset classmates, hoping the calming tone of his Valleys accent will make them feel better

Judging by the general expressions it seems to have done the trick. Blair seems amused by Stevies Anglo-Welsh translation, whilst Ian's apology to Paul about the teasing seems to have done the trick too. Wardy though seems pre-occupied and ignores James' "Greatest Hot Pots I have known" spiel

Outside and the arrival of Mr Straughan sparks a frenzy of activity as the Son of Bill MacLaren denies all knowledge of everything, particularly the desparate pie and pasty shortage at various outlets within the stadium grounds.

News filters through to these travelling fans that the grub situation is grim

Families, keen to fend off the hunger pangs from the Fast of the last week or so, resort to luring unsuspecting offspring into impromptu games in the car park which Dad inevitably takes too seriously...

...whilst ignoring all local legislation. Hang on a mo' isn't this particular byelaw liable to pose a problem at a venue such as the Memorial Ground?

Outside the Wellington meanwhile, an excited Sancreed rushes out with staggering news, oblivious to his jaywalking exploits

Theres food!!! And we shall ignore the logical conclusion that ex Luffbra residents seem prone to forgetting all their cutlery training. But wait, maybe Sankers has other tidings to extoll as well...

...face is familiar...can't quite place it but something such as a camera is missing. Nah! Can't be. The guy was last seen at Rotherham before being allegedly abducted by Yorkshire Folk desparate for acceptance.

Priorities are though adhered to as the mid winter tan is topped up in the beer patio.

Stannery appointed spokesman, Yog, hurriedly calls a press conference in the Bristol Bar to quell rumours before a media frenzy erupts. He does though reveal that there has been a news blackout whilst delicate negotiations for the Am Hacks release have been in force and that happy tidings are imminent

Sankers gathers the Exiles to join him in prayer for their comrades' safe return

The news though has filtered through to the pitch where Bristol's mascot shows off his breakdance reportoire....badly

Gully's grandpops though are more concerned that their brave soldier had a third Shredded Wheat for his brekky, given the lack of sustinence available

Am puzzled that no-one in the Bristol Kit Dept has spotted that the colour runs from shorts so easily

Bristollian men it would seem need all the help they can get when it comes to woo-ing the laydee's

Unsuspecting visiting fillies are being subtly grouped together before herding to the end of the Stand

Where their pen awaits with highly trained pim...livestock handlers in attendance

Although one discreetly hatted maid makes a break for it hoping no-one will notice

Although I think this takes matters too far...surely a quiet little restaurant or cinema would be a better place of meeting for the first date??

Any chance of an outbreak of rugby is delayed however as the Blackheath Hooker of Ole London Town negotiates delivery of a ball thing. "Yeah it's about this wide China"

The main feature is therefore brought foward in the programme to appease the fans. Benbow's Phil Bennett-like sidestep looks to have done the trick

Errr perhaps not as the Cornish Twinkletoes retrieves his bonce following a ridiculously high tackle

Blazie puts on a brave face, though underneath is no doubt hurting like hell to have not even made the bench for this encounter

Probably just as well as Benbow takes another huge hit; this time off the ball

The ferocity of the mascots' game, spooks the pros as lead by Cook they run terrified to the South Stand

The Three Wise Chaps retire to the Bar on hearing that 'Faces' have been spotted

In the bar, 80's metal man, Lemmy, looks better than you'd imagine 20 years on, the new barnet obviously trimming off some time and rock n roll excesses

Confusion reigns as that bloke who does Borat leaves the gathered throng in a quandry as to whether Woll actually exists, let alone being safe and free once more. Boyakasha!

A desolated Wardy tries to text the news to friends elsewhere but his earlier preoccupation becomes apparent. This cutting edge phone technology he got for Crimble has got the better of him.
View a Printer Friendly version of this Story.
Briss Pix 1-1-10
Unofficial Pirates (IP Logged)
03/01/2010 13:46
What do you think? You can have your say by posting below.
If you do not already have an account
Click here to Register
.
Sorry, only registered users may post in this forum.