Sir Rob Andrew meets some of Cornwall's finest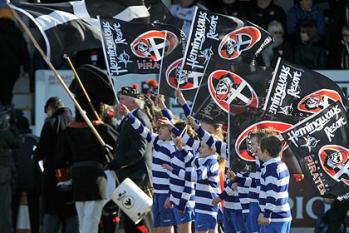 By OPS
May 21 2012
This Post From Steve deserves its place in the Features Section
The RFU's Sir Cliff Richard lookalike Rob Andrew has set his heart on equalling the great granny of pop music by seeing off at least one England manager over six different decades.
To assit him in this ambition he visited Cornwall this week. Sadly he missed the Olympic flame as he got lost in Helston and ended up in Gweek. Nevertheless he took the opportunity to catch up with some of the cutting edge opinion formers and intellectuals in modern Cornish life.
First port of call was with high Tory Lady Fenella Farquarson.
"What I concentrate upon Rob are the really important things like overthrowing the current Tory leadership in Cornwall and of course I constantly listen to what ordinary families are saying to me.
We are concentrating our funds on a number of really important issues such as free pilates for gay traffic wardens which will commence shortly in Praze-an-Beeble.
We always take our responsibilities to the wider community extremely seriously and our diversity policies with regard to both immigration and those of a different sexual orientation are second to none. We even have a village named Indian Queens"
Next stop was up in East Cornwall to meet up with economic guru and financial whiz kid Algy Fecks.
"In these stringent economic times we have to think out of the box Rob. Next week I hope to lead Lanson and Tregadillet into the Eurozone.
I hope that nice Angela Merkel will then arrange a 30 year loan for me to help my missus with the housekeeping as we have had a few problems lately."
Down to the other end of the Duchy to hook up with local second hand car dealer Rodda Hardup. "As I said to my minder Terry only yesterday Rob, 'er indoors wants a new divan suite and you have to look after the needs of the small businessman dont you"
Final stop was Truro and to meet Radio Dreckly's cheery disc spinner and chatshow host Clarence Weed.
He was joined by his two regular specialist advisers Berk Bisto (macroeconomics and political theory) and Nobby Dray (just about everything).
"We dont need any new fancy ideas down 'ere boy" said the erudite Nobby
"With the loss of fishing and mining we need to focus our support on the growing industries in Cornwall such as pound shops, wind farms and unregistered caravan parks"
Returning to Twickenham Sir Rob stated that he had found it very encouraging to meet members of another organisation with a similar culture to the RFU and was full of ideas to take the game forward once again.
More Cornish Pirates headlines
Cornish Pirates Poll