A Look Back in Time – Rugby Cricketers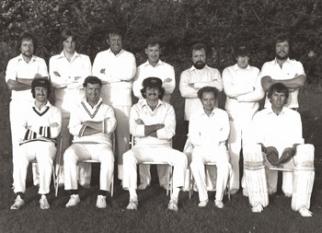 By Phil Westren
August 4 2017
When news was recently announced that a Cornish Pirates 'XI' was to play St. Just at cricket, it rekindled memories of past Pirates who have played the game.
Indeed, over the years many of our finest players have been gifted at a range of sports, as I witnessed when growing up in Penzance, at school, and during my long time involvement with the club.
From a very young age there was football and cricket played in back lanes, whilst living near the promenade and bathing pool for me it was also swimming and water polo that quickly took a focus.
Penzance water polo teams in my youth were made up almost entirely of Pirates, however it is cricket that is our main concentration for this particular column – so read on……
It is impossible to mention all names, as there were so many. However, for a starter we should perhaps firstly highlight the name of one Pirates associated player – a former Colt – who actually played for England. It was, of course, Clifton Jack Richards. Jack's story is a very interesting one, which can be highlighted at another time. However, mention must be made of the real highlight in his career when, during a tremendously successful trip to Australia in 1986/87, he scored a magnificent 133 for England at Perth in an Ashes-winning series.
Jack, pictured with David Gower, raises his bat in celebration
Another person to mention, who played several games for our senior teams in the early 1970s, was lock forward Tommy Matthews, a 'Buryan' (St. Buryan) boy who played for Somerset.
A fast bowler, Tommy was physically strong, as was Robin Harvey who had played a few years earlier for the Pirates. Robin, who came from St. Columb Major and was educated at Blundell's School (Tiverton), enthused confidence playing rugby mainly in the centre.
Besides the Pirates he represented Newquay Hornets (his father Geoffrey was a former captain there), Bristol University and Cornwall (8 appearances 1962-65).
At cricket, Robin's aggressive left hand batting enabled him to regularly change the complexion of a match. He played for Cornwall (1959-71) and also had the honour of captaining the team. In 1968 it looked, at one stage, as if he might lead Cornwall to the top of the Minor Counties table, whilst a year later he was awarded the Wilfred Rhodes Trophy for the highest batting average in the Minor Counties Cricket Championship, scoring 519 runs with an average of 57.66.
As mentioned earlier, when compiling a column such as this there are inevitably names that will be missed, because the task really is all but impossible! However, one other person that must be mentioned, who played at a much earlier time, is that of Barzillai Beckerleg Bennetts, who was referred to as Barrie.
An accomplished wing/centre, Penzance-born Barrie played for his hometown club and was a member of Cornwall's famous 1908 County Championship winning side. Rugby honours also included winning two caps for England in 1909.
Truly gifted, besides rugby Barrie represented Cornwall at golf, hockey and, you've guessed it – cricket. He was also a solicitor, an actor and musician, besides being Secretary of the RNLI Penlee Branch for an amazing 44 years (1913-57).
Barrie Bennetts
Considering the names of other Pirates-associated personnel who also played cricket to varying standards and have enjoyed the sport, I can recall those of George North, Bernard Wallis, John Michell, Owen Saunders, Steve Snell, Graham Michell, David Harvey, Keith Gruzelier, Roger Pascoe, Malcolm Oats, Paul Osborne and John Maddern, who all played for Paul CC, as in more recent years have Andrew Snell, Andrew Barrett, Ben Brooks, brothers Casvelyn/Gerens/Harvey James, plus my sons Ryan and Murray Westren. A good number of these have also represented certain other teams, and there will of course be others not named.


Further Pirates to recall who have played cricket locally include Barry Rogers, Charlie May, Stan Richards, John Harding and Barneslie Ward (two example Scillonians, likewise Vernon and Doug Nance, I believe), Brian Harvey, John Oliver, Jack Gunn, Ken Barclay, Roger Allen, Mike Jenkin, Jim Matthews, Rex Sincock, Clifford Grenfell, Tony Stephens, Alan Reynolds, Ernie Nicholas, Phil Shannon, Alan Innis, Jim McCarthy, Tristan Smart, Steve and Chris Murley, Kevin Bell, Treve Laity, Rodney Ward, Richard O'Shea, Jamie Dean, Steve Larkins, and my brother Mike Westren. Somewhere in my memory I also have an inkling that a past player and President, the late Bill Monckton, also played cricket early in our history, perhaps for Gulval.
Although not playing senior rugby with the Pirates, a well-known local cricket player, St. Just's Gary Thomas, is worthy of mention as a former youth section member who represented Cornwall in well over 100 Minor Counties Championship matches.
Another name to mention is that of Mike Terry, surely also a cricketer in his day (someone will no doubt confirm!), remembering that one of his sons, Paul, did very well in the game, playing for Hampshire and capped twice for England against the West Indies in 1984.
On a personal level I played senior cricket at Gulval for a couple of years, but then turned available time to evening league cricket only, captaining the same side (originally named JHB – for JH Bennetts Ltd) for 30 consecutive years. Some of the names previously mentioned played for the team, whilst others that I for the present remember include Walter Tonkin, Roger Harding, Alvin Williams, Roger Roberts, Tom Beckerleg, John Brayley, Des Thomas, Peter Paull, Joe Hill, Les Roberts, Dave Trembath, Mike Burroughs, Ian Blewett, Nicky Briant, Bernard Durrant, Stuart Johns, John Williams, Nicky Williams, Danny Clackworthy, Dave Elliott, and Dave Bowden.
Roger Harding (standing left), Alvin Williams (standing third left), Roger Roberts (standing right), and me (captain – sat in the middle) were all Pirates in this 1979 JHB Cricket team. Peter White (a very good footballer, sat second left) also played a few games for the Pirates and has been a keen supporter for many years.
Present day Pirates should be mentioned, including Kyle Moyle who has played for Penzance (as has recent PDF member Rhys Brownfield) and Laurence May who has represented St. Just. John Stevens, along with his brother Sam, have played for Rosudgeon.
Kyle Moyle & Laurence May
To conclude, the opportunity is taken to highlight three Cornish rugby internationals, each of whom also played cricket with distinction.
First named is Keith Scott, born in Veryan in 1918 and later educated at Clifton College. A doctor, he played cricket for Cornwall and then first-class cricket for Gloucestershire before going to Oxford where he captained both the cricket and rugby sides.
Keith Scott
Playing his club rugby for Redruth, and winning the first of his five caps for England as a centre when Wales were beaten 9-6 in 1947, Keith proudly captained his country in 1948.
A leading sports columnist, L.V. Manning, said: 'E.K. Scott is likely to join the ranks of men who played for their country at rugby as well as cricket', but it was not to be, although immediately after the Second World War he had been twelfth man for one of the unofficial Victory Tests against Australia.
Next to mention is Roger Hosen, who first played rugby for Penryn while still at Falmouth Grammar School. An all-round sportsman, he won 10 rugby caps for England (1963-67), and played 54 times for Cornwall.Most of his club rugby was played at full-back for Northampton Saints, where in 250 games he scored 1,463 points.
At cricket, Roger appeared 64 times for Cornwall as a very accomplished player in the Minor Counties competition. Indeed, as a right hand bat and right arm pace bowler, he captained the county team from 1963 to 1967 and made a total of 1,444 runs, including a highest score of 100 not out.
A teacher, he retired in the 1980s and became landlord of the Seven Stars pub in Stithians, where he continued to play a little rugby well into his fifties.
Finally, the focus falls on one Richard Adrian William Sharp OBE, who was born in India, in 1938. His dad was a mining engineer from Camborne School of Mines and his mum was Redruth born.
As a Redruth, Bristol and Wasps player, fly-half Richard played 28 times for Cornwall, won 14 caps for England (captaining the side to Five Nations success in 1963), and was also a British Lion in 1962. He made 14 appearances for Cornwall's cricket team as a wicketkeeper/batsman (1957-70), whilst as a Royal Marine he also played for the Navy during national service. On returning home to Cornwall, post his rugby days he played cricket for Redruth.
In conclusion, apologies are expressed to inevitable names not recalled, however 'tiz' not a bad list and is one that has hopefully provided some interest!