Coventry and Ealing sides announced.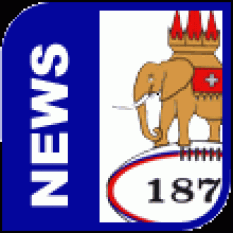 By Tom Little.
August 30 2012
Both sides for the crucial first fixture of the season between Coventry and Ealing Trailfinders here at Butts Park Arena kick off 3pm have just been announced.
The Coventry side shows a starting line up of no fewer than 11 new signings including an all new front five. Unfortunately injuries in the Bedwas game have ruled out new signing No 8 Jacques Le Roux and centre James Otutaha who suffered broken hand. Tom Poole who usually plays lock, played last night in the pre season game against Broad Street in the back row and comes on to the replacements covering both lock and back row positions.
15 Ben Russell
14 Ben Toft
13 Greg Evans
12 Luke Myring (Vcapt)
11 James Whybrow
10 Cliffie Hodgson
9 Nathan Jones
1 Nico Steenkamp
2 Davy McGregor
3 Bronson Ross
4 Danny Wright
5 Scott Morgan ( capt)
6 Brett Daynes
7 Liam Munro
8 Matt Tibbatts
Replacements:
Rob Dugard fr
Matt Price fr
Tom Poole
Lewis Barker
Tom Harris
Ealing have announced a very strong side including new signings Andrew Henderson, Sam Shires and Steve Pape, as well as last season's record scoring wingers Phil Chesters and Owen Bruynseels.
15 Peter Hodgkinson,14 Owen Bruynseels, 13 Andrew Henderson, 12 Tom Wheatcroft, 11 Phil Chesters, 10 Ben Ward, 9 Morgan Thompson, 1 Tim Tunnicliff, 2 Jon Moyce, 3 Tim Brockett, 4 Gavin Curry, 5 Steve Pape, 6 Matt Evans, 7 Anders Nilsson, 8 Sam Shires.
Replacements: 16 Richard Townsend, 17 Steven Neville, 18 Simon Gaynor, 19 Lee Starling, 20 Ronnie McLean.
Tom Little
Coventry Rugby press office
30th August 2012