Week 2 results round up with 15th September match previews.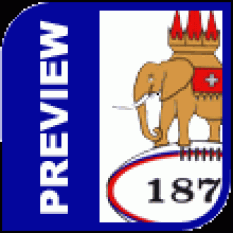 By Tom Little.
September 9 2012
Week 2 Results 8th September 2012.
Blaydon 15 10 Tynedale
Cambridge 25 18 Loughborough Students
Cinderford 36 31 Coventry
Ealing Tfs 29 22 Rosslyn Park
Esher 33 28 Blackheath
Old Albanians 32 25 Richmond
Sedgley Park 39 17 Macclesfield
Wharfedale 21 17 Fylde
An unbelievable set of close results showing what a tight league this is turning out to be, with Macclesfield the only team unable to get any sort of match point. The heady title of leader belongs to Cinderford, so far the only team on full points including 2 bonus point wins. Yet they had to leave it late at a pulsating match against Coventry whose 17 point lead early in the 2nd half was whittled away following a sending off.
There are still three sides yet to win including Coventry, newcomers Loughborough Students and a misfiring Macclesfield. The top of the league shows three unbeaten sides with Cinderford joined by Ealing Tfs and Blaydon.
As expected the two London derbies went to home wins but with just one score separating the sides. Esher's new signing Chris Elder was also MOM in a close and attacking game over Blackheath with them just holding on to win.
The revelation shown by the new steely Ealing pack saw them win over Rosslyn Park despite Park outscoring them 3 to 2 on tries, leaving a very disappointed away side.
Sedgley Park(Tigers) continued their impressive start to the season with an emphatic win over Macclesfield, as they had no answer to the power and experience of hooker Richard Oxley as he scored a hat-trick, this loss ensured that Macclesfield stay in bottom position.
Cambridge were able to brush aside the students of Loughborough as they scored 5 tries, but an inability to convert any of them made the score line closer than was really justified.
The battle between two of the newly promoted sides Old Albanians and Richmond, saw the home side win thanks to a master class in finishing by former Bedford Blues No 9 Stefan Liebenberg.
The battle of the north-east saw Blaydon win a close encounter with Tynedale, with flanker Rob Bell and No 8 Jason Smithson helping to edge out their close neighbours.
In some quarters Fylde's loss away to Wharfedale was a surprise, but once again a star studded back division can win only if the pack provided enough ball and in this case they didn't, although it needed a last minute try by Wharfedale to snatch victory.
Overall a great number of close matches suggesting that the season will see many teams cancelling each other out. Far too early to call who will be the future champion but even all unbeaten sides have so far shown frailties, so an even more exciting season is waiting to be unfurled.
Week 3 15th September fixtures including Match Previews
Blackheath v Wharfedale
Coventry v Cambridge
Fylde v Old Albanians
Loughborough St v Esher
Macclesfield v Ealing Tfs
Richmond v Blaydon
Rosslyn Park v Cinderford
Tynedale v Sedgley Park
After last week's close set of results comes the reality of no surprises and straight forward fixtures this week. Well that's the theory but we have already seen that this league can throw up surprises from any position in the table.
Of the three sides yet to win perhaps Coventry has the best chance by beating Cambridge. However Coventry have yet to beat them in 4 previous occasions and any side that has Steve Hipwell as No 8 cannot be taken too lightly.
Loughborough Students face the daunting task of hosting Esher at home, who were back to form week in beating Blackheath, and youthful experience and exuberance is not always a panacea over experience.
An equally torrid time is expected as Macclesfield face pre- season favourites Ealing Tfs, whose new found pack power should negate Macclesfield's. Somewhat surprise leaders possibly to themselves, Cinderford face a tricky visit to Rosslyn Park, a test of both sides aspirations and ambitions.
Impressive Sedgley Park, or is it Tigers, face a difficult trip even further up north to Tynedale, who once again confirms that the North-East sides can find a competitive edge from somewhere. The other North-East side Blaydon buoyed after two wins travel to London to face Richmond which should sort out how good the Richmond pack really is.
The home banker of Week 3 must by Fylde entertaining Old Albanians, with one of the best back divisions in the league, however OA are no slouches so it could be a high scoring tussle.
The final match of Saturday sees one of the pre-season favourites Blackheath , meeting Wharfedale who both must be feeling confident after Blackheath held Esher to 5 points, whilst Wharfedale's win over Fylde sets the game up nicely. A battle of two well matched packs could go either way.
Once again a full match preview of Coventry Rugby v Cambridge, together with team news will be posted later this week on the website.
Tom Little
Coventry Rugby press office
9th September 2012.
View a Printer Friendly version of this Story.
Unofficial Coventry Rugby (IP Logged)
Unregistered User
Week 2 results round up with 15th September match previews.
What do you think? You can have your say by posting below.
If you do not already have an account
Click here to Register
.
Reply•Quote
Sorry, only registered users may post in this forum.