Week 3 results round up with 22nd September match previews.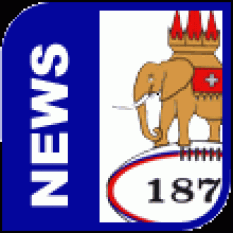 By Tom Little.
September 16 2012
Week 3 results round up 15th September…
Blackheath 26 20 Wharfedale
Coventry 37 5 Cambridge
Fylde 20 26 Old Albanians
Loughborough St 22 37 Esher
Macclesfield 15 56 Ealing Tfs
Richmond 24 20 Blaydon
Rosslyn Park 36 36 Cinderford
Tynedale 30 10 Sedgley Park (Tigers)
The shock of the round or at least in the eyes of the pundits must be newly promoted Old Albanians with player coach James Shanahan getting the winning try away at one of the pre-season favourites Fylde, who do not appear to have strengthened their pack sufficiently to match that of Ealing. Two clubs still remain unbeaten but only one with a 100% record, that of leaders Ealing Tfs, who demolished yet to win Macclesfield. Even in these early days it looks like Ealing is the team to beat. Cinderford now in 2nd place, maintain their high scoring exploits and ability to come from behind, this time 21 points to draw with Rosslyn Park, if Coventry's players were distraught last week after losing a 17 point lead, think of what Rosslyn Park must be feeling.
There are still 2 teams without a win, Loughborough Students beaten at home by improving Esher, whose all-round attacking game proved too strong for the students and bottom club Macclesfield still without any sort of point, who were given an 8 try lesson by Ealing.
Coventry finally get their first win of the season with their first ever win over Cambridge, a lesson in using the correct tactics in a difficult wind, with Cambridge a shadow of their former self. Hopefully for Coventry, a confidence boosting performance for the season to come.
Tynedale easily beat Sedgley Park at home, whose early form had suggested a better outcome, whilst the final two games resulted in narrow home wins for Blackheath over Wharfedale, and Richmond over Blaydon, with both losing away teams picking up losing bonus points.
League positions show Ealing Tfs as leaders closely followed by Cinderford, whilst at the bottom are Macclesfield with Loughborough Students just 1 point ahead. Even in these early weeks of the season Ealing seems the best all round side, and the one to beat, although Esher's improving form cannot be ignored, whilst at the bottom it is looking difficult for Macclesfield and Loughborough Students, with the rest of the teams all bunching up and capable of beating each other in what promises to be a most exciting season.
Week 4 22nd September match previews.
Blaydon v Fylde
Cambridge v Rosslyn Park
Cinderford v Macclesfield
Coventry v Loughborough St
Ealing Tfs v Tynedale
Old Albanians v Blackheath
Sedgley Park v Richmond
Wharfedale v Esher
Key game of Round 4 must be leaders Ealing Tfs facing third place Tynedale at home, with both sides scoring plenty of tries through their backs, it promises to be another high scoring encounter. Probably one that home advantage counts. Who will be the first team to lower Ealing's colours?
The only other unbeaten side Cinderford, showing a resilience that was absent last season, face Macclesfield at home, who are still looking for their first win, and indeed point of the season. On the face of it a foregone conclusion, but surely Macclesfield can't continue playing so poorly or they will be candidates for relegation. What on earth is going on in Cheshire?
The only other side yet to win is Loughborough Students who are finding it a hard league to get their bearings. They face the short journey to Coventry, who themselves, after a shaky start are now finding some rhythm and try scoring ability. Surely not the time now for Coventry to lose momentum.
Wharfedale always difficult to face at home are visited by Esher whose recent signing Chris Elder from Wasps, is making a big impression. A game which could go either way and a real test to see how good Esher really are, a classic between a dominant Dale pack and the improving Esher backs.
Cambridge now languishing in a relegation spot, face the visit of one of the pre-season favourites Rosslyn Park, still smarting from letting a 21 point lead over Cinderford vanish for a draw, Cambridge will need to show more tactical awareness than in their loss against Coventry if they want to get anything out of this game. Rosslyn Park, rather like Coventry are taking time to assimilate all their new players.
Last week's surprise winners over Fylde, Old Albanians, no doubt once again marshalled well by the mercurial James Shanahan, could give Blackheath a very close game, again home advantage might count.
The northern battle between Blaydon and a misfiring Fylde should also go with the home side, as Fylde will come across another hard and uncompromising pack, with Fylde possibly suffering from a 2nd season syndrome, as opponents know their style of play and Fylde are no longer a surprise package.
The final tie sees Sedgley Park (Tigers), after their mauling by Tynedale , face newly promoted Richmond, who have had a good start to this league. A narrow home win might be on the cards, but again another match very difficult to forecast.
Again another week of intrigueing matches with at least one surprise on the cards, Whether any more pointers to the final league outcome emerge is very much open to debate.
A more detailed match report on the forthcoming Coventry v Loughborough Students fixture, together with the selected teams will be available later on in the week.
Tom Little
Coventry Rugby press office
16th September 2012
View a Printer Friendly version of this Story.
Unofficial Coventry Rugby (IP Logged)
Unregistered User
Week 3 results round up with 22nd September match previews.
What do you think? You can have your say by posting below.
If you do not already have an account
Click here to Register
.
Reply•Quote
Sorry, only registered users may post in this forum.