Cliffie Hodgson happy Cov are finally off the mark in ND1.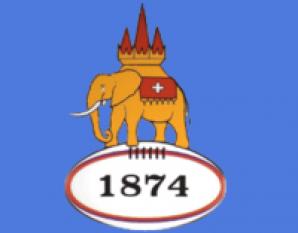 By Brian Dick, Coventry Telegraph.
September 18 2012
AFTER helping his side secure their first win of the season with a full house, Cliffie Hodgson is optimistic Coventry are finally up and running.
The South African fly-half bagged a try, a drop goal, a penalty, three conversions and 17 of Cov's points in Saturday's 37-5 victory over Cambridge.
The much-needed result came on the back of an underwhelming start to the campaign in which the Butts Park outfit had opened with two consecutive defeats.
But they finally began to resemble the sum of their eclectically-assembled parts at the weekend, as the forwards laid a solid platform and Hodgson, in just his third game since moving from Rotherham in the summer, was able to orchestrate a promising performance.
The 23-year-old believes it was the first of many. "It was a big thing for the team," he said
"We have had a tough couple of weeks behind us after getting off to a slow start to the season.
"We are still a new bunch of guys coming together and responding the way we did after having our backs against the wall as early as two games in, shows a lot of character. This is the start of bigger and better things.
"We understood where we went wrong and we learned from those first two games.
"We have rectified things in each game and while we were unlucky against Cinderford we learned something from it.
"After the first two games we stuck to the gameplan a lot more. Things just came together on Saturday.
Click here for more on this article.
View a Printer Friendly version of this Story.
Unofficial Coventry Rugby (IP Logged)
Unregistered User
Cliffie Hodgson happy Cov are finally off the mark in ND1.
What do you think? You can have your say by posting below.
If you do not already have an account
Click here to Register
.
Reply•Quote
CharlieBravo (IP Logged)
Registered User
Date Joined: Jun, 2009
Location:
Posts: 586

Re: Cliffie Hodgson happy Cov are finally off the mark in ND1.
This a good message emanating from a strong and positive mental attitude. There's no question he brought a strong and decisive standard of play to Saturday's game and the team not only fed off him but benefitted enormously too.
Let's face it, Rotherham have never been a bad side, so for him to have left them and brought his experience and skills acquired at a higher level to the Cov team can only be for the good.
Surely a team containing Cliffie Hodgson, Brett Daynes, Matt Tibbatts, James Otutaha, Scott Morgan, et al, and Luke Myring when he's fit, can only get better and forge its way up the table to challenge for promotion?
Reply•Quote
Coventry Steve (IP Logged)
Registered User
Date Joined: Nov, 2009
Location:
Posts: 411

Re: Cliffie Hodgson happy Cov are finally off the mark in ND1.
It was a good display by Cliffie, he will be a great addition with his experience to the squad, he will shine more as he gets to know his team mates.
I would like to think we have a good team of players that can push up the league this season, we have a very capable bunch of players in the squad.
I have seen an improvement with them as a team and fingers crossed they just keep getting better
Good to see the club are putting a few nighthawk games on as well. It gives a chance for P.M and the coaches to watch fringe players and possible new signings.
COME ON COV!!!!!!!!!!!!!!!
Reply•Quote
Sorry, only registered users may post in this forum.