Coventry Rugby team v Rosslyn Park.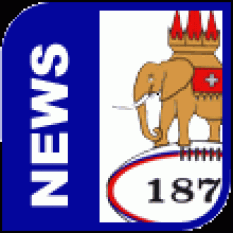 By Tom Little.
September 27 2012
The Coventry Rugby side to meet Rosslyn Park away at Roehampton this Saturday 29th September kick off 2.30pm has just been announced.
Following the broken jaw suffered by scrum half Lewis Barker in the win over Loughborough Students, Andy Murray takes his place from the replacements bench. Prop forward Bronson Ross returns in place of Nico Steemkamp who goes onto the bench in place of Danny Herriott. There is a welcome return for centre James Otutaha and lock Sam Herrington, who both start on the bench.
15 Ben Russell
14 Tom Harris
13 Callum MacBurnie
12 Heath Stevens
11 Gregory Evans
10 Cliffie Hodgson
9 Andrew Murray
1 Rob Dugard
2 Matthew Price
3 Bronson Ross
4 Danny Wright
5 Scott Morgan (capt)
6 Brett Daynes
7 Liam Munro
8 Jacques Le Roux
Replacements:
16 David McGregor
17 Nico Steenkamp
18 Sam Herrington
19 James Otutaha
20 Steve Johns
Tom Little
Coventry Rugby press office
27th September 2012