Doncaster Days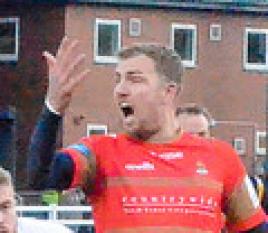 Really Sir!
By AdminBTCov
December 8 2018
Topsy turvy. Back and forth. Ebb and flow. What should have been a comfortable 16 point 5-0 win so very nearly turned disaster for Cov in the dying seconds of a pulsating second half at the BPA in this Championship Cup qualifier.
After stuggling to get to grips with Donny's powerful forwards-based game in the first stanza, and turning round narrowly in arrears, (with Rob Knox displaying a hitherto unsuspected seige gun of a right boot to narrow the arrears with two monster penalties, along with a more usual effort from Maisey), the Cov backs began to turn the screw in the second, following their own forwards' lead after Dawidiuk touched down at the sharp end of a strong drive.
Rob Knox, Sam Tuitupou, and Junior Bulumakau all crossed following flowing moves where the Cov backs imperiously sliced the visitors' defence apart.
Cov, at this point, were cruising - or should have been - at 31-15, and one could sense the Blue n White faithful almost as one willing the team to just hang onto the pill, and secure the maximum.
However, ever generous, and ever willing to test the batteries of any pacemakers in the East Stand as usual it seems this season, we were then treated to the sight of the home side, in stoppage time, calmly handing the ball to their opposite numbers, and pointing towards Butts Road.
So the 5-0 turned, in moments, to a 5-2, even though qualification for the KO stages of the competition was still achieved.
Nobody can say Cov don't endeavour to entertain this season, but a little less magnanimity might not go amiss with those of a more nervous disposition.
Cov Scorers:
Tries, Dawidiuk, Knox, Tuitupou, Bulumakau
Cons, Maisey
Pens, Knox (2), Maisey
Crowd: 2028
Man of the Match: Rob Knox
Final Score: Coventry 31-29 Doncaster
Official Site Match Report: HERE
All Images: Nick Meredith