That Signings (etc) Thread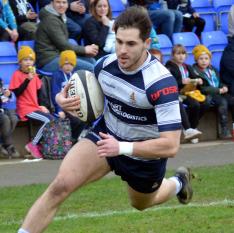 Full Flight
By AdminBTCov
January 12 2019
We've reached the point in the season when the squad for 2019/2020 is starting to take shape, and the odd announcement is being made by the club.
I don't think it's any great secret that the club has been in talks with various potential incomers already, and that likely means that one or two have already been lined up.
It'll be interesting to discover the calibre of such players when their names are released, and maybe just how much of a clue that provides as to the club's intent over the next couple of years.
The recent, and very loud, noise over the PRL's purported desires to 'ringfence' its 13 preferred clubs into an insular closed-off top-table league may well influence thinking at board level at the BPA – and at several other ambitious clubs up and down the land.
Will Cornish Pirates continue on the same course of building a Premiership-standard stadium if there is no such prize at the end of that very expensive rainbow?
Can Leeds, minus their PRL shares now remember, continue to sustain their ambitions at a largely empty, yet sumptuously overhauled Headingley?
Will Mike Gooley's millions continue to be pumped into the Ealing team and the Trailfinders ground if there's nowhere to go?
And most importantly to us, will Coventry's grand plan to develop and potentially fully enclose the BPA, and mine its potential as a city-centre site, reach fruition if those that control our destiny, the RFU and PRL, decide that us minnows – us 'community game' development factories – aren't fit to lace their fancy overpriced boots?
It's all very distasteful. Very unsettling. For both clubs and fans.
And perhaps just as importantly, to those players that may or may not wish to step down a level or maybe even temporarily interrupt their upwards trajectory into the Premiership by spending a year or two helping Cov, or Pirates, or Ealing, or Leeds (other clubs are also available) towards achieving their laudable, if costly, ambitions.
I digress, slightly, though.
To get back to the original premise of this article, let's look at who is theoretically already lined up to appear in a Cov jersey next season, that is, who is in the second year of a two-year contract, and therefore – notwithstanding the possibility of poaching (always a threat) - will form the nucleus of the first team squad come September 2019.
Firstly, and significantly given the man's influence, Phil Boulton will be serving the second year of his current two-year contract. I don't think anyone here would relish the thought of Boults moving on, and I think we'd all rejoice to hear that he had signed an extension.
Sticking with the front row, one of the revelations of the season (certainly until his season was so cruelly and prematurely ended) has been Luc Jeannot. One of the most notable successes of the club's development systems, Luc is also lined up with a year left of his contract.
Another coming up to the second half of his current stint, and still up-front (and so useful at the other end of the pack too), Scott Tolmie, is an absolute essential, and must, I feel, be secured if at all possible.
Nile Dacres. Ouch. One has to have sympathy for Nile. Signed up for two years, and seemingly set to develop his game further in the back row, he suffered a season-ending injury before the term even started. Next year then Nile.
The final member of the 'Nat 1 Pack' to be in line to play next season is Jack Preece. An absolute stand-out openside at level 3, he's not had it all his own way this season, but only due to the outstanding form of the other Jack (Ram), and injury niggles. Will he want to hang around given the overall strength of the back row already? I hope so.
That's the 'Nat 1' forwards group taken care of, and now I look back, I'd say that's a pretty impressive list – on performance so far - given the magnitude of the step-up from level three to level two.
Moving back a step, Will Maisey and Pete White are both coming up to the second year of their contracts. What can be said about these two that hasn't been said many times this season? Both are shining examples of just what competition can do (RFU and PRL please take note).
Maisey, after a slightly shaky start by his own high standards, has definitely grown to fill his Championship boots during the cup competition. Jake Sharp's arrival didn't seem to do Will any favours early on, but, given Sharp's stuttering form, and subsequent departure, Maisey has now firmly established himself in the 10 slot. He may have been helped somewhat by the season-ending injury to Tony Fenner, but don't let that detract from a solid performance thus far.
White, on the other hand, has blossomed in the presence of incomer Tom Kessell. Tom's appearances on loan during season 17/18 were a revelation, and it was only natural that the BPA regulars wanted to see more, and the collective sigh of relief was almost palpable when he did eventually link up with Cov on a contract basis. His transition wasn't made quite so easy as most had thought it would be though, not so much through his own performances – which were usually solid enough – but by White's own rejuvenation.
I've lost count of the times that I've heard or read the plaudits that have gone Pete's way this term. And rightly so.
We now have two genuine first-choice inside halves, and the only argument among the fans is which one should take the opening stint, and which should be the replacement. (and of course, it will do neither of them any harm to have impressive Development squad 9 Will Flinn snapping at their heels).
In my humble opinion, I really don't care, but I must admit to enjoying Pete coming on second and seemingly changing the entire shape of the game.
We come, then, to the back five.
I guess we need them really, eh? Sometimes a slippery runner is needed to finish-off a thing-of-beauty maul. Sometimes the forwards have worked themselves into a corner where the ball just won't go over the line and a little guy can be useful and just dot the ball down.
That's tongue-in-cheek of course.
Last season we were treated to some wonderful running rugby in the sweeping spaces of Nat 1, but that's changed somewhat at Championship level, where space is more at a premium (it seems) and packs are bigger, backs are faster, teams are better-coached and prepared, and just more, well, professional.
It's well documented that our ascension to the current level was somewhat premature (against the planned timescale) and conversations had to be had over a year ago to determine how the club would proceed if the almost-inevitable occurred, and promotion was secured.
One wonders if some of the lads mentioned above were viewed in a slightly askance manner at this point? Were they seen as perhaps plenty good enough to get us up, but maybe 'marginal' at best for Championship rugby? That's conjecture on my part, but the fact remains that they had been signed for a two year spell with a view to gaining promotion, probably this year, rather than last.
The mere fact that promotion was duly gained, and I'm stressing here that they need to be secured rather than be allowed to slip away to pastures-new, speaks volumes.
Getting back to the job-in-hand though (the back five in case you'd forgotten by now!), to my eyes, the core of this season's strike-force has been what was also last season's strike-force.
They've pushed the envelope, and looked every bit a Championship back-five for the most part, with only new signings like the Bulumakau brothers able to maintain a toehold, doing everything asked of them given limited opportunities until recently. David Halaifonua has had a torrid time of it with injuries though, but I look forward to seeing more of his destructive running in full flow very soon.
I'll not mention other back-five names – we all know who they are and what they can do – as this article concentrates on signed-up-for-19/20 assets. But, I will say that they have all done a superb job in stepping up a level, and – please God – will be talking to RW & Co very soon if they haven't already.
So, to those that are here (to our knowledge) next season.
Given that he had a scanty start to the season due to injury, Max Trimble came back a better player than ever. Always a good poacher, and a good footballer, Max has now realised he can be a better player with ball in-hand, and his scoring stats since re-establishing himself as first-choice left winger only go to prove that. Often one, in the past, to seemingly deny himself the self-confidence to outrun and go around his man, with the result that a good proportion of his tries came from kick-throughs, he's now realised he doesn't always need to do that. Yes, it's still in his toolbox, but there's nothing like seeing the 'new' Max pin his ears back (sans headband now!) and scorch the touchline on the way to the corner. Great stuff.
And that brings us to our final 'two-year' 'Nat 1 Club' piece in the jigsaw.
As a winger, he's rather wasted in my opinion. Oh, he's good, but to only use one dimension of James Stokes' multi-faceted arsenal would be a great shame. From his more usual full-back position, though, Stokes has free-rein to attack effectively at speed from all over the park, and can be devastating in that role. He's another that can raise a rumble from the crowd when he picks up a loose ball in the 22, and sets off on a course for the try-line. OK, he hasn't made it through so many times this season (those Championship defences are no mugs), but it's still great box-office, and quite often results in potential try-scoring positions for others, anyway. Stokesy, like the others, needs to be looked after.
Good news has recently started to filter through regarding contract extensions for the 'Nat 1 Club' players, and thus far have been received with universal approval here, and on social media.
Cov Kid Rob Knox has recently put pen to paper on a new deal which will keep him at the club for a further three years, which demonstrates the club's philosophy of rewarding hard work and loyalty. Rob's one of the longest serving in the squad, and has become a virtual fixture in the starting line-up. A master stroke.
Another back who has stepped up massively this season, until a cruel injury curtailed his season the other week, is Tony Fenner. I sometimes think the term 'utility back' sounds slightly derogatory, almost a 'jack-of-all-trades-master-of-none' kind of appelation. Not in Fenner's case though. Yes, he can play almost anywhere, but the fact is that wherever he plays he seems to somehow improve on the last position - and that was always filled with aplomb. How useful is a genuine utility back when things get tough, and players start to leave the pitch, and you only have two backs on the bench? Invaluable. And here for three more years.
One man that always gives 100% on the park every time he pulls the shirt on, and someone who time and time again is in contention for Man of the Match status, is George Oram. Just this week, following a towering performance against Hartpury, which resulted in a Unofficial Cov Rugby MoM award, George signed an extension that will keep him in the Blue & White until 2021. Again, nobody could complain about the news, except maybe a very slight disappointment that it was 'only' a two year extension. And that's quite indicative of the heightened expectations of supporters, given that two year contracts are usually viewed as excellent news. Given the fact that George is currently in a mix of several quality locks, esatblished and emerging (notwithstanding a few injuries), George must surely be among the first names on the team sheet every week. And long may it remain so.
And that, without looking at the new signings, or the Development squad (and the latter, it seems, is full of potential) is that.
Next season has to be one of incremental, yet significant, gains. This season seems to be shaping up to a mid-table finish, something that most of us would have been happy with pre-season, but I suspect many will now find slightly disappointing given the obvious potential of this squad.
Next season, we will know so much more.
The opposition, or most of it, will be so much more familiar. Their players (even those that move around between the division's teams), their grounds, their style, all will be held in the collective memory bank and worked on relentlessly through pre-season.
It remains to be revealed just how many of the newer signings are on two-year contracts (other than Kessell, whose two-year contract was announced publicly last year) and how many of those will actually stay.
I suspect the next month or so will tell us a lot.