The Sound of the Crowd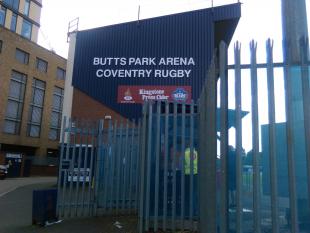 By Mark Forster
January 16 2019
SUPPORTING any Coventry side can be a bit like finding a big grey cloud behind any silver lining.
The loss to Doncaster Knights at Butts Park Arena was disappointing. The manner of defeat was disappointing.
But there was a bright spot - the attendance.
Now I don't know how many travelling fans followed the Yorkshire side down to the Midlands, but 2,147 was a good turnout for those of us who remember BPA seasons where 1,200 was a result through the turnstiles.
Even so, it's not quite as good as Coventry's 2,226 average crowd thus far this campaign, and dwarfed by the five figure crowds across the city at The Ricoh.
Yet, it's an upward curve. Coventry is a club that nearly went bust, that's enjoyed a renaissance, that exploded out of National League One, that has fared better than most promoted to the Championship in recent years. People are coming back. And that has to be a good thing.
Opponents don't like coming to BPA. It's partisan, they say. Brilliant.
While I'm not a fan of the nomadic Londoners coming to my city and upstaging my club, I have to admit Wasps are doing well spreading the rugby gospel. I don't care how they're doing it, whether they're throwing out free tickets or begging passers-by on the streets to take a seat. They're encouraging people to watch, back their brand and for me, that's a positive for the future. Yes, they might be losing money hand over fist, but isn't almost every Premiership club bar Exeter?
Jon Sharp and his cohorts that have given Coventry a bright future don't have to follow suit, damaging the cashflow with oodles of free tickets. But where have the people who packed into Coundon Road gone? Some undoubtedly have gone to Wasps, some undoubtedly have remained faithful to Cov.
The rest?
Attendances for live sport aren't as good as they were. I remember being barged (unintentionally) due to lack of space in the Cowshed at Coundon Road in a game against Northampton Saints some 30 years ago. And again against Leicester. Moseley was another big crowd, I remember in the old days. I don't know the attendances for some of those games, but Coundon Road had a capacity of 9,000 and often it was jam packed.
I'm sure more squeezed in on occasion.
It's been different at the BPA, with its 4,000 cap. For those of us lucky to be at last year's record breaking finale, the 3,758 crowd was a record for National League One, and what an atmosphere it was. But Coventry's average attendance last season was 1,869. The season before, Rowland Winter's first in charge, it was 1,264. In the 2015/16 season, the average was lower, at 1,152.
So our crowd is growing.
My biggest disappointment is that circumstances have meant I've seen just three games this season. Living in deepest, darkest Cornwall it's not easy getting to the BPA as it is.
Every voice helps the team out on the pitch. Every body in the stadium helps the club financially. Especially if they're buying food and drink.
So, while the 2,147 isn't as good as Coundon Road or some attendances at BPA already this season, it's moving in the right direction.
Roll on the days when BPA is packed to the rafters as we entertain Saints and Tigers again. And before any quips, that's with us in the Premiership, not those clubs being relegated. Roll on the days of 6,000 attendances. Of 7,000 and 8,000. It will come with success, but the fans have to be part of it. Results haven't worked in our favour on the pitch, but results off it are hugely encouraging.