So, So Close in Bedford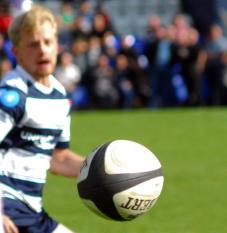 By AdminBTCov
January 26 2019
The game we'd been waiting for - the return to Goldington Road and the return to old rivalries (sometimes reasonably friendly ones...).
Cov got the game underway, kicking towards the deep end, and made an early impression, stealing a Bedford lineout.
The visitors immediately applied pressure with two penalty kicks to the home five-metre line, following a Stevens break-out, with Bedford defending the first lineout well before conceding the kick. The second throw was capitalized upon though, with JP Doyle showing a Bedford player an early yellow card, and Scott Tolmie going over on seven minutes for 5-0, with Fenner topping up. Bedford 0-7 Coventry.
Lennon quickly responded with a try for Bedford with the extras added by, (who else?) Jake Sharp for 7-7
However, Cov were determined not to let the setback knock them off course, and a fine score by Rob Knox on 11 minutes – again converted by Fenner put the Blue'n'Whites back in the driving seat at 7-14.
The pace of the start wasn't letting up just yet though, with Peters feeding Jubb for the third Cov try on 15 minutes, with Fenner keeping his 100% run (four kicks from four if you add in his late match-winner against Cornish Pirates) intact to make it Bedford 7-21 Cov.
Whirlwind start!
And it was to continue on 20 minutes with Bedford pulling back another through Worthington, with the conversion by Sharp making it 14-21.
The Cov bonus try came up on 24 minutes with Knox adding his second, and Fenner again stepping up to make it 14-28. Breathless stuff.
Fenner then had a chance to add to the Cov tally, and his personal haul, on 28 minutes, but his penalty drifted wide – but Halaifonua quickly made amends going in for his first and Cov's fifth, making the score 14-35 after Fenner banged it over from wide out on the half hour.
Bedford weren't going to roll over yet though, with Hutler and Sharp combining scores to make it 21-35 on 32 minutes. Eight tries in just over half an hour and Sky were probably kicking their corporate backsides having pulled their cameras from probably the most entertaining game of the weekend.
The Bedford fight-back continued apace as the half ran down with Flanagan touching down on 39 minutes, with the conversion good, and the gap was back to one converted try at 28-35.
Quite a first half then, with nine converted tries, and the game being likened to a sevens match by one observer – and not a single scrummage.
Half Time: Bedford 28-35 Coventry
Part two, with Bedford having the advantage of the slope and the breeze, started badly for Cov with Pete White seeing yellow in the first minute for a late tackle on Hutler, and shortly afterwards the home side were level through a try by Williams and a conversion via the woodwork by Sharp. 35-35.
Bedford then took the lead for the first time with a penalty from Sharp inside the 22 for offside. 35-38
Finally, and is this some kind of record(?), the first scrum of the game was set on about 53 minutes and Bedford then turned the screw with a long range try from Lane making it 45-35 following the conversion.
Cov were by no means done though, with Gibbons being driven over on 62 minutes and Fenner again adding the double to bring it back to 42-45 and back within the second bonus point pocket, and then on 67 Nutley is fed by Stevens and restores the lead at 47-45 with the conversion missing the target.
Did I say 'breathless'?
Almost inevitably, at the death of normal time, Cov conceded a penalty in easy kicking distance, and Sharp once again stepped up to gratefully nail it and take the score to 48-47.
Cov – that Cov Dog – refused to give up though, and yet again took a lead through Nutley. 48-52 with the conversion missed, and a hugely famous victory was once again on, deep in time added-on with the home side needing a try to overhaul the Blue'n'Whites. And so it came – after 85 or so minutes, and with the Cov forwards out on their feet, Bedford took it from from one side of the pitch for what was the winning score.
Heartbreaking stuff, but so, so close.
Full Time: Bedford 53-52 Coventry
Bedford 5 points, Coventry 2
Next time Bedford!
This is a special group of players. Given absolutely no chance by almost everyone (except Mick Carter) before the game, irrespective of the final score, these boys gave their absolute all and earned the freedom of Coventry for at least one night.
Where can they go from here? Who knows, but It's going to be fun.
Coventry Scorers
Tries: Tolmie, Knox (2), Halaifonua, Jubb, Gibbons, Nutley (2)
Conversions: Fenner (6)
Unofficial Coventry Rugby Man of the Match: Tony Fenner
Pictures: Nick Meredith
Attendance: 2787
Links:
Official Coventry Rugby Website: Match Report
Official Coventry Rugby Website: Rowland Winter's Take
Official Coventry Rugby Website: Ben Nutley's Take
Official Coventry Rugby Website: Match Highlights