BBC C&W Rugby (half) Hour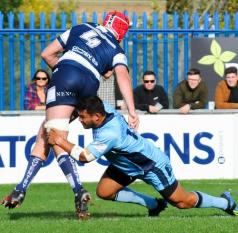 By AdminBTCov
February 7 2019
This week's BBC Coventry & Warwickshire Rugby (half) Hour looked back at the London Irish defeat, and forward to Hartpury.
This week's guest is Cov snapper Nick Meredith who joins Alec Blackman in the studio, talking about the late Bill Gittings, happenings at the Madejski, the latest player contract extension, Hartpury's incoming Bristol reinforcements, Injuries, ground improvements, and more.
Also featured is Rob Knox, talking about Hartpury, and his signing of a contract extension keeping him at the Butts Park Arena for a further three years.
Rowland Winter weighs in with his forthright views on the hoary old subject of self-interest, AKA 'ringfencing', while also giving his verdict on the Cup exit, and analyzing the Hartpury game and its potential consequences.
It all kicks off 31 minutes or so into the programme, and can be found HERE